Bottles, Bands, Bohemia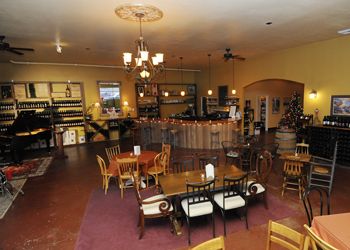 By Wine Press Staff
The Bohemian lifestyle celebrates an abundance of wine and music without an excessive price tag. Vie de Bohème brings this joyful ethic to life in an expansive new winery and tasting room in industrial Southeast Portland.
Vie de Bohème provides a relaxing space to share a bottle of the winery's new vintages, six Columbia Valley releases made by winemaker Brad Gearheart of Jacob Williams Winery in Lyle, Wash.
The tasting room, which features a baby grand piano, also hosts live music most nights of the week, often starting at 7 p.m. to appeal to the after-work crowd. The eclectic music calendar includes jazz, R&B, flamenco, classical and folk performers.
Open Tuesday through Sunday, the new winery offers an affordable, high quality experience with live music and in-house vintages.
Happy hour specials include $5 glasses and a $6 cheese plate — perfect for an after-work wind-down. Weekend hours start at noon, with wine classes and dance lessons soon to be offered.
The remodeled warehouse-style building, once occupied by Roots Brewing, includes a stylishly curved bar and platform seating, subtly elegant lighting and a warm, exclusive wine library available for private parties. The library, which also serves as a wine shop, offers an inventory of favorites from the world's best wine regions, including Oregon, France, Italy and Spain, in addition to Vie de Bohème's own wines.
Owners Didier Sudre, Leni Ortenburger and Dennis Bottum all contribute to the winery's entire package. Host and wine guru Sudre has already created a Bohemian following among those who enjoyed his former wine shops; Ortenburger and Bottum lend their restaurant and design expertise to complete the scene.
The grand opening held on Nov. 17 was well attended by new and old friends alike. Judging from their reactions, Vie de Bohème promises to be an exciting Portland wine and entertainment establishment.
ABOUT THE WINERY
Vie De Bohème
Address: 1530 S.E. Seventh Ave., Portland
Hours: Tues.–Wed., 6 to 11 p.m.; Thurs.–Fri., 4 to 11 p.m.; Sat., noon to 11 p.m.; Sun., noon to 4 p.m.; Closed Mon.
Phone: 503-360-1233
Web: www.burdigalawine.wordpress.com