Selling Southern Oregon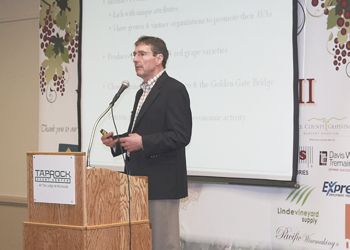 By Janet Eastman
Southern Oregon's wine region is hard to define. Grape growers enduring 61 inches of rain a year in Cave Junction don't have a lot in common with those laboring in hot, dry Medford. Diversity in climate and soil alone make it difficult to explain this area in a simple bumper-sticker slogan.
Now, throw in the fact that 60 wineries here are making wine from 70 different varieties of grapes. Then add the pressure to distinguish these wines from better-known labels in the northern part of the state as well as the competition from California, and a catchy, puts-us-on-the-map phrase remains elusive.
But it isn't for lack of trying. More than 100 growers, winery owners and winemakers attended the second Southern Oregon Wine Cluster Conference on Dec. 14 in Grants Pass to talk about raising the quality, awareness and sales of Southern Oregon wines.
They paid attention to viticulture experts like Patty Skinkis of Oregon State University, who presented new research on reducing vineyard management costs without sacrificing fruit quality. They listened to marketing pros explain how Sonoma County and Walla Walla Valley became go-to wine regions. And they gathered into groups to develop action plans for the future.
In short, they did everything speaker Joe Dobbes suggested they do: Shorten their learning curve, shorten the pain and save money by getting information.
Throughout the day, participants of the conference organized by Umpqua Community College's Southern Oregon Wine Institute were encouraged to ask questions, take classes, hire experienced help and acquire other winemaker's opinions about their wine before it was bottled.
In Dobbes' speech on "Building a Base of Fault-Free, Consumer-Friendly Wines," the owner of Dobbes Family Estate and Wine By Joe in Dundee said that most consumers will continue to buy bottles that cost around $20, and they will pay more attention to the price than the varietal.
He said that some buyers are still in the "do you have a red Chardonnay?" stage of wine knowledge and he offered these new mantras: "Cheap is the new chic" and "The spoiled consumer wins."
He believes there is room in the market for high quality, inexpensive Pinot Noirs. That's the reason he created the restaurant label, Jovino Oregon Pinot Noir. But, he cautioned the crowd, "before you make one drop, figure out your target audience and your price point."
Speaker Nick Frey recalled that when he was hired to head the Sonoma County Winegrape Commission in 1999, winemakers viewed one another as competitors and growers were producing a mix-and-match of varietals.
Frey's commission and a handful of local wine associations decided to work together to claim what they were collectively good at: producing Pinot Noir, Chardonnay and Zinfandel. "It starts with the grapes," Frey reminded everyone.
A conjunctive label was another step to building the county that now pulls in $1.3 billion each year from tourism. Labels now state the AVA followed by the words Sonoma County.
Another speaker was Elizabeth Martin-Calder, who is credited with helping Walla Walla Valley grow its reputation during her tenure as executive director of its wine alliance from 2006 to 2010. "Just like wine," she began her speech, "a wine region needs time to develop."
She advocated a holistic approach of luring visitors by promoting quality wine as well as the community's history, culture and food. "There is huge competition for wine dollars," she said. "Be in charge of your destiny. No one can tell your story as well as you can."
Janet Eastman writes about Southern Oregon wine for national publications and websites. Her work can be seen at www.janeteastman.com.