Vertical: A Novel Idea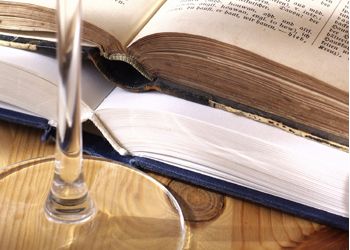 By Hilary Berg, OWP Editor
As the days get shorter and the rain settles in for a long winter, I find myself looking forward to spirited holiday get-togethers, as well as cozy nights curled up on the couch with a glass of tawny Port, a good book and a baby sound asleep in his crib.
It's true, once you have a baby, time for reading is as precious as your little one's rosy cheeks and as fleeting as his wardrobe. With less time to devote to reading, it is important for me to find a great book that will pull me in and not let go — otherwise the Sandman might win the coin toss.
One such book is Rex Pickett's "Vertical," the much-anticipated sequel to "Sideways" and also the subject of our cover story.
Chances are you've seen the smash-hit "Sideways," starring the unforgettable Paul Giamatti and uninhibited Thomas Haden Church. But if you've read the book, you'll agree with the adage: The book is always better than the movie. To say this about "Sideways" is quite a compliment for Pickett, considering the oodles of accolades the film received.
For months, buzz surrounding "Vertical" has been evident here in Oregon, as winery owners caught wind of the new book's journey north from California to the Willamette Valley, the land of milk and honey and Pinot Noir.
I have yet to read it, as associate editor Karl Klooster has been busy with the preview copy while writing a review (page 16), but I'm excited to delve in as soon as I can.
The book officially was released Nov. 23, so finding a copy shouldn't be a problem, unless it sells out here in McMinnville or Portland, but there is always the Internet.
Really, "Vertical" sounds like the perfect stocking stuffer — Mom and Dad, did you catch that? — along with, you guessed it: a bottle of Oregon Pinot or any world-class wine from our beautiful state.
Other gifts to consider could be a number of items mentioned in OWP's Grapeful Gift Guide. How about Oregon verjus or a book about West Coast cheese?
No matter the gift, it's all about the heart, which brings me back to "Vertical."
Writing a novel takes a whole lot of heart; and for Pickett to take his journey up our way, we would like to thank him. It's been a lot of fun so far, and the adventure has just begun!
Merry Christmas and happy holidays!