Left Coast Chronicled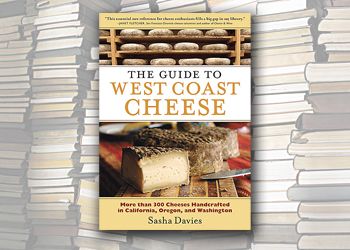 By Christine Hyatt
With the holiday season upon us and foodies found on your gift-giving list, look no further than your local bookstore.
"The Guide to West Coast Cheese" by Sasha Davies is a perfect present that helps the caseophile in your life delve deeper into cheeses from this part of the planet.
The book, published by Portland-based Timber Press, explores more than 300 cheeses handcrafted in California, Oregon and Washington. It is an indispensable resource, clearly and concisely written with expert authority.
The West Coast has been a unique and special incubator for quality cheese, with a deep history of dairy culture and a flourishing renaissance from north to south.
In the late 1700s, Father Junípero Serra, who put down roots in missions throughout Southern Califorina, brought with him cows, dairy and Spanish style cheeses.
During the mid-1850s, David Jacks transported his buttery smooth cheese from Monterey, Calif., by boat into San Francisco in crates stamped "Jacks, Monterey." Locals dubbed it "Monterey Jack," one of America's original cheeses.
In 1855, a schooner named "Morning Star of Tillamook" set sail from the Oregon coast to deliver high-quality butter to Portland. Later this ship would grace the enduring brand of Tillamook, established by area dairies (Tillamook County Creamery Association) in 1909.
Today, the rebirth of handcrafted cheese throughout the West Coast — from the Bay Area to Seattle and beyond — is evident. A food-savvy populace, locavore vibe and prolific farmers' markets have created a culinary trifecta that has fueled the flourishing of artisanal creameries that are gaining recognition regionally, nationally and internationally.
This latest phenemonenon hit home for me when I saw the maps of West Coast cheesemakers included in the beginning of the book.
Little dots abound with creameries that are hitting the mark with fine cheese after only a year or two in the business. The sheer volume of talented cheesemakers, both new and veteran, experimenting with original recipes and intriguing flavors over such a wide area is simply breathtaking.
Davies' book delves into the study of cheese in a unique, compelling way. From the beginning, she says, "I was interested in putting out a reference tool for people to introduce the huge number of cheeses made in three states. It's a guide for anyone who loves to eat cheese and wants to understand what's being made here and understand how they are similar and different."
Like most cheese creatives, Davies did not start out in cheese. Rather, a passion for it evolved and gradually encompassed her professional endeavors.
Her cheese adventures began as an apprentice affineur in the cheese caves at Artisanal in New York City. She managed the caves at the venerable Murray's Cheese, and in 2006, Davies and her husband embarked on a four-month journey to 40 American artisan cheesemakers, producing blogs and podcasts on www.cheesebyhand.com.
A move to Portland in 2008 landed Davies squarely in the middle of the West Coast scene.
"I just felt (during the "Cheese by Hand" tour) that this would be the next big region in handcrafted cheese," she says. "It felt like this four years ago and still does, not in a rivalry sense, but just as an epicenter."
"There are some landscape and geographical aspects to it that make it an interesting region, but it's also the fastest growing cheese region in terms of the most new cheesemakers springing up."
The parallels are strong with Vermont, a Northeastern cheesemaking mecca.
"When we came out to the Northwest on our visit, I noticed there was not only a growing number of smaller producers but a large number were turning out high-quality cheeses similar to Vermont," Davies adds.
"People here are really focusing on cheeseboard cheeses — some modeled on European cheeses, some on fanciful ideas of cheeses people wished existed. The density of handcrafted cheese production in this area is simply stunning."
As many authors and cheese experts like to point out, it helps that the West Coast, particularly the Northwest, has a climate and geography conducive to dairy farming in that there are no harsh winters.
The high amount of rainfall and temperate climate translates to a longer grazing season, which makes for great grass, which leads to quality milk and cheese. Combine this with an increase of talented, dedicated cheesemakers, and it can only lead to incredible things.
For more about "The Guide to West Coast Cheese," visit www.timberpress.com.
Christine Hyatt is a cheese expert and food writer who blogs and produces cheese-centric videos on www.cheesechickchat.com.
SAY CHEESE
Baked Brie with Dried Fruit and Nuts
By Christine Hyatt, Cheese Chick
"An elegant and easy appetizer that is sure to impress a crowd. Frozen puff pastry enrobes fruit-and-nut-studded layers of melted cheese, and the preparation couldn't be easier. You'll be done in about 15 minutes!" —Christine Hyatt
INGREDIENTS
1 sheet frozen puff pastry, defrosted
1 8-ounce wheel of Brie or Camembert
¼ cup dried tart cherries
¼ cup dried apricots, diced to 1/8 inch
¼ cup walnuts, chopped
2 teaspoons butter
1 tablespoon orange liqueur (or juice)
1 tablespoon water
* dash of cinnamon
1 egg, beaten
DIRECTIONS
1. Defrost 1 sheet puff pastry, covered, for about 30 minutes. 2. Meanwhile, in a medium skillet over medium heat, melt butter. Add dried cherries, apricots and walnuts. Sauté for 1 minute, until fruit is warm and slightly softened. Add liqueur, water and cinnamon and cook for 1 to 2 minutes, stirring often, until most of the liquid evaporates. Remove from heat and cool to room temperature. 3. Unwrap the cheese and cut horizontally. For easy slicing, cut cheese while cold and use a sharp knife that has been moistened with water. Separate layers and spread half the fruit mixture on the cheese. Place top layer of cheese, rind side up and top with remaining fruit. 4. When pastry is defrosted, roll out on a floured surface to form a 12-by-12-inch square. Remove corners of square, forming a 12-inch circle. Use pastry scraps to create leaves or other decorations. 5. Drape the pastry over the fruit and cheese and carefully tuck dough under the cheese, removing excess pastry as needed. Seal pastry well using egg wash. Transfer cheese to small parchment- or foil-lined baking dish. Decorate top with pastry and brush with egg. 6. For best results, freeze the cheese for 5 minutes before baking in a preheated oven set at 425°F for 18 to 20 minutes. Crust will be golden brown and puffed. Allow to cool at least 10 minutes before cutting. Yields 6 servings.