Merry Mushroom Christmas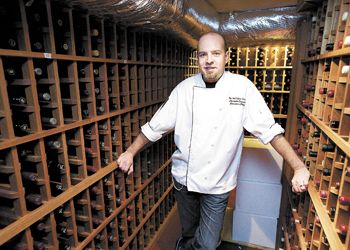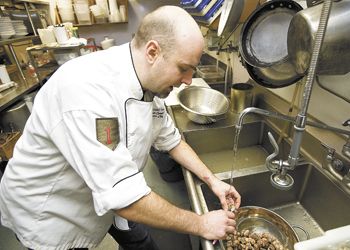 By Karl Klooster
Dashing through the woods with a basket and a blade. Looking all around for just that certain glade. Mushroom cache, mushroom cache, mushrooms everywhere. Oh what fun it soon will be to make them gourmet fare."
No that's not an actual song, you silly shitake. But it certainly is music to the ears of all those fungi-oriented foodies who yearn to make mushrooms a focal point of their holiday feasting.
Of course, most of us aren't chef-it-yourselfers who can stroll into the kitchen and turn out a bit of mycological magic on a moment's notice. Even less likely are we among that intrepid cadre of truffle hunters who scour nearby forests in search of scrumptious spores.
So, it's a darn good thing Oregon has The Joel Palmer House. For the past 13 years, Jack, Heidi and Chris Czarnecki have made it their mission to put ambrosial appetizers, exquisite entrées and even delectable desserts on their mushroom-centric menu.
Expansively praising national press has attended the restaurant almost since the day it opened in 1997. And it has proved to be our great good fortune ever since.
Pennsylvania transplant Jack Czarnecki chose Dayton in the Yamhill Valley to ply his culinary talents for several excellent and astute reasons.
First, it was a rapidly evolving premium wine region with only a couple of fine dining establishments. Second, Czarnecki was a very big Pinot Noir fan, totally convinced that it was, in his own words, "the most food-friendly wine on the planet."
And, third, like his native Pennsylvania, he had discovered that Oregon's coastal hills were a perfect breeding ground for several species of edible wild mushrooms as well as the most elusive and sought after of all, Oregon white truffles.
Golden and white chanterelles, morels, King belotes, hedgehogs, matsutakes, black Picoas and horns of plenty.
These marvelous mycological morsels grow in the forests of both Oregon Coast and Cascade ranges, favoring as the do the soil and shade surrounding conifers, particularly the Douglas fir.
A couple of years back, Jack relinquished management duties at the Joel Palmer House to his son, Chris, who was literally raised in the restaurant, learning the business from the ground up and developing his own estimable culinary talents at his father's side.
Chris oversees all day-to-day operations while also keeping his chef's skills well honed in the kitchen. Jack and Heidi no longer put in regular hours at the restaurant but supplying the wild mushrooms remains his responsibility.
How much time the elder Czarnecki actually spends traipsing around under the canopy of Oregon old growth he's not saying, but he does emerge long enough to produce a very special product made from the bounty obtained therefrom.
His unique Oregon White Truffle Oil is a culmination of more than four decades devoted to creating things delicious for mushrooms.
Initially, Jack began making small quantities of the oil for use in his recipes and the restaurant continues to employ it as an essential ingredient in many of its dishes.
But public demand has reached the point where he is now domestically propagating the tiny truffles.
One of the nation's most noted authorities on cooking mushrooms, both wild and domestic, Jack's "A Cook's Book of Mushrooms," published in 1996, won a coveted James Beard Cookbook Award.
Though he still harvests small quantities of both white and black Oregon truffles in the wild, there's no word yet as to whether he'll begin offering a wild reserve edition of the truffle oil.
Jack said this year may have been a difficult one for grapes but it proved excellent for mushrooms. Enough so that there'll be plenty for Chris to offer during the upcoming holidays.
A special, seven-course Oregon Truffle Dinner will be offered Dec. 15.
Closing also for Christmas Eve and Christmas Day, they'll be open again on Tuesday, Wednesday and Thursday (Dec. 28, 29 and 30) with a New Year's Eve Bash on Friday, Dec. 31 with one seating only at 9 p.m.
There'll be a special menu that evening, but anytime you go, the regular menu of exclusive Joel Palmer House dishes is always a treat.
Mushroom-centered starters include an orgasmically rich matsutake chowder, the perennial favorite Joe's wild mushroom soup, Heidi's signature three-mushroom tart, escargot with black chanterelle duxelle and puffed pastry-wrapped portobello.
Among the mushroom-focused entrées are beef stroganoff, pork tenderloin and penne pasta. Dishes sans fungi accents include filet mignon, rack of lamb and sautéed scallops.
For those who want to go whole hog, mushroom-wise, there's Christopher's Mushroom Madness Menu at $75 per person. And don't forget that the Pinot-laden wine selection at the Joel Palmer House has earned the restaurant a Best Oregon Wine List Superior Cellar Award from Oregon Wine Press.
BUSINESS INFO
The Joel Palmer House
Address: 600 Ferry St., Dayton
Hours: Tues.–Sat., 5 to 9 p.m.
Phone: 503-864-2995
Website: www.joelpalmerhouse.com
Click here to see Chef Czarnecki's recipe for Portobello, Crab and Havarti Wrapped in Puff Pastry with Truffle Cream Sauce