Woo the Crew with Verjus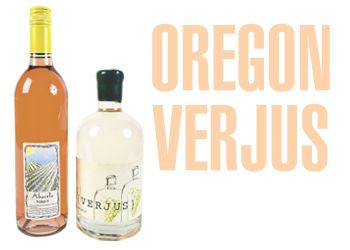 By Kerry Newberry
Scouting the perfect holiday gift for the vinophile-foodie in your life? Seek no more. A few weeks ago, the chic Irving Street Kitchen threw a party for a new ingredient in town: verjus.
It starred in every bite. From buttermilk biscuits with Johnston County ham and crispy sweetbreads with parsnip purée to melt-in-your-mouth foie gras PB&J bon bons, the tastes were sweet and tart, subtle and sprightly.
French for "green juice," verjus (pronounced vair-JHOO) is the tart, fresh juice of unripe and unfermented grapes. The traditional French non-alcoholic beverage is often the secret ingredient slipped into sauces and salad dressings and can be used for deglazing, poaching, splashing into cocktails and to garnish desserts.
"It's a great ingredient that every chef should have in the kitchen," declared former Fenouil chef Pascal Chureau, who is now the co-executive chef and co-owner of Allium in West Linn. Born in the heart of the Loire Valley and raised in Bordeaux, Chureau adds verjus to dishes for elements of crisp freshness and acidity. The versatile ingredient is found across his menu — from savory fare like confit of duck leg to sweet treats.
"Take some fresh raspberry, red verjus, some fresh sugar or some nice honey, and that is the perfect topping for ice cream or sorbet," Chureau added.
Verjus is made from the green grapes that winemakers drop when thinning the vines to concentrate the flavors of the remaining grapes. The culled green grapes are pressed, immediately filtered and then chilled to ensure that the juice does not begin to ferment. The juice is sterile filtered once and stored cold until bottling to ensure it maintains its fresh character.
Intrigued? So was Rudy Marchesi from Montinore Estate.
"I bought a bottle of French verjus, and it was pretty darn awful," he recalled. But the potential piqued his curiosity.
After thinking about verjus for years, Montinore released their first bottle this October. Marchesi finds the ingredient shines in salad dressings and sauces and for deglazing because you get more of the fresh fruit character than if you are simply using white wine, and it carries a little more acidity.
"It's like a supporting actor," he said. "You don't want a body just standing there, you want them doing something that is subtle but complimentary. That's what I'm finding with verjus; it doesn't stand out, but it really enhances the flavors of the other ingredients more so than a little vinegar or another acid source."
Kurt and Laura Lotspeich, owners of Pheasant Hill Vineyard in Talent, have made verjus for personal use for years. "When my kids were little they liked to make a drink out of it; with a tablespoon of cherry or raspberry syrup, seltzer water and a little verjus, they created a kind of sparkly, lemonade-type drink," said Laura.
After a winery that they sell fruit to lost financing this year, they decided to use the unsold and unripe Cabernet Sauvignon from their vineyard to produce verjus commercially.
Their Baby Bacchus Verjus is high in malic acid, so it has the sweet-tart acidity of a Granny Smith apple.
"Frequently, people go home with a bottle excited to try it in recipes or they say they know somebody that's going to love it." Laura finds customers are excited and intrigued by the verjus because to them, it's something new.
Lotspeich uses verjus often in salad dressings, especially if she's serving a light white wine with the salad. "Unlike balsamic or other vinegars, it doesn't conflict with wine," she says. "I can pretty much replace anything I'd use vinegar or lemon juice in with verjus."
One of her favorite ways to use verjus is as liquid in simple syrup when making a sorbet for a palate cleanser between courses.
"You can flavor it with herbs like lavender or rosemary," Laura added. "Because it's such a bright, acidic flavor, it really cleanses your palate, so you are really ready to experience new flavors without having residuals from the previous course."
Laura flavors the verjus sorbet with a very intense reduction of blackberry or marionberry to add a little more fruit flavor. "It does taste sweet but it has a real acid zing to it," she said.
Earl Jones from Abacela in Roseburg has been producing verjus since 1997.
"The inspiration was food," Jones said. "We had the good fortune to know some chefs who enjoy cooking with verjus; and it puts an exciting element into dishes.
"No matter what you put in it, you end up with an acidic, almost salty quality with a little bit of sugar, which is just fabulous for the kitchen."
He finds the flavor profile is fresh and somewhat comparable to lemon juice.
"In my opinion, the singular greatest way to use it is with chicken," he noted. "Chicken can sometimes be pretty boring, but with a little verjus, you can make that lady dance in the pan."
Jones divulges the secret of deglazing right at the end and then using the leftover juice in the pan as a finishing sauce. "It brightens the food and makes the flavors just leap."
"I don't want to leave out pork either," he added. "Pork can be cooked dry — even when you didn't intend to — and verjus solves that also."
Jones always reserves and harvests some green fruit to make verjus. He is well aware that this utilizes grapes that would otherwise be wasted; this adds to the story of verjus.
"It's like the proverbial old farmer who says, 'If you don't capture the pig's squeal when you slaughter him, you've wasted a big part of the hog," Jones quipped.
Not only is verjus delicious and versatile, the product is made from what would otherwise be discarded.
Marchesi likens the practice to that of a good chef.
"A good chef will use all his vegetable trimmings and all the bones and this and that and make great stocks; he's not going to toss it in the trash or compost. He or she is going to make use of it," Marchesi said. "It's the same thing for us. We have these really nice, almost ripe grapes and normally they just get dropped on the ground. We are making them into something that everybody can enjoy."
Simply Verjus
Chef Pascal Chureau from Allium shares these easy suggestions for enjoying verjus.
Red Verjus Gastrique
1 liter red verjus
1 cup red wine vinegar
2 tablespoons sugar
1. Combine verjus and vinegar in small saucepan and reduce by about 80 percent. 2. Turn off heat, add sugar, dizzolve, and store in small squirt bottle. Should yield about ½ cup. Use for toppings for ice cream, sorbet of fresh berries.
Verjus and Thyme Vinaigrette
1 cup white verjus
2 tablespoons Champagne vinegar
½ cup oil blend
1/3 cup virgin olive oil
2 tablespoons chopped thyme
2 tablespoons whole grain mustard
1 tablespoon Dijon mustard
1 egg yolk
* salt and pepper, to taste
1. Combine all the ingredients in a blender. Pulse for 20 seconds then slowly add the oil until the mixture thickens. Serve over green salad.
Oregon Verjus
The ultimate hostess gift, stocking stuffer or holiday present for your favorite locavore/foodie. Find the following bottles of Oregon verjus online and in the respective tasting rooms.
Abacela Verjus • $10 • www.abacela.com
Montinore Estate Biodynamic Verjus • $20 • www.montinore.com
Trium Wines Baby Bacchus Verjus • $14 • www.triumwines.com