#4 STORY of 2010: Miles and Jack Are Back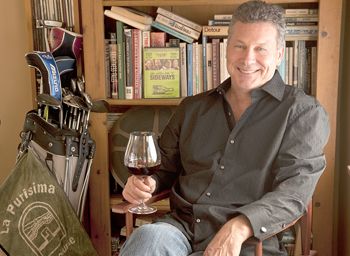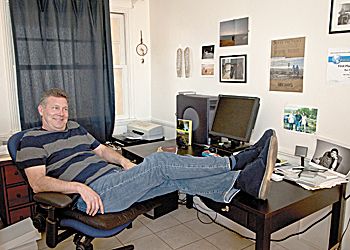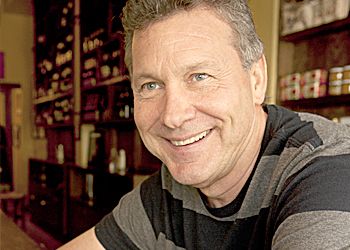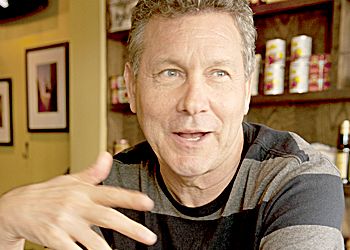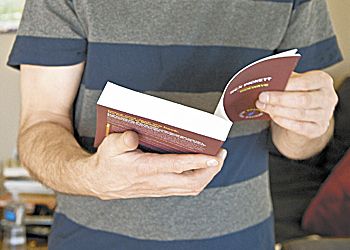 First Published in the December 2010 Edition
Story by Karl Klooster | Photos by Andrea Johnson and Robert Holmes
As you read this, copies of "Vertical," the aptly titled sequel to "Sideways," are in the process of being shipped out by Amazon, downloaded to Kindle e-books and arriving at bookstores near you.
Santa Monica-based novelist and screenwriter Rex Pickett has completed the second installment of his semi-autobiographical romp, which starts in San Diego, continues through Northern California, into Oregon's Willamette Valley and beyond.
The impetuous pair, Miles and Jack, accompanied by Miles' stroke-stricken, Chardonnay-swilling mother, her cannabis-consuming Filipina caretaker and a yapping Yorkie named Snapper, set off together in what Pickett has dubbed the RampVan.
Their destination is Oregon's acclaimed International Pinot Noir Celebration, where Miles has agreed to serve as master of ceremonies. But the foible-filled journey that eventually sees them arrive in McMinnville for a brief bacchanal serves mostly as backdrop.
Through tasting rooms and bedrooms, encounters with adoring enophiles and trysts with uninhibited celebrity chasers, the unlikely little band endures enough misadventures to last the average person a lifetime.
This much-anticipated sequel to "Sideways," the book responsible for the movie that catapulted Pinot Noir sales through the roof back in 2005, was released on Nov. 23.
Published by Loose Gravel Press, an imprint co-owned by Pickett and Tim Moore, "Vertical" is seeing a sizable promotional push from private investment money the two partners are convinced would never have happened had they followed the traditional route.
Pickett struggled to get his first book published after completing it in 1998, only to be turned down repeatedly. Finally, in a reverse process that may be the only sure-fire way to get a major publisher interested, he sealed a deal to have the book made into a movie.
A-list director Alexander Payne read the book and signed on. As Pickett said, "Payne's agreement to do the project green-lighted its go ahead from Fox Searchlight; but first he had to wrap up another "little" film he was directing called "About Schmidt."
With this assurance, Macmillan's St. Martin Press agreed to publish the novel, whose title was changed from "Two Guys on Wine" to "Sideways" during the screenplay writing process.
Production of "Sideways" got underway in 2003 with Paul Giamatti and Thomas Haden Church in the lead roles as Miles and Jack. Payne's then wife, Sandra Oh, and Virginia Madsen portrayed their love, or should we say, lust interests.
"About Schmidt," released in 2002, starring Jack Nicholson, was nominated for two Oscars at the 2003 Academy Awards. "Sideways" ended up with an Oscar for Best Screenplay in 2005, as well as Best Picture (Comedy) and Best Screenplay at the 2005 Golden Globes.
Pickett said, despite all the movie tie-ins and attendant publicity, Macmillan did little to promote the book. "It ended up selling about 150,000 copies," he said. "I'm convinced it could have done far better."
Consequently, he and Moore decided to launch their own publishing venture. "It gives us complete control," Pickett said. "Not to mention a much larger piece of the profits."
Pickett admits that the inspiration for both books emerged from his own experiences.
"Sideways" was loosely based on a trip he and his buddy Roy took to the Santa Inez Valley. The muse for "Vertical" came from what happened to him in the wake of the "Sideways" movie phenomenon as well as recollections from his youth.
"In 'Vertical' — as I did in 'Sideways' — as Miles," he said, "I wore my heart on my sleeve and hung it all out for the world to see.
"I think it's deeper than the first book, though just as funny. It is based on my life experience, which has been anything but predictable. Readers may experience that same unpredictability in 'Vertical.'"
Some of the scenarios were undoubtedly exaggerated and sensationalized for maximum humor and/or shock effect. When asked to cite some specifics, Pickett coyly pointed out that the lines between reality and fiction are often blurred.
Readers will find Miles, even though now flush with the glow of success and bolstered by a hefty bank account, as insecure and self-deprecating as ever.
His book, "Shameless," has been made into a movie in which his characters, Martin and Jake, did exactly the same thing he and Jack did in "Sideways." For him, remember, this is real life.
Though he isn't turning away the attention brought from his new-found celebrity, particularly in wine circles, he regards it with skepticism and the near certainty that it will be short-lived.
As for his much-improved financial fortunes, he is equally convinced they, too, are temporary. Still, he proves generous almost to a fault with those he cares about.
His ailing mother, Phyllis, who has been languishing in a less-than-first-class San Diego care facility, persuades him to take her to live with her younger sister in Wisconsin.
Miles agrees to find a way to get her there, but, since he has a phobia of flying, he decides the only way is to drive. Falling back on his old friend and former college roommate, he proposes to pay Jack handsomely if he'll come along and help out.
Divorced and down on his luck once again, Jack jumps at the ten grand offer, not to mention the opportunity to guzzle a lot of great wine along the way. Miles hires a pot-smoking Filipina nursemaid to accompany them and tend to his mom's personal needs, including, of course, the more embarrassingly intimate ones that make him shudder just to think about.
Two primary destinations are on the agenda. The first is to make it to McMinnville in time for Miles to fulfill the IPNC emcee obligation his agent has arranged. The second is to then take the long trek back to Wisconsin.
But what happens on the trip through California makes up most of the hilarious and ludicrously outrageous action. At one point, Miles has to contend with so many incidents at once, it's a wonder he doesn't jump in a vat of Pinot and stay there.
Oh, come to think of it, he does essentially that at the IPNC. Only it's filled with what Pickett refers to as Two Buck Upchuck.
Oregon wine aficionados will appreciate the fact that Willamette Valley Pinots — actually some of the best Yamhill Valley Pinots — are showered with effusive accolades.
Appreciators of the beautiful Willamette Valley should come away both amused and satisfied that one of their favorite places on Earth has been portrayed in a positive albeit playful light.
If anything, they might wish more of the book had taken place in the location Pickett often refers to generically as "Willamette," as in "Willamette wine." But, whereas that might have made local winemakers happy, it wouldn't have helped move the plot.
Nonetheless, "Vertical" is an often over-the-top, sometimes poignant, always entertaining story peppered throughout with impenetrably obscure, but colorfully descriptive and eminently accurate adjectives that will have readers scrambling for a dictionary, online or print version.
For example, how many of you know the meaning of such words as imprecation, tenebrious, caviling, chthonic, opprobrium and unbowdlerized or phrases like "odalisque in a seraglio" and "sotto voce colloquy?"
But don't let these occasional interjections of prodigious vocabulary dissuade you from getting your hands, literally or cyber-wise, on a copy of "Vertical." Just elide over them and get on to the good stuff that careens the plot of "Vertical" forward.
That will provide all the perspicacity you'll need.
Then, after turning the last of its 395 pages, you'll know whether or not the ending you may have anticipated — the one Pickett hinted at — comes true.
Those who have seen "Sideways," the movie, will probably picture the main characters in their mind's eye while reading "Vertical." Then they'll likely begin to chomp at the cork wondering when the "Vertical" movie will come out.
It's one thing to read words and be transported into the writer's personal wonderland, but it's quite another to see the whole thing interpreted on the big screen. Sometimes that's a treat, other times a disappointment.
Happily for "Sideways," despite differences between the two, it succeeded both in print and on film. Pickett said Giamatti and Church would love to reprise their Miles and Jack roles in "Vertical." The lady leads would, of course, change.
As far as making a movie goes, however, Pickett said, "It's all up to Alexander Payne. If he decides to do it, Fox Searchlight has indicated they'll be in."
Still, you'll have to be patient. Even if Payne did say yes, cleared his plate, and got started tomorrow, Vertical, the finished film, wouldn't hit theaters until the fall of 2012, at the earliest.
To purchase "Vertical," visit www.verticalthenovel.com or www.loosegravelpress.com.
To see an exclusive OWP interview with Rex Pickett, visit www.oregonwinepress.com.
High definition video was created by Andrea Johnson and Robert Holmes.