Irvines, the Vine and Wine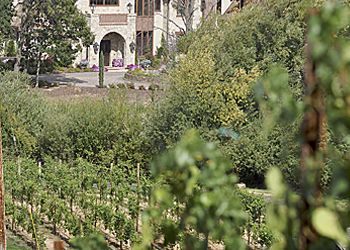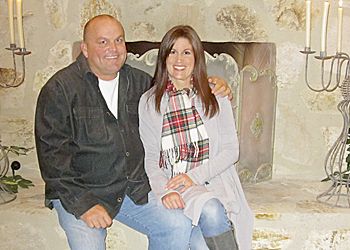 By Janet Eastman
Doug and Dionne Irvine are developers and builders who happen to own 80 picturesque acres in a hidden valley outside Ashland.
Imagine their options: They could quietly divide up the former cattle ranch and dairy farm, gussy up the parcels with mini estates and manicured lawns, and sell them off to make a real estate killing.
Or they could keep the land intact, build a big but eco-friendly house to live there with their children, clean up the stream, grow grapes and become wine producers.
Surprisingly, they went for the second option.
Today, Dionne smiles when she talks about Irvine Vineyards' first releases, a 2009 Pinot Noir and Viognier. To the busy mother of three, this wine represents uncountable hours of plotting a new course with her husband and working with a climate expert, vineyard consultant, winemaker and the Oregon Liquor Control Commission.
It turns out that what started as an intense task to restore their land has become a fun new venture. Consider this exchange when asked to describe the taste of their Pinot Noir:
Doug: "It tastes like victory."
Dionne smiles.
Doug: "The wine is still young, but we had something special when it was bottled. It's smooth and silky. I taste a lot of berry and dark cherry."
Dionne: "To me, it's earthy."
Doug: "Hmm. Like dirt clods, weeds and bear poop?"
Now, she's laughing.
Back up eight years. The Irvines bought the property from eco-conscious neighbors who had already begun to return a larger parcel to a pre-disturbed state.
The Irvines' land included sections of Emigrant Creek, which was choking in sediment, invasive plants and other harmful materials. They cleaned out the muck, restored the stream banks and created a 100-foot stream setback and riparian shade necessary for healthy fish habitats.
The couple's home was carefully sited to save existing trees; only three were cut down. The English-style estate was built with reclaimed beams, used floorboards and other green elements.
Then, they turned their thoughts to landscaping the scraggly former pastureland. They invited noted climatologist Greg Jones to assess the terroir and he pointed out different soils, topography and microclimates across the property.
Jones found one side of the narrow valley had potential for cooler climate Pinot Noir, Pinot Gris, Pinot Blanc and Sauvignon Blanc. The other side was warm enough for Syrah, Malbec, Tempranillo and Viognier. He concluded that the Irvines could successfully plant these vines across 35 acres.
The couple, totally new to viticulture, did their homework. "We picked the brains of a lot of experts and asked millions of questions about growing grapes to friends in the business," Doug says. "They were generous with answers, but then at some point, they just gave us that little smile that means, 'jump in and learn how to swim.' So we did."
They started with six acres, choosing seemingly sure-fire Pinot Noir, Tempranillo, Chardonnay and Viognier. Then Doug took a chance on Nebbiolo, planting it in a creek bottom that could be too cold for consistent harvests. "Everyone said to us, 'Nebbiolo won't work here,' and I said, 'Watch!' We planted it and…" Doug pauses, "they were right."
Dionne laughs again. Did she know her husband was this funny? "Do you see these laugh lines on my face?" she answered.
Despite the joking, Doug is serious about succeeding with what he says is his favorite grape. They have planted more Nebbiolo on a warmer slope. Standing in front of that vineyard, the Irvines are asked how much of their initial six acres is devoted to this tricky, late-ripening Italian grape. Dionne surveys the tidy rows and instantly declares it at a half acre. She knows this not by farming land, but by developing it.
The Irvines have built homes priced from $100,000 into the millions. "People need houses," Dionne says, "but there are different ways to build. We take the high road."
"Developers have a nasty reputation," Doug adds. "But Dionne and I have a conscience. We always leave something on the table for nature. We don't cut up trees or rip up riparian areas. There is a need for housing, but not done recklessly."
The couple is not related to the Irvine family that once owned a sizeable chunk of Orange County, Calif., and has a city named after them. But the Oregon Irvines sell their new wine south of the state border and that causes confusion. Diners at the Summer House in Corona del Mar ask the wait staff, "Where is Irvine Vineyards?" with such interest it's almost as if you can see them ready to punch in an address on their GPS and go.
If wine appreciators want to visit the Irvine Vineyards winery and tasting room, they'll have to wait until they are constructed on the family's Oregon land, reachable from an unpaved road. For now, the wine is available at select wine shops, restaurants and Pallet Wine Co., the custom crush facility in Medford where winemaker Linda Donovan made it.
Doug says he asked Donovan to "do her magic, but let the grapes do their thing." The wines were fermented with their own native yeast. "The wine came through," he says. "We believe we have struck gold."
The Irvines' young vineyard was hit hard this year by a mama bear and two cubs that used it as a fast-food operation. Like so many other growers, the Irvines were also bothered by birds. Doug looked into inventive ways to deter the birds, even considering installing those air-filled tubes that look like waving stick figures. "Can you imagine those blowing around at the end of the rows?" he asks.
Even after buying additional grapes from small vineyards in Talent, there are only 90 cases of the Irvines' '09 Pinot Noir and 50 cases of Viognier. The 2010 vintage will produce 200 cases of Pinot Noir, a varietal Doug says "will be our bread and butter for the future," and 100 cases of Chardonnay. The Irvines want to increase their quantities over time, but never make more than 2,000 cases a year. Once they are up to full growing capacity, they will sell off surplus fruit.
With both land developing and wine producing, Doug says there's always that drive to seek perfection. "The best examples are simple and elegant. We believe, let nature do its thing. Don't get gaudy. Deliver a product that sells itself. You can't fool people with gimmicks."
Janet Eastman writes about Southern Oregon wine for national publications and websites. Her work can be seen at www.janeteastman.com.