December 2010: Dessert and Bubbles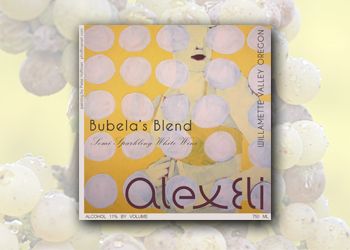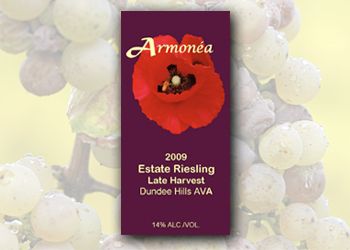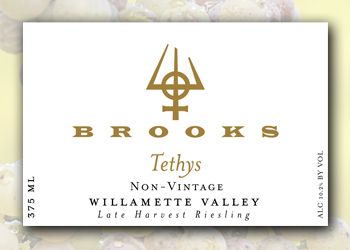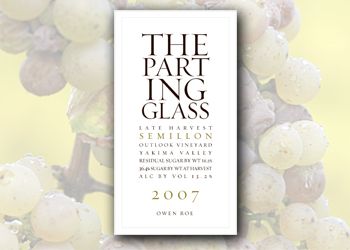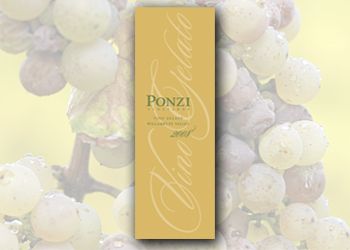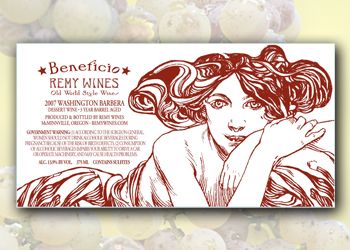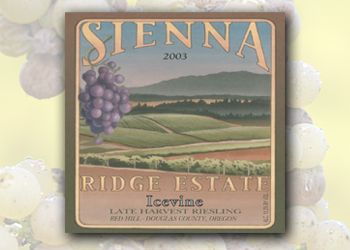 Remy Wines 2007 Beneficio Barbera, Washington State
Price: $19 • Cases produced: 48

The Italian meaning of "beneficio" is the addition of distilled spirits to stop fermentation and retain sweetness thereby "benefiting" the wine. The benefits from this Port-style Barbera are loads of black cherry and berry fruit complemented by cola and a touch of sage. The added alcohol is like a strong, silent fellow who commands respect while remaining discreetly in the background.
Sienna Ridge Estate 2003 Icevine Late Harvest Riesling, Red Hill Douglas County
Price: $24 • Cases produced: 333
An alluring amber color introduces a melange of flavor interest in this Umpqua Valley charmer. Dried apricots, clove, rum raisins, toasted almond, honey, spice, oak vanillin, hints of orange blossom and more swirl around and surprise with each succeeding taste. Additional aging time has clearly brought benefits.
Ponzi Vineyards 2008 Vino Gelato, Willamette Valley
Price: $24 • Cases produced: 227 cases
A blend of 67 percent Muscat and 33 percent Riesling from Alloro Estate Vineyard, puts on a fresh, floral front of rose petals and herbs before enveloping the palate in cooked pears accented with pineapple and peach, all immersed in an ambrosial 19.6-percent residual sugar syrup.
Owen Roe 2007 The Parting Glass Late Harvest Semillon, Yakima Valley
Price: $24 • Cases produced: 350
The variety that made French Sauternes famous delivers an intensely rich yin and yang that can be described — in a totally positive way — as fruit cocktail meets Tom Collins. Pure raw sugar cane, hints of orange, lime and pineapple are packed into a package crafted from grapes picked at 36 brix.
Brooks NV Tethys Late Harvest Riesling, Willamette Valley
Price: $25 • Cases produced: 180
In case you were wondering, Tethys is the Titan goddess of light whose name was given to the ice moon of Saturn, one of the seven major among the ringed planet's 62 moons. This may have nothing to do with wine, but the heavenly connotations could be applied to a tasty late harvest Riesling with bright, fresh apple and pear flavors complemented by a black walnut nuttiness and lime zest.
Armonéa (Wine Country Farm) 2009 Late Harvest Estate Riesling, Dundee Hills
Price: $22 • Cases produced: 40
Speaking of creative names, Armonéa means "harmony with nature." Youthful acid adds liveliness to an onrush of rich, viscous flavors framing a robust body. The harmony comes from an delightful alliance of Cracker Jack, cotton candy, burnt marshmallow and sweet pea embraced by 10 percent residual sugar
AlexEli NV Bubela's Blend Semi-Sparkling White Wine, Willamette Valley
Price: $14 • Cases produced: 164
The Italians call it frizzante. Molalla-based AlexEli ought to call it a tasty bargain. Bubela's is a blend of Chardonnay and Riesling, which gains good benefits from both. Green apple and zingy zinc minerality juxtapose with touch of sweetness, and piquant effervescence. Just a touch of salty olive juice adds that daring dash of difference in the finish.
The Oregon Wine Press tasting panel has selected the following wines based on overall quality and value within their respective categories. To the best of our knowledge, they are currently available in the retail marketplace. But a call to the winery or your favorite wine merchant will best determine where they may be purchased. The above wines have met the following criteria: Produced by an Oregon winery; retail price up to $25 per 375 ml bottle for dessert and $35 for 750 ml sparkling wines currently available to consumers. Recommended wines were selected using a double-blind method and a 20-point ranking system for appearance, aroma, taste, balance and finish.