Corked Excursion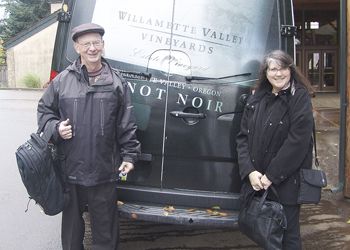 Willamette Valley Vineyards sent Tom Owen and Luci Wisniewski on Nov. 7 to Portugal on behalf of the winery and its support of Cork ReHarvest, a local nonprofit cork-recycling program. The couple won the trip to Portugal at WVV's booth at this year's Energy Trust Better Living Show in Portland.
The Salem couple won the contest by contributing 202.1 pounds of cork, collected over 30 years. During the three-day show, more than 1,000 pounds of cork were gathered and delivered to Cork ReHarvest partner Western Pulp to be recycled.
"Some of [the corks] go back to our first wines we used to drink, which nobody knows about anymore, like a plum wine we used to drink and a Colera rosé from Argentina," Wisniewski said. "Believe it or not, we found those corks when we took the corks in. It was hard for me to part with the corks."
Learn more about Cork ReHarvest at www.corkreharvest.org.