Dundee Done Over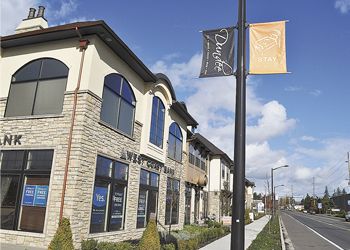 By Gail Oberst
Dundee winery, business, tourism and city leaders are collaborating on plans to revamp the small town and make it more appealing to visitors. Nov. 7, the group celebrated one of the first visible signs of change: Decorative banners along the Highway 99W corridor through town.
The banners now hanging from 21 light poles suggest visitors "Sip," "Shop," "Stroll," or "Stay" and "Savor."
"There's a new spirit in Dundee," said Charles Hesson, retail manager of Dobbes Family Estate in Dundee. "The banners are just a tip of the iceberg." Hesson said renovations are due for Dundee's main thoroughfare, and most of the ideas are coming from volunteers who started by planning a Dundee wine walk from tasting room to tasting room.
"It's morphed into something bigger," said Hesson. The wine walk concept now includes a mission with volunteers who want to improve the town for residents and visitors, he said. Catering to locals creates a solid business base, and it also encourages visitors to stay longer. Healdsburg, Napa and St. Helena were among small towns that have created a welcoming ambience Dundee could imitate, Hesson said.
"The name Dundee is going to roll off the same people's lips, and they're going to come to town and leave their dollars," Hesson said.
Community supporters from the Dundee Hills Winegrowers Association, the Dundee Civic Association, Tourism Advisory Committee, the City of Dundee, the Dundee Wine Walk Association and several wineries and businesses participated in a tour of downtown Dundee. Mayor Don Sundeen and Mayor-elect Ted Crawford recognized volunteers and discussed the city's future plans that will aid beautification: Upgraded water and sewer resources, better parks, new sign ordinances, updated development codes and a proposed streetscape improvement grant that will spruce up sidewalks, crosswalks and streetlights. "It's the city's primary role to be a partner in these improvements," said Sundeen. Crawford handed out certificates of appreciation to businesses and organizations that have participated in the banner event.
After speeches and refreshments at the Inn at Red Hills' upstairs Barrel Room, most participants boarded Bob Bunn's Vintage Trolley, a San Francisco-style trolley outfitted this summer for road travel with a motor and rubber wheels. The new tour trolley is now available for rent, Bunn said. The trolley took visitors on a round-trip, 11-stop tour of Dundee's newest businesses.
The group visited, for example, the "new" 1880s-style construction of Red Hills Market, at 99W and Seventh Street. Owned by Jody Kropf, the market is due to open soon, featuring two wood-fired ovens for pizza and bakery items. Sandwiches, local and imported cheeses, take-out or eat-in dining and deli items, farm-direct fruits and vegetables, fresh seafood and meat, coffee, wine, entertainment and a bocce court are all part of Red Hills Market's offerings. The second level will be a vacation rental "bunk room," and office space, Kropf said.
The group also toured Zerba Cellars, an unusual addition to Dundee's famous tasting room lineup. Zerba, located in the heart of the Walla Walla Valley, now has a tasting room at 810 Highway 99W, across from Argyle Winery. Vickie Loftus, manager of the tasting room, was on hand to pour wines at the event, as were representatives from Dobbes Family Estate, Ponzi Wine Bar, Argyle Winery, Daedalus Cellars and The Four Graces, all of which were stops on the tour. Business mainstay Dundee Garden Art was also a feature of the tour.
Other recent additions to the Dundee streetscape included French Prairie Perennials, a Hubbard nursery that has recently opened an outlet at 575 Highway 99W. Kerry and Rick Naylor, owners of the business, joined the group for a short time along the tour.