Truffle Fest Gets the Boot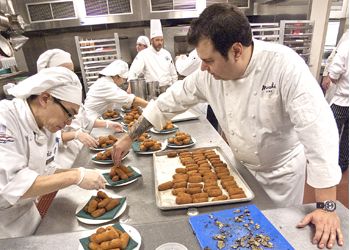 By Wine Press Staff
The rich and beautiful palette of Italian truffle culture will join with Oregon's budding industry at the sixth annual Oregon Truffle Festival, to be held Jan. 28–Jan. 30, 2011, in Eugene.
The destination weekend festival is composed of five weekends and several stand-alone experience options, culminating in the Grand Truffle Dinner. Guests can enjoy lectures, cooking classes, winery luncheons, truffle forays with trained truffle dogs, farm tours and, of course, truffle-infused fare.
The 2011 festival will feature Italian truffle scientists and agronomists from Mondo Tartufo, including a North American first: a truffle sensorial analysis, developed by sommelier and international wine judge Alessandro Mondello. Truffles are world-renowned for their exquisite taste, and understanding how to discern the flavor notes at various stages of ripeness is essential to understanding their use in cuisine.
Douglas Gayeton, photographer, filmmaker and author, will also be on hand to speak about his chronicling of the Slow Food movement born in Italy. His critically acclaimed book, "Slow: Life in a Tuscan Town," features photographs and personal anecdotes from this unique way of life that has made Italy one of the most sought-after destinations for experiencing authentic food culture in the Northern Hemisphere.
This year's Truffle Growers' Forum features guests from the largest truffle association in Italy, Mondo Tartufo. For the first time, a talk will be presented on the cultivation of the world's most sought-after truffle, the "tuber magnatum," or Italian white truffle.
"The festival has a decidedly Italian theme in 2011," said organizer Leslie Scott. "Yet the experiences and ideas expressed at the festival are universal to anyone interested in the essence of local, seasonal eating, and in knowing where their food comes from. And nothing inspires like truffles!"
After an overwhelmingly positive response last year, the truffle dog-training seminar is returning again for the 2011 festival. A select few dogs and their owners will learn how to sniff their way to truffle treasure in the natural habitat of the Oregon truffle. The seminar will again be taught by Jim Sanford of Blackberry Farm Resort in Tennessee and by Jean Rand, owner of Oregon's most accomplished truffle dog.
Participants can also take part in workshops on a number of subjects, including learning how to grow and cultivate truffles and how to select and prepare both the black and white Oregon truffles.
On Saturday, attendees can look forward to the Grand Truffle Dinner, a multi-course truffle feast prepared by five of the Northwest's most acclaimed chefs with expertise in creating the most sumptuous truffle dishes.
EVENT DETAILS
Oregon Truffle Festival
Location: Valley River Inn*
Address: 1000 Valley River Way, Eugene
Date/Time: Jan. 28–30 (times vary)
Tickets: Prices vary; tickets limited; tickets available online
Website: www.oregontrufflefestival.com
*Check website for other venues.