¡Salud! Sees Healthy Haul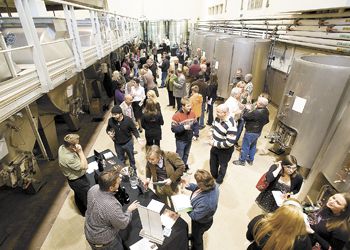 By Karl Klooster
Every year, members of the Oregon wine industry prominently mark a pre-designated Friday in November on their calendars with one word: ¡Salud!, which is Spanish for "health."
For northwestern Oregon's seasonal vineyard workers, the term means much more. It is a program that provides basic health services not otherwise available to them and their families.
For calendar-marking wine lovers, it also means something more. It means the opportunity to sip and savor some outstanding examples of the latest vintage from 42 of Oregon's top Pinot Noir producers — a privilege for which they are willing to pay dearly.
¡Salud!, launched by a consortium of medical and winery interests 18 years ago, is administered through Tuality Healthcare of Hillsboro.
It has evolved into an effective coverage plan, unique to Oregon and much praised by the wine industry. And the annual wine tasting event serves as its premium fundraising element.
After all was said and done last Friday when this year's edition was staged at Domaine Drouhin Oregon, high in the Yamhill Valley's renowned Dundee Hills, bidding on the big boards projected on the wall on each of the three levels came to a grand total of $142,850. That compares to $138,700 last year.
One bidder purchased all five cases of Ponzi at $2,000 per case. Other notable bids included $1,400 a case for wine from Domaine Drouhin Oregon and $1,050 a case for wines from Elk Cove, Penner-Ash, Soléna and Winderlea.
¡Salud! supporters were also treated to a grand dinner and auction the following evening at the stately Governor Hotel in downtown Portland.
Highlights included the honoring of Bethel Heights co-owner Terry Casteel as an industry legacy winemaker. He contributed a 12-bottle vertical lot of the winery's legacy block Pinots and received a standing ovation.
Jesse Lange and Maria Ponzi shared masters of ceremonies' duties. Bergström Winery vineyard manager Jorge Chavez wowed the crowd with his superb singing voice.
WillaKenzie Estate's Ronni Lacroute led a paddle raise appeal to help supplement the dental care provided to workers.
It raised $15,000, which she agreed to match. That led to donation of yet another $15,000.
By the time the evening was over, organizers had raised more than $500,000, bringing the weekend total to $650,000.
At the Friday night gala, Pinot enthusiasts filled the winery to overflowing. Armed with a Riedel wine glass, a multi-paged program, a map of tasting stations and a bidding number, they plunged in.
Though it would be nearly impossible for even the most industrious and athletic aficionado to taste more than a fraction of the 42 offerings from the 2009 vintage, spread out as they were on three levels of the hillside winery, some made heroic efforts.
Some attendees came intent on acquiring a case from one or two of their favorite wineries. Others wanted to taste several whose wines they have enjoyed in the past, then make up their mind about which ones to bid on.
Each winery contributed a lot equivalent to five cases made from an exclusive ¡Salud! blend crafted by the winemakers. None of the wines were ready for release, so a case and a half of barrel samples were bottled specifically for the occasion.
Though each winemaker employed his or her own technique, resulting in a range of styles, this unique opportunity to taste so many examples from 2009, essentially side by side, revealed a common theme.
Whether purposely vinified to achieve a bigger, bolder profile or a lighter, more-elegant one, the grapes always have their own say in dictating the outcome. And the '09s are packed with flavor.
There's intensity to the fruit that, while not over the top, envelops the mouth with layers of succulent flavor. Longtime grower Dick Shea said dry winds late in the growing season dehydrated the grapes, resulting in greater concentration of the remaining juice.
The classic character, beautiful balance and solid structure of the 2008s was ballyhooed aplenty, but people coming away from DDO that Friday may be thinking twice about last year's effusive accolades.
Is 2008 really "the finest yet?" Does it, in fact, "take Oregon Pinot Noir to a new level."?
Only direct comparison in the not-too-distant future will decide for sure. But the best thing that can be said, regardless of the outcome, is "it's a wine-win situation."
All in all, it was a very enjoyable and productive way to introduce the exciting 2009 vintage — and a further opportunity to say that ¡Salud!: The Oregon Pinot Noir Auction is here to stay.