Kudos to the Coelhos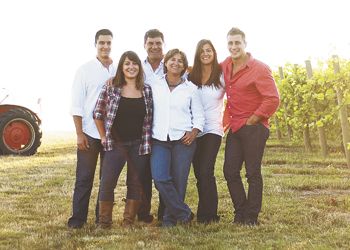 By Karl Klooster
When I first met Dave and Deolinda Coelho in 2005, it was readily apparent they were the sort of charming, down-to-earth folks anyone would enjoy being around.
Their positive outlook on life served them well as they went about making wines ranked among the area's finest and opening a spacious and attractive tasting room in the heart of Amity — scene of many an exceptional event.
Whatever the Coelhos do exudes their infectious optimism. A strong work ethic sees them putting in long hours operating their namesake winery, which opened in 2004, plus many more hours spent on behalf of community service.
Their efforts as founders and key contributors to the Amity Downtown Improvement Group, known as DIG, have earned them particular accolades and gratitude from their community.
The involvement of their four children in the winery operation underscores the "family" in this family business. It lies at the heart of a very special and well-deserved honor they recently received.
At the end of October, Oregon State University's Austin Family Business Program announced the Coelho Winery was among nine finalists for its 2010 Excellence in Family Business Awards.
Joan and Ken Austin of Newberg's A-dec Inc., one of Oregon's largest family-owned companies, established the program in 1985. The awards recognize innovation, entrepreneurship, commitment and community involvement on the part of family businesses around the state.
"These award-winning families can succeed for generations, even in tough economic times, because they are responsive to their communities," said Sherri Noxel, the program's interim director.
Coelho Winery was selected by a distinguished panel of judges from among more than 100 family-owned businesses nominated from around the state.
Following a presentation to the panel, a winner and two finalists were picked in each of three size categories. The Coelho's winery was selected as a finalist in the micro category, open to businesses with nine or fewer employees.
Sons Samuel and David are working at the winery on a daily basis. Daughters Stephanie and Jeanne are both attending college, but remain actively involved as time permits.
When the Coelhos came to Amity 1991, their eldest son was just starting kindergarten. So for their children, Oregon is home.
Dave and Deolinda had long wanted to grow grapes. When they finally made the decision to turn 28.5 of their 40 acres into a vineyard in 2002, they started on a new and exciting course.
Two years later, they made their first wine. In honor of their heritage, they called it Paciëncia, which is Portuguese for patience.
When the Coelhos took their children to Europe to soak up some of the family's Old World history, son David caught the travel bug.
During his undergraduate years at Willamette University in Salem, he spent a year abroad at Germany's Dortmund University, augmenting his proficiency in the German language. After graduating in 2008 with a double major in German and economics, he returned to Europe to earn a master's degree in European Integration Studies.
He joined the winery full time over the summer. He is assisting his father with winemaking duties and handling Portland-area sales.
Samuel graduated from Oregon State University in Corvallis, where he earned a degree in business administration with a focus in Spanish.
He has been actively involved in all winery operations, including harvest, crush, and administration. He is heading up marketing and sales operations.
Samuel has traveled extensively in Latin America, spending time in Mexico, Argentina, Costa Rica and other countries, to expand his Spanish-speaking ability. That ability, of course, also serves him well in working with the winery's vineyard crews.
Stephanie is enrolled in the nursing program at Eastern Oregon University in La Grande, where she is on track to graduate with the class of 2011.
She has also contributed substantially to the development of the business, and returns regularly to work in both the tasting room and winery.
Jeanne is attending Arizona State University, where she is studying interior design at the Herberger Institute for Design and the Arts. The institute is highly regarded for its rigorous program.
She, too, has participated in the winery's development. And she continues to handle free-lance projects on behalf of the business while attending school.
On Nov. 18, the Coelhos will be honored at a ceremony to be held in the Pavilion Ballroom of the Portland Hilton. Marty Reser of Reser's Fine Foods in Beaverton will serve as master of ceremonies.
The OSU Dean's Award for Family Business Leadership will go this year to longtime home remodeler Neil Kelly Co. of Portland. Other honorees in the micro, small, medium and large family business categories include companies headquartered in Corvallis, Eugene, Hillsboro, Milwaukie, Newberg, Portland, Salem, The Dalles and Warrenton.
Congratulations to the entire Coelho family for the ongoing accomplishments that have earned them this well-deserved recognition.