Gastronome in the Grove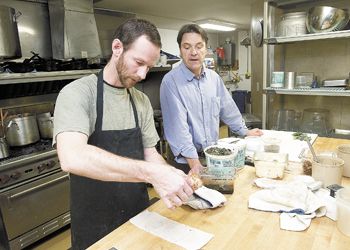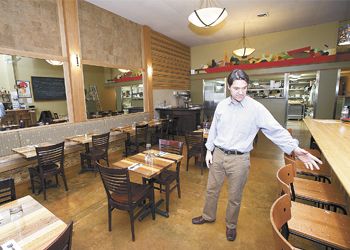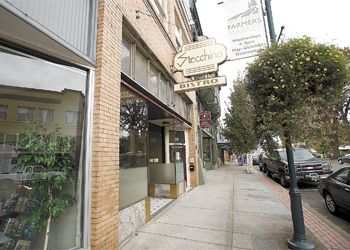 By Mark Stock
There was a time when Portland was just about the only option for Willamette Valley chefs. Back when Oregon wine country was still in frontier mode and the farm-to-table philosophy that thrives today was in remission. But the bounty of fresh produce and world-class wines have expanded the Northwest culinary scene, which is more eager than ever to go to its ingredients, not vice versa.
Stecchino Bistro owner Christian Geffrard and chef Mark Cuneo chased food out and away from big cities like Portland and San Francisco, settling in a small university and agricultural town. Their new Forest Grove restaurant — which means "stick" in Italian, a comical reference to Cuneo's slight build — opened over the summer and resides mere minutes from Oregon's Pinot Noir beltway.
Cuneo comes from a family tree rooted in slow-cooked meals and wines to match. His father, Gino, started what is now Cana's Feast in Carlton and continues to own a small label. His Italian heritage rubs off on his cooking style, a slow and careful approach built around classic pastas and Old World recipes. Geffrard's French upbringing is evident in Stecchino's menu as well, through dishes like duck confit and poulet of chicken breast.
The Bistro is set in an old Main Street building, once the home of Deli in the Grove, a Forest Grove standby that opened in the 1940s. The interior is simple, partly because Stecchino is only a couple of months old and partly because of architectural and aesthetic intent. Food is the primary focus here, and the simple recycled wood tables and mostly paint, hardly art-covered walls testify to that.
Geffrard has opened a handful of restaurants in Portland before starting this project almost halfway to the coast. He's aware of the unstable nature of his profession and adapts with rubbery flexibility. Stecchino's prices, for example, are extremely low, an acknowledgement of their new, less urban and less-hyped surroundings. Most entrées average $13 and the wine list is chock-full of $5 glass pours.
Cuneo and Geffrard began with a lunch menu but will transition into a dinner-only establishment starting Nov. 1. Locals, despite really taking to the dinner menu, have apparently been slow to show up during the lunch hour.
The menu changes often, with new specials arriving daily and a wine list that's always under construction. Expectedly, many of the meats and vegetables used at Stecchino are sourced locally. The bistro is partnered with nonprofit social group Adelante Mujeres, also based in Forest Grove with close ties to the area agricultural workforce.
At the moment, there's much to enjoy at Stecchino. The butternut squash tart is soft and creamy, with a delicate crust and a brilliant orange hue. A light brown butter-sage drizzle gives it pure autumnal comfort. It's somewhat like a cross between a sweet potato quiche and a cheese souffle.
The Poulet is equally impressive, sautéed with Dijon, thyme, garlic and white wine and served with seasonal veggies. The tender chicken absorbs the many savory flavors of the sauté, which serves more like a broth that the carrots, celery, potatoes and turnips get to wade in. The skin of the chicken breast holds a world of herbal complexity and a homey, down-to-earth personality that's hard to duplicate.
Many of the pastas are handmade and are therefore subject to limited availability. Cuneo currently features a Parmegiana, Tagliatelle and Tagliarini Primavera.
The handmade desserts include a flourless chocolate cake — a full stomach kept me from trying despite its rave reviews from every diner there — marscapone fruit tarte and homemade gelato. The Italian ice cream flavors change often, and I had the pleasure of trying the fennel seed version. The gelato offers the perfect excuse to enjoy European-style espresso, any good meal's worthy finale.
For wine, the focus is on value. No glass pour breaks the $8 mark. Geffrard is quick to suggest that the wine list is under construction and will include many more local wineries very soon. Regardless, the selection is healthy, with a strong emphasis on Rhone varietals, heartier Italian reds and Oregon wineries with European mindsets, such as Apolloni Vineyards of Forest Grove. Bottle prices average around $28 and consist of mostly recent vintages. All and all, a food-friendly list loaded with bargains.
With a farmer's market on the same street and a quaint college campus a block away, Stecchino is poised for regional recognition. It's already worth the drive.
Mark Stock, a Gonzaga grad, is a Portland-based freelance writer and photographer with a knack for all things Oregon.
RESTAURANT INFO
Stecchino Bistro
Address: 2014 Main St. Forest Grove
Hours: Tues.–Thurs., 5 to 9 p.m.; Fri.–Sat. (dinner only), 5 to 10 p.m.
Phone: 503-352-9921