Vintage in the Vault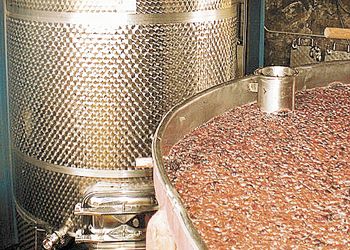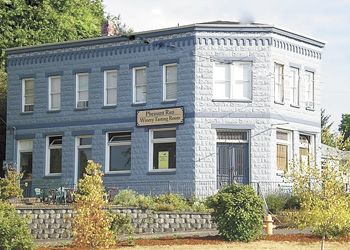 By Karl Klooster
If you've been to Aurora, you know it's all about antiques. Even if you haven't been to Aurora, odds are you'll go there one day because you've heard it's all about antiques.
Well, now you can add another appealing element to this vintage village. Vintage wine. Not exactly antique, which wouldn't necessarily be good, but mellowly matured in wood, which would.
The folks at Pheasant Run Winery recently purchased the historic 1902 Aurora State Bank Building in the heart of downtown Aurora and have converted it into their first tasting room. They've even made use of the massive old vault.
With that secure addition, it can now lay claim to being the safest wine cellar in the state of Oregon.
This may be Pheasant Run's first tasting room, but the winery isn't new. In fact, it has been around since 1987. It just never had its own tasting room before.
The story goes back to 1978 when Josef and Lilli Fleischmann planted a vineyard in the Willamette Valley below Canby and Aurora. For Josef, it was a return to the heritage passed down by his grandfather, a Hungarian winemaker.
Josef was born in Hungary, grew up in southern Germany and immigrated to the U.S. in the late 1950s. Trained as a baker, he continued that trade over two decades, progressing from New York to Chicago and ultimately to the Pacific Northwest where he established a European-style bakery chain.
Exchanging racks and ovens for vats and barrels, the first wines to carry his St. Josef's label were from the 1983 vintage. Within four years, a second label, Pheasant Run, was launched to serve California customers who wanted an exclusive label.
The two brands have co-existed in the winery ever since.
St. Josef is the Oregon flagship, featuring estate-grown Pinot Noir, Pinot Gris, Riesling, Chardonnay and Gewürztraminer. Despite the climatic challenges, they also grow small quantities of Merlot and Cabernet, which in some years have proved successful.
Limited edition reserve wines — Pinot Noir, Syrah and Chardonnay — available only in the tasting room at St. Josef Winery, carry the name Kitara — for the Fleischmann's children, Kirk and Tara. That's northern Oregon Syrah, by the way. A rare commodity.
Pheasant Run wines have also come from St. Josef's estate vineyards and sent out of state. Though the same varieties, vinification techniques and the resulting style are distinctively different.
When her parents wanted to step back from day-to-day management 10 years ago, Tara McKnight took the reins. A couple years back, her husband, Carl, retired after 25 years as an account manager for Miller Brewing and joined her in the business.
Carl assumed responsibility for Pheasant Run's operations and the couple made plans to put the label on a more aggressive path, while adhering to the philosophy of small-barrel lots. He makes the wines under the watchful eye of his mentor, Josef.
St. Josef's production, which ranges from 7,000 to 10,000 cases annually, remains the family's major brand. As currently planned, Pheasant Hill's production won't exceed 1,500 cases.
Big reds such as Syrah and Sangiovese are being added to the portfolio. Total bottlings in the ranges of 50, 100 and 150 cases will not be uncommon.
Fruit is sourced from five vineyards in Washington's Walla Walla Valley and Horse Heaven Hill AVAs. Tying in to their new tasting room venue, these wines carry the Aurora Bank Vault Series label.
How the McKnights bought the historic bank building is a story dating back to 2000, the same year Tara took the reins at St. Josef's. Though Carl was still working for Miller at the time, he brought valuable input to family business matters.
The historic Aurora State Bank Building came on the market. The classic structure had been a part of the 1905 Lewis & Clark Centennial Exposition and was subsequently moved to Aurora.
It was one of just a handful of surviving structures from the most spectacular public extravaganza ever held in the Pacific Northwest.
They made an offer but were outbid.
Losing out on this opportunity remained on their minds over the ensuing years. The building's role in the town's history ran deep. After serving as the bank, it became the town's post office, a watch repair shop, dentist office, antique store and art gallery.
It also played a prominent, albeit stonily silent role, in the 2001 crime comedy drama "Bandits," starring Bruce Willis, Billy Bob Thornton and Cate Blanchett.
Then, several months ago, the owners contacted them. They were retiring and wanted to sell the building. Would the McKnights be interested? The rest, as they say, is history.
With the classic building now in their hands, Tara and Carl undertook painstaking restoration and renovation work done by highly skilled craftsman that reflects the original character of this local landmark.
Wines available nowhere else will be offered in the tasting room and to wine club members. The works of local artists and artisans — a painter, jewelry maker, potter and printmaker — will be featured on a monthly basis.
The official grand opening of Pheasant Run's new tasting room was Friday, Oct. 8, but the newness of the vintage renovation won't wear off anytime soon.
WINERY INFO
Pheasant Run Winery
Address: Corner of Ehlen Rd. and Main St., Aurora
Hours: Wed.–Sat., noon to 6 p.m.; Sun., noon to 5 p.m.
Phone: 503-678-3131
Website: www.pheasantrunwine.com