Display of Connection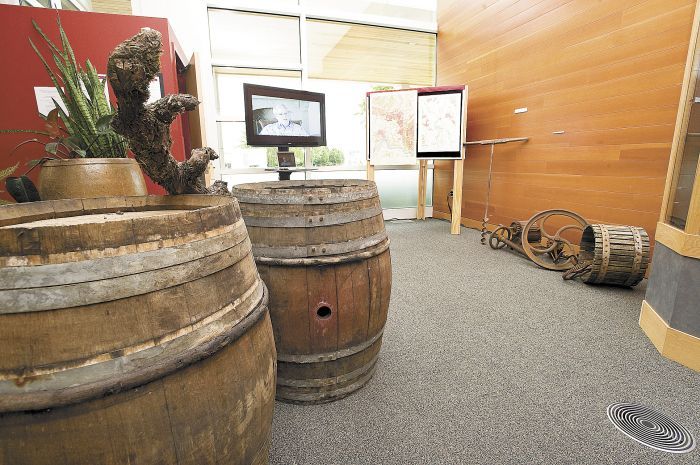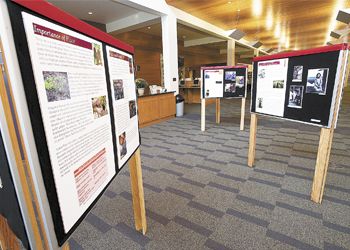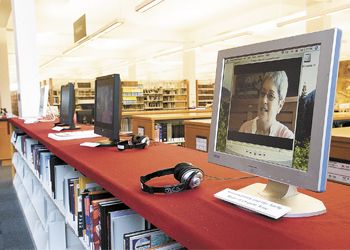 By Karl Klooster
A milestone event took place at Linfield College's Nicholson Library Sept. 22. That afternoon, a dynamic new "community connection" exhibit was unveiled.
The summer efforts of four students and three faculty members culminated in the creation of "Bringing Vines to the Valley." It tells the story of the Willamette Valley's earliest winemakers, who began their endeavors between 1965 and 1980.
Supported by a grant from the Erath Family Foundation, students conducted interviews with wine pioneers Dick Erath, David Adelsheim, Diana Lett, Dick and Nancy Ponzi, Susan Sokol Blosser and Myron Redford.
Their comments were grouped into three themes — "Sustainability and the Early Years of Oregon Wine," "Oregon Wine: The Early Community" and "Oregon Land Use Planning: Saving the Hills for the Vines."
Visitors to the exhibit can watch continuous loops on three adjacent TV monitors devoted to each theme. They may also read bios of the wine pioneers, mounted on free-standing panels, and inspect period photos, documents and wine-related objects, displayed in the exhibit area.
This initial research is an element of the Oregon Wine History Project, which is itself a part of Linfield's new Center for the Northwest. A version of the exhibit may also be viewed online at http://digitalcommons.linfield.edu/wine_project.
Teaming up on the project were Jeff Peterson, center director and associate professor of sociology; Keni Sturgeon, adjunct professor of anthropology; Lissa Wadewitz, assistant professor of history; senior history majors Dulce Kersting and Sara Juergensen; senior anthropology major Barrett Dahl; and junior economics major Garrick Rozairo.
According to Peterson, the "Bringing Vines" project not only helped forge valuable wine industry ties, but also established an excellent model for the kind of collaborative, interdisciplinary faculty-student work the center is trying to foster.
"Our three principal areas are communities, enterprise and environments," he said. "We'll be developing aspects of these themes and getting our undergraduates out there into real life situations."
He thanked First Federal for providing support fthrough its intern program.
Initially, the center will focus its attention on nearby areas. But the ultimate aim, as the name implies, is to expand the reach to encompass the entire region.
He said the center will be soliciting proposals from nonprofit organizations for projects where students could be of assistance.
That aim continues a long tradition of town/gown involvement at Linfield, as reflected in the Partners in Progress fundraising program under way now. The partners program is in its 37th year and stronger than ever.
At Peterson's urging, the faculty began planting the seeds for the new center three years ago. He said the concept grew out of an ongoing collaboration between students and teachers on community-oriented themes.
"I kept thinking of ways we could build something even more substantial around this program," he said. "I e-mailed a dozen of my colleagues in all academic disciplines and was amazed to discover so much energy about the possibilities."
Spurred on by a planning grant, subsequent intra-faculty "visioning" sessions coalesced around the idea of a resource facility — a permanent place to showcase the college and community connection.
It received enthusiastic support from President Thomas Hellie, who became the school's 19th president in April 2006. From the outset, he placed high priority on increasing the college's diversity and making it more connected to the outside world.
At that point, synergy took hold and plans to build the aptly named Linfield Center for the Northwest began in earnest. From gestation to birth to standing on its own, however, it has continued to be a work in progress.
Northup Hall, a notable building designed by renowned architect Pietro Beluschi and constructed in 1936, had served as the school's library until its closure in 2003.
Currently undergoing complete renovation, the 25,000-square-foot facility will be LEED-certified, in keeping with the environmental mandate of the Center for the Northwest.
In addition to the center, it will house two reading rooms, meeting space and classrooms for several academic disciplines, including business, economics, English and philosophy.
The $8.23 million Northup Hall renovation is scheduled for completion in summer 2011.