Vine to Branch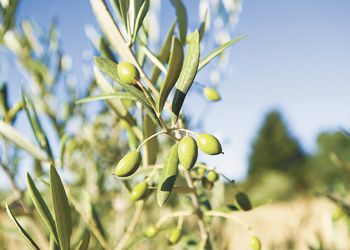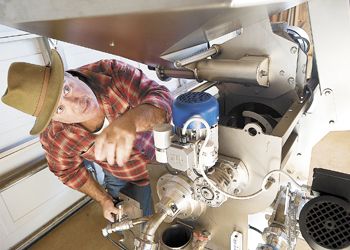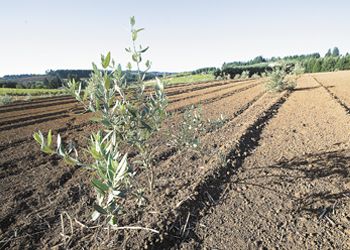 By Jennifer Oberst
David Lawrence, owner of the Oregon Olives operation east of Amity, is one of a number of farmers who have taken to cultivating a crop the rest of the world assures can't be grown in the cool climate of Western Oregon.
Last month, he opened his young olive grove to the public as part of his effort to educate others about the cultivation of olives. His message is a simple one: It can be done.
Lawrence is looking to olives to oil the wheels of his retirement plan. Like the Durants' Oregon Olive Mill in Dayton, a larger Yamhill County operation, Lawrence is pioneering by trial and error in Oregon. During his five years in the business, he has already learned what works and what doesn't, and is eager to share his strategies with other entrepreneurs.
First strategy: Experiment.
That's something he began doing back in 2005.
After a layoff ended his 15-year career in the semiconductor industry in Vancouver, Wash., he and his wife, Carmen, returned to her hometown of Amity. They moved in with her parents on five acres overlooking the Willamette River.
Carmen's father, Karl Reken, had been one of the first to try his hand at growing Pinot Noir grapes in the valley more than 30 years ago. But the vines had long ago become too wild and unkempt to produce commercially viable fruit.
Lawrence received permission from him to rip out the vines and replace them with olive trees.
Now, he's eying the market for two high-end products not unlike Oregon's famed Pinot — fine olive oil and cured gourmet olives. They are becoming increasingly popular in restaurants and grocery stores.
Second strategy: Be unique.
Like his father-in-law, he's pioneered the planting of a new commodity. He's now harvesting olives using unique spacing and varieties suited to the particular climate where he farms. He's allowing his olive plants to remain in bush form — their natural state — rather than try to force them into trees.
Lawrence admits the geography and climate of Oregon will never sustain large-scale olive groves like those found in the warmer climates of California and Spain. But olive growers in Oregon may be able to do something California factory farms can't.
"We can focus on the high end," he said. "We can be boutique olive gardeners."
This may appeal to health- and eco-conscious consumers, he said. Large-scale groves are crowded. They require heavy doses of fertilizer and pruning, which comes at a huge cost to the land and crop.
Third strategy: Adapt.
The Lawrences planted their first bushes in 2005 and harvested them in 2006. He experimented with several different varieties to determine which would work best, some native to Spain; others, to California.
Curing olives for table use runs the risk of botulism. Processing olives for oil is safer and easier, so he started with oil. "Nobody's ever been killed by olive oil," he said.
Final strategy: Involve community.
Carmen talked him into purchasing his own olive mill in August.
That's one reason he's so eager to interest others in growing olives. Although the mill is small, it requires a minimum batch size of 76 pounds, and Lawrence can barely meet that on his own. As a result, he said, "I'm trying to be the olive tree cheerleader." He invites anyone interested in planting olives to e-mail him at david@oregonolives.com.
Oregon Olives is interested in getting into the business of providing custom milling services. To introduce the idea, Lawrence will host a free "Community Olive Milling Day" on Nov. 27.
For more information, visit www.oregonolives.com.
Jennifer Oberst is a writer for the News-Register.