#1 STORY of 2010: Late Great Harvest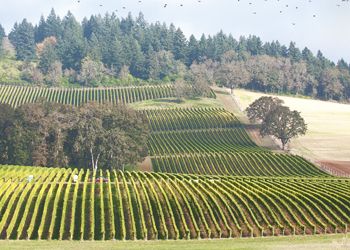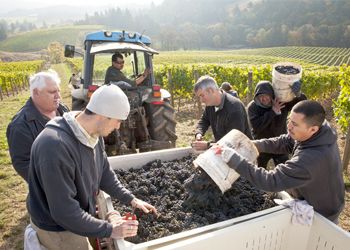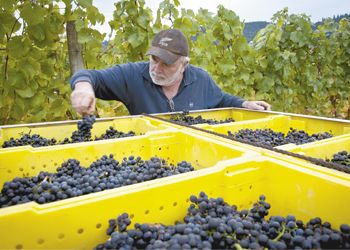 First Published in the November 2010 Edition
Willamette Valley
By Karl Klooster
Earlier this winegrowing season, nature was being a very mean Mother. Across Northwestern Oregon, a long, cool spring and late-starting summer delayed projected maturity dates to mid-October, or even later in some locations.
Hedging their bets against a worst-case scenario, vineyard managers significantly dropped clusters, even though poor fruit set already meant a smaller crop load. In some instances, the reduction will result in a yield of only 1.25 to 1.75 tons per acre.
After the long, uncertain summer, Mother has seen fit to be less malevolent in the fall, holding off on a sustained weather change. Her last-minute largesse allowed the picking of younger vineyards and early-ripening sites to begin as early as Oct. 6.
Last year, a near-ideal harvest wrapped up by Oct. 10. The year before, growers dodged a soggy bullet, enduring early October rains to be rewarded with excellent weather later in the month.
The current forecast call for rain showers over the upcoming weekend of Oct. 23–24. From that time forward, projections point to precipitation settling in on a regular basis through November and beyond.
But the period between now and then should be all the window Willamette Valley vintners need to finish bringing in a harvest that, although smaller than normal, appears to offer quality in a classically Burgundian mode.
The most favorable picking strategy varies with the site and conditions, but all growers agree little time remains before prolonged bad weather will negate any benefit from further hang time.
Such a short, intensive harvest presents yet another problem. Even if wineries bring in top quality fruit, some of it may go unprocessed due to lack of fermenter capacity.
Local AVAs report full phenolic maturity, which indicates optimum flavor potential. But many have held out for a few days in the hopes of seeing an increase in brix, the measure of sugar levels.
Brix readings have been coming in at 21 to 22, which translates to alcohols of 12.5 to 13 percent. Most Pinot Noir producers are perfectly happy with this range, providing the flavors are also there.
When all key elements are in harmonious balance — flavor, tannin, acid and alcohol — an elegantly refined Pinot can be fashioned, a wine with the ability to benefit from years of aging.
Attaining that pinnacle presents a challenge for any vintage. And it is made all the more difficult in years such as this one.
At Adelsheim Vineyard, near the eastern end of the Chehalem Mountain Range, winemaker Dave Paige may be as good at it as anyone.
"Bold wines aren't our style," he said. "So I'm not a huge extractor.
"We began picking on Oct. 6, and we already have 100 tons of Pinot in. Average for us was about 22.5 brix, but we got up to 24 on one site."
He was expecting to wrap up by Oct. 13.
Paige mentioned the annual bird problem began earlier than usual this year, a common complaint.
"It might be that their food supply such as blackberries were short this season," he said. "Whatever it is, we've been fighting them for over three weeks now."
Saying they were only a third done with picking, he planned to have crews stay out through the entire week.
On the Washington County side of the Chehalem Range, Ponzi Vineyards began harvesting Pinot Gris from their youngest vines Friday, Oct. 8. Winemaker Luisa Ponzi said she expected to be 80 percent completed by Friday, Oct. 22.
"There are a couple of very limited-production varieties such as Arneis and Dolcetto, and a few of our very oldest Pinot Noir blocks that I want to wait on," she said.
"Green, healthy looking canopies tell me the engine is still working. I may regret it, but it's a risk you take in this business." She also said that, other than bird damage, which she described as "fierce" in some instances, the grapes are looking great.
"These two weeks of sun saved us," Ponzi said. "We have the flavors to make elegant, complex wines."
In the Dundee Hills, Alex Sokol Blosser shared that sentiment, saying he had lost nearly 30 percent of the crop to migratory flocks in one vineyard. "We use propane cannons and other countermeasures," he said, "but the birds have been pretty aggressive."
He picked the Concert North Vineyard on Friday, Oct. 8, which came in at 23.5 brix. And though flavors are already good, he's waiting for sites still in the 22 range to ripen a bit more.
"We should be done by Friday," he said.
Bruno Corneaux, a Burgundian-born vineyard manager at Grand Cru Estates and Soléna Vineyards in the Yamhill-Carlton AVA, juggles not only his own estate vines but 17 vineyards in AVAs all around the Yamhill Valley.
"We picked some young estate vineyards on Oct. 7," he said. "They came in very clean, despite bird problems. A little bit of botrytis was culled out on the sorting line."
Corneaux said, "We check every vineyard every other day. I expect low yields because of aggressive pruning and a spotty set. But, overall, I feel this will be a vintage of finesse and delicacy. Really age-worthy."
Though he is prepared to move quickly if necessary, he is going to try to push harvest as late as possible on certain sites, he said. Obviously, his final decision will depend on the weather.
On a rolling hillside just west of the midpoint of the Eola Hills lies Coelho Vineyards. Its estate Pinot measured brix of 20 to 21 on Thursday, Oct. 14.
Dave Coelho said he planned to wait until late this week to bring it in, just before the predicted rains. "That additional hang time should help a lot," he said.
"We don't have any botrytis or mildew. The vineyard is healthy and the fruit looks very clean. Our site is pretty vigorous, so I think we'll come in at 2.5 to 2.75 tons per acre.
"We have a lot of bird pressure, but I guess everyone is in the same boat. Overall, I'm pleased with the way things look," Coelho concluded.
On the eastern slopes of the Coast Range just south of McMinnville, Yamhill Valley Vineyards was the first winery in the McMinnville AVA. Grapegrower Ariel Eberle said the fruit in their 100-acre estate vineyard were between 21 and 22 brix on Thursday, Oct. 14.
"We did quite a bit of shoot thinning early on, one cluster per shoot," she said. "Opening things up reduced botrytis.
"But, we've been battling the birds with gas cannons for about two weeks now. Yields will be quite low, about 1 to 1.5 tons per acre.
"We're taking a lot of time on the sorting line to ensure perfectly clean fruit," she added. "We'll be de-stemming whites before pressing. This may be a small crop, but it looks to be a really good one."
Jerry Murray, who recently took over winemaker duties at Van Duzer Vineyards, felt the 84-acre estate vineyard was just approaching physiological maturity. He, too, emphasized that bird pressure was substantial.
He planned to start picking Monday, Oct. 18, and keep at it all week. "We have an elegant framework. No dilution," he said." These will be wines with lower alcohols but layers of flavor. I'm very excited about 2010."
In the mid-Willamette Valley, Benton-Lane has also experienced bird problems big time and waged war with cannons, distress calls and ATVs to save grapes that co-owner Carol Girard described as filled with wonderful flavor development.
"It was a year of the farmer," she said. "A lot like 1999. We dropped fruit early on and then did it again to ensure ripeness, so yields will be low, 1 to 1.5 tons per acre. But it looks like we'll average 23 to 24 brix."
Girard said they're going full bore to bring in everything off their 143 estate acres as quickly as possible.
At the southern end of the valley, Sweet Cheeks Winery southwest of Eugene began picking on Monday, Oct. 18. "Flavors are great. We could use a bit higher brix, but we can't hold off any longer," said co-owner and general managaer Lorrie Normann.
Reiterating the universal outcry about birds, Normann mentioned that one of the growers they buy from essentially lost his entire crop to bird damage. "They got it all," she said. "We plan to bring in everything off our estate vineyards this week."
In the end, 2010 may prove to be an outstanding, if low production vintage, for Oregon wines. But, it also may become known as a year that, to an almost unprecedented extent, was for the birds.
Southern Oregon
By Janet Eastman
Southern Oregon grapegrowers and vintners have long invested in the mutual-fund approach to making wine. Diversify, baby.
Warmer, drier growing conditions south of Eugene and changing climates in roller-coaster hills and valleys make it possible for growers to gamble — and usually win — with both cool- and warm-climate varieties.
The investment should pay off nicely this year. The weather is finally cooperating, leaving most growers and winemakers in and around the Umpqua and Rogue valleys optimistic about the outcome: Low-alcohol, full-flavor wines. The big disappointment: lower yields due to weather and another relentless spoiler: cagey birds.
There were a lot of sleepless nights for growers, even for those who brag about farming on the edge. "It's been a difficult growing season," said vineyard consultant Randy Gold of Pacific Crest Vineyard Services in Talent, who has been growing grapes for 30 years.
It was a growing season that began with a promising mild, dry winter, followed by cold-induced delays. Spring was cold and wet. Blooms were a month later than normal. When they finally did bud, a freeze hit. The chill didn't let up, causing short shoots, uneven growth and in some spots, low potassium uptake.
Normal temperatures finally appeared in late June, making Southern Oregon "the sweet spot in the state," said grower Ted Gerber. Mercifully, a warm fall may right some of the year's wrongs.
Because of the long, cold summer, the hectic harvest crunch time may be even more compressed. Chris Martin, president of the Southern Oregon Winery Association, has been tracking more than 70 different vineyards under his watch.
Typically, maturity levels vary among varietals, and grapes in the Rogue appellations are ahead of those in the Applegate. But this year, many harvests will probably take place in the same two weeks, predicts Martin, who owns Troon Vineyards in Grants Pass.
"When you have fruit all ready at the same time, it strains the picking resources and the winery's ability to process the fruit as it arrives," he said. "Those who are best equipped in their ability to manage these logistical difficulties will ultimately produce some outstanding wines."
Abacela's vineyards rest in an ideal part of southern Umpqua Valley. Typically, owner Earl Jones enjoys an enviable seven-month long growing season. This year's was shortened by three months, considering the bad weather in April, May and June. And, where most years don't see spring or fall frosts, or a lot of rainfall or temperature extremes, there was a freeze in December and an April frost, and 25 percent fewer days of heat.
"In a nutshell, I haven't seen anything like this in my 18 years as an Oregon property owner, and the Roseburg weather station says this has happened only a few times in the last 80 years," Jones said.
In August, he made the decision to delegate all the Grenache to making a rosé, "which is not all bad," says Jones. Usually, Abacela offers both a rosé and a well-respected table wine. The 2008 Grenache won gold in this year's World of Wine Festival. But there will be none in 2010. "We didn't think we could ripen to that level this year," he said.
The Albariño, however, has "terrific flavors," he says, "good fruit ripeness but less sugar."
Brandborg Vineyard & Winery in Elkton is the coolest of nine reference vineyards in the Umpqua Valley. Working with an elevation of up to 1,000 feet and only 25 miles from the ocean, Terry Brandborg has to stretch the ripening curve.
He kept focused on maintaining a healthy canopy, hoping to produce a Gewürztraminer that again will be singled out by The New York Times' wine critic Eric Asimov and national judges. "We all know that we are taking risks in growing grapes and making wine every season," he said. "If it was easy, everyone would do it."
In the third week of October, brix had only reached 18, but he had to pick before endless days of predicted rainfall.
"It is time to hedge bets and see what we get," he said late in the evening on Tuesday, Oct. 18. "For us, our strategy is based on weather reports that rain starts Friday with no end seen for the 10-day forecast. So, we are picking Thursday."
He planned to divide "what the birds have left us" into base wine for bubbly, rosé and white Pinot Noir.
"It is the best I can think of given the hand we have been dealt," Brandborg said.
By September, rain swelled berries and held sugars back. Bleak reports from the north made growers here wonder about alternatives to making wine. The owners of Pheasant Hill Vineyard in Talent decided to pick and press unripe Cabernet Sauvignon at 12.5 brix to make verjus, unfermented green juice for sauces, marinades, salad dressing and sorbets.
"We had several reasons for doing this," said Laura Lotspeich, who is also a partner in Trium Wine, which is selling the newly bottled Baby Bacchus Verjus. "We had a winery that lost their financing so we had some unsold fruit and the very cool spring/summer had us wondering about ripeness this year."
Most growers won't be facing mounds of unsold fruit. Yields are expected to be lower. A few growers don't even have enough to fulfill contracts. In a double whammy, what the weather left to ripen, the birds seemed to attacked with more gusto than in recent years, despite bird foils, from netting to sound blasts.
Gerber of Foris Cellars in Cave Junction rigged up speakers to send high and low-pitched bird distress calls over his vineyards. Taped hawk calls were so authentic he lured in a few real ones. But the crows and robins came and stayed, "more than I've ever seen," he said.
Overall, this year, Gerber's 33rd harvest, has been "nerve-wracking."
"I've seen weather that scares me, but I've never been stumped," he adds. "It's the farmer in me to wish for the best."
Weather-wise, as of mid-October, he was feeling good and dreaming of wine in the 12.5 to 13.5 percent range. "Every winery says that this is the best year ever, right?"
He started picking Oct. 10 and will harvest the later varieties — Gewürztraminer, Riesling and Pinot Blanc — by early November.
The ability to exhale for others, too, came in October.
"This latest burst of nice weather has positioned Southern Oregon growers to ripen a beautiful crop and make some excellent wines this season," said Gold, who manages the vineyards for RoxyAnn Winery in Medford and is a consultant to Cliff Creek Cellars in Gold Hill and Dana Campbell Vineyards in Ashland. "Growers and winemakers who have paid attention to water and crop levels will be rewarded with great flavors, soft tannins and lower-alcohol wines."
Janet Eastman writes about Southern Oregon wine for national publications and websites. Her work can be seen at www.janeteastman.com.
Columbia Gorge
By Stuart Watson
What a difference a month makes. In mid-September, vineyard managers of the Columbia River Gorge were scratching their heads and bemoaning the cool, damp, unseasonably early onset of fall-like weather. Not your usual September. Not good for grapes.
At this writing, in mid-October, optimism abounds. Aside from a brief, warm rain the second weekend of the month, October has delivered a sun bomb, with day-time temps in the mid to upper 60s. Fruit is ripening, rapidly making up for the maturation deficit created by the retarding effects of a late spring, the coolest summer in 20 years and, well, that September thing.
Just over the horizon, however, lay that late October thing — gray skies, steady rain. In the Gorge, which likes to boast "a world of wines in 40 miles," a little distance east or west can greatly change the odds of a grape escape, and the sense of optimism — or pessimism.
Compared to almost every other Gorge grower, Lonnie Wright has the 50,000-foot view, centered on The Dalles — about 22 miles east of the Hood River and White Salmon valleys. Sun country, in other words, but also more at risk of earlier frosts.
Wright farms 40 acres of his own — The Pines, Volcano Ridge and Power Block — and 135 acres for other people, spread across 15 Gorge vineyards. Those contract vines include the notable McDuffee and Lewis vineyards. He said his crews started picking around Oct. 5, about 10 days behind normal.
"The fruit's in good shape," he says. "We're picking in starts and stops. We're about 25 percent through the harvest now (Oct. 14)."
To deal with late fruit set, his crews thinned heavily, pruning leaves in the fruit zone, and culling clusters to drop yield from five tons per acre to around three tons.
"I think it will be a good year for Gorge fruit," Wright said. "Ultimately, I think there will be good hang time, and we're now far enough along with our sugars, we're confident that we can pick everything."
Farther east, harvest began earlier still. James Mantone, owner-winemaker at Syncline near Lyle, Wash., and president of the Columbia Gorge Winegrowers Association, reported that harvest of Merlot, Malbec, Rousanne, Grenache and Syrah at contract vineyards in the Horse Heaven and Red Mountain AVA's had begun in late September.
At the same time, he said, grapes farther west were still two weeks behind. Even so, he said the cooler harvest could produce wines of "incredible balance with gentler alcohol and increased acid structure."
Craig Leuthold, owner at Maryhill Winery, said that even though harvest started much later than usual, he was optimistic about getting a full harvest on estate grapes, and at contract vineyards farther east in the Columbia Valley AVA.
"We do have a shortening of the processing time," he said.
Closer to Hood River and White Salmon, the cooler air made growers hang on every scrap of sunlight.
Rich Cushman, who owns the Viento label in Hood River and makes wine for two other Gorge labels, said "this is the first harvest in 29 years I haven't harvested in September."
Christie Reed, of Wy'East Vineyards, was keeping her fingers crossed that the weather would hold. The grapes on their higher-elevation estate vineyard, about 1,600 feet, trail those on the lower-elevation Blue Chip Vineyard by 10 days. But the elevation protects the upper plot from heat, and its slope sheds cold air, extending its season, Reed hopes.
"It's really day by day," she says. "No matter what happens, it will be a small harvest. It may be great, but the only way to get them ripe is to reduce the yield."
Rick Ensminger has seen 35 harvests at his famous Celilo Vineyard, so he has some perspective. His 70 acres feed grapes to about 25 wineries.
On Oct. 13, he reported his crop about two weeks behind — but catching up nicely.
"Warmer would be better," he said. "The difficulty is still ahead. We need dry, warm days, with lots of sunshine."
His vineyard slopes to the south, the lower portion dominated by Chardonnay, which picks first. Last to harvest is Gewürztraminer.
"It's kind of a street fighter," Ensminger said. "It's a tough grape and handles the weather pretty well."
To beat a predicted turn in the weather, Joe Brady, of the family-owned Underwood Mountain Vineyards on the high bench just north and west of Hood River on the Washington side of the Columbia River, said harvest would begin around Oct. 19.
The Bradys farm Pinot Noir, Riesling, Pinot Gris, Chardonnay, Gewürztraminer and Grüner Veltliner on 30 acres. Brady said they're about 10 days behind normal harvest. With grapes showing 23 brix of sugar, they need to start picking before rain turns their steep vineyard into a muddy — and unsafe — mess.
"We'd love to leave them on the vine longer, but the north Pacific high is breaking down, and we're looking at a steady stream of rain," he said.
A veteran newspaper and magazine reporter and editor, Stu Watson owns Watsonx2 Communications in Hood River.