Raptor on a Roll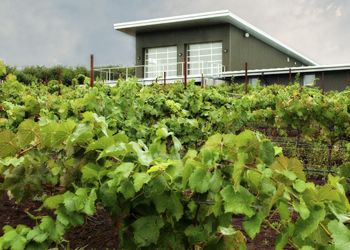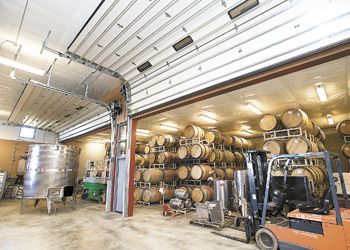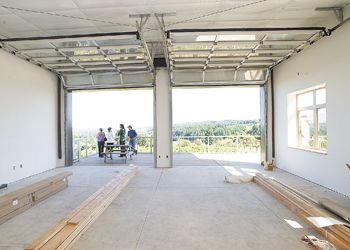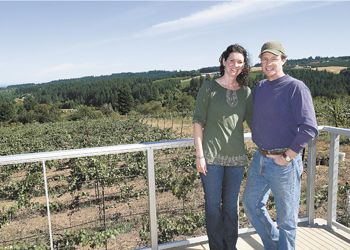 By Karl Klooster
Motorists descending into the Tualatin Valley on Hwy. 219 a mile or so north of the Yamhill-Washington county line can't help but notice a new building in the final stage of completion.
Located right next to the road is the new home of Raptor Ridge Winery, a northwestern Oregon producer that's been around since 1995 and now, for the first time, has a permanent place to call home.
The journey leading to this hillside perch on a northeast slope of the Chehalem Mountains spans more than two decades and is marked by significant stops along the way.
Co-owner Scott Shull said it all began in 1987 when he bought some Pinot Noir grapes from Wahle Vineyards — now a winery but then strictly a grower in what is now the Yamhill-Carlton District AVA — and set out to make a batch of wine.
Having already had some success as a home brewer, he knew the basics, and membership in a tasting group got him hooked on good wine.
But what was initially intended as another experiment in first-hand fermentation science turned into something far more intense.
The young Intel engineer soon found himself out in the vineyard being taught how to prune and train vines by Betty Wahle. Compensation for his work was on the barter system. More time put in, more grapes coming his way at harvest.
By 1994, Shull's hobby reached the point where he decided to turn it into a formal business. A 1,500-square-foot former sheep barn on property he had purchased in the Chehalem Mountains became his first winery.
The name Raptor Ridge was inspired by the many birds of prey nesting in nearby old-growth forest. At its highest point, some 2,200 cases of wine were produced at the small facility.
Energetic could be Shull's middle name as he somehow managed to juggle a demanding full-time job with winemaking and truck farming. He grew organic tomatoes and raised bees, which were the source of his Three Sting brand honey.
He left Intel in 1987 to join Sequent Computers Systems, which had, itself, been founded by Intel executives in the early 1980s. The move proved to have more than one big benefit.
Not only did it afford him the opportunity to work for the multi-processing pioneer at its height, he also met the love of his life there.
Annie Christensen was a Sequent executive based in California who received a promotion that brought her back to the company's Beaverton headquarters around the time Shull joined them.
The timing proved serendipitous, to say the least. Shull and Christiansen hit if off immediately, though Scott said he put his planning skills to work in maximizing their quality time together. They were married in 1997.
Within another year, Sequent's fortunes began to falter. The continued trend toward lower hardware prices could be sustained only by the big players. A deal was negotiated with IBM, which bought Sequent for $810 million in 1999.
Scott managed to land another position with Intel, where he still works, and Annie, who had by this time become just as enamored with wine as her husband, went to work for WillaKenzie Estate.
After a year of winery management tutelage from WillaKenzie owners Bernard and Ronni Lacroute, Annie left in 2001 to assume a lead role at Raptor Ridge. Ever since, sales and marketing have been her bailiwick, with Scott focusing his attention on production.
Right before harvest in 2001, Elven-Glade's winemaker left without notice and owner Bill Kelley reached out to Scott for assistance. He helped Kelley get through the crisis in exchange for making his wine there without charge.
For the next three seasons that arrangement worked out well as Raptor Ridge production continued to increase.
In 2005, the Shulls' friends, Scott and Lisa Neal, were ramping up their McMinnville AVA winery, Coeur de Terre. Scott had helped them plant their vineyard and made a deal to use their new winery for his production.
The Shulls yearned to build their own winery on a 27-acre piece of property they had purchased in the Chehalem Mountains several years earlier. But construction costs at the time had soared to such outrageous levels, it wasn't affordable.
Raptor Ridge wines emerged from the Neal's facility in 2005 and 2006. In 2007 the Shulls set up shop closer to home when Dave Grooters enticed them to join his Carlton Cellars in an alternating premise venture.
The Carlton facility, next to Ken Wright's winery, served their needs for the next three years. Finally, owing to the down economy, the Shulls were able to move forward with their own winery plans.
Paradoxically, with a depressed building market, they could take advantage of much cheaper labor and materials to construct their 9,000-square-foot winery. What had once been estimated at more than $3 million now penciled out at less than half that.
Noted winery architect Laurence Ferrar was brought on board in February 2009. From February through October, site planning and detailed engineering specs were developed.
"This is an engineered building," Scott said. "It was designed on computer, built in a shop and then assembled on site." The savings," he emphasized, "were significant."
The goal was to end up with a low energy-use facility employing elements of Shull's sustainability work at Intel, and maximize the advantages of a sloping site for gravity-flow production.
Pihl Excavating completed site preparation last October. Final design plans were approved by Washington County in March 2010, footings were poured and construction began in earnest.
When the grapes are harvested this year at the Shulls' estate vineyard, Tuscowallame, the indigenous word for "place where the owls dwell," they will have to be transported no more than a few hundred yards before reaching the sorting line.
Tuscowallame Vineyard consists of 18 acres of plantings in loess-based Laurelwood soil. Pinot Noir predominates, including Wadenswil, Pommard, Dijon clones 114, 115, 677 and 777, plus a small amount of Grüner Veltliner and Pinot Gris.
In addition to winegrapes from its own estate vineyard, Raptor Ridge harvests fruit from several other top Willamette Valley growers, to achieve an annual production of 6,500 cases.
The new winery will also serve as home for Le Cadeau, Atticus, and Coats and Whitney (CAW). The grand opening is scheduled for the weekend of October 23–24, but curious visitors can observe final work underway right now.
The Raptor Ridge tasting room, temporarily located on the fermentation floor, is open from 11 a.m. to 4 p.m., Thursday through Monday. When you go, be sure to ask tasting room manager Cathy Esterman for their superb and limited-production Pinot Noir Rosé.
WINERY INFO
Raptor Ridge Winery
Address: 18700 S.W. Hillsboro Hwy., Newberg
Hours: 11 a.m.–4 p.m., Thurs.–Mon., mid-March through mid-December (see website for off-season hours)
Phone: 503-367-4263
Website: www.raptoridge.com