Service to Servers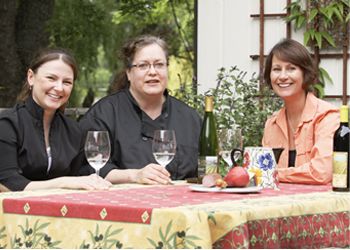 By Liz Jones
Southern Oregon represents 20 percent of Oregon's wine production. While the region's tourists have long come seeking to enjoy hiking, fishing, boating and experiencing the area's wild and scenic mountains and rivers, historic landmarks and the world-renowned Oregon Shakespeare Festival, many of those visitors are now taking note of the region's unique and award-winning farm, food and wine products.
This regional agro-tourism goes hand in hand with patronage to restaurants, wine shops and all varieties of hospitality locales. As a master's student in business management in my final year at Southern Oregon University, I decided to combine my interests of local wine and local food into a market study to see just how synergistically the two industries were working together.
With about 108 mid- to high-level restaurants in Southern Oregon offering a selection of five or more wines, I narrowed my study to a sample of 20. My research questions and menu analysis sought to determine how well represented Southern Oregon wines were on local restaurant menus, the frequency and content of wine service education and the perceptions that restaurateurs have of local wines. Though my inquiry uncovered a myriad of other insights into wine distribution, accessibility and pricing, my primary findings unveiled the following:
1) Menu analysis revealed that overall, 32 percent of wine menu offerings (by the glass and by the bottle) in the study sample are from Southern Oregon.
2) On average, surveyed restaurants ranked the quality, taste, menu compatibility and varietal choices offered in Southern Oregon wines to be moderately higher than that of other available wines.
3) Most study respondents (80 percent) reported that their server's approach to selling local wine was passive — meaning their server typically placed the wine menu on the table but failed to ask patrons if they wished to make a wine selection or discuss wines from their list.
4) Of the 20 restaurants surveyed, 80 percent reported that they provided no wine service education. The 20 percent of participants who did, on average, once or twice a year — typically consisting of a one-hour on-premise wine tasting conducted by a distributor or local winemaker.
5) A wine menu analysis revealed that 80 percent of the menus examined lacked critical information: 30 percent did not supply the place of origin, over half did not include general flavor descriptions or food pairing suggestions and nearly half gave no vintage year. A few even misspelled variety or winery names.
In summary, restaurateurs within the sample have a moderately high perception of Southern Oregon wines, and their buying decisions seek to support the local wine industry. However, local restaurateurs do not translate their desire to support the industry into consistently proactive and well-informed wine service behaviors in their staff. Study respondents reported that their lack of wine service education is primarily due to the barriers of cost, staff turnover and uncertainty with regard to return on investment.
A Proposed Solution
The study outcomes are not surprising. Yet, it clearly points to great opportunities for improved wine service education in Southern Oregon and, probably, elsewhere. In addition, there is much room for Southern Oregon to emphasize the unique characteristics of its regional identity and buy-local benefits in store for consumers. Again, the same is likely true for other winegrowing regions.
For this reason, I have formed a partnership with Helena Darling, owner/chef of Madrone Kitchen & Wine Tavern, and Chanda Miller, winemaker for Weisinger's of Ashland, to develop an affordable online interactive wine service education program for anyone who sells or serves Southern Oregon wine. The Southern Oregon Winery Association and the Southern Oregon Wine Institute at Umpqua Community College are among the first of many to endorse its mission with encouragement and support. When completed, this online wine service education could potentially be replicated and customized for other American wine-growing regions.
While it is our hope that restaurateurs will continue to offer hands-on tasting and sensory training for wine servers, our program aims to combine general and regional-specific education in four to six 15-minute online learning segments. We will introduce the participant to Southern Oregon geography, climate and terroir; discuss varietal characteristics, flavors and food pairing; and offer a healthy dose of unique regional characteristics and "buy-local" benefits — as more consumers are eager to learn about Southern Oregon's sustainable grape growing, winemaking and business practices.
We will look at helping restaurateurs make much needed improvements to wine menus through a variety of approaches that break the barriers of menu complexities yet provide consumers with exactly what is needed to make informed decisions.
We'll address the obstacles of cost, staff turnover, insufficient time and concern about return on investment by demonstrating its proven track record for generating positive financial return and improved industry credibility while requiring little investment of the establishment owner's time and money. We also will demonstrate the positive financial impact this will have to every level of server staff (bus boy to bartender) and the positive influence it will have on the public's perception and purchasing behaviors of Southern Oregon wine.
After revealing the study's findings to restaurateurs and other wine retailers, we plan to offer this valuable, flexible, enjoyable wine service education to anyone in the wine hospitality industry and invite their input on its development.
Individuals who have completed the online program will present a certificate of completion to any food or wine service employer showing he or she is a highly qualified applicant. In the coming months, we will test our first 15-minute online prototype and begin fine-tuning the program with hopes of making it available in 2011.
Liz Jones lives in Ashland, Oregon and is a recent graduate from Southern Oregon University's Master in Management program, class of 2010. Her thesis was on "Southern Oregon Wine in Southern Oregon Restaurants." You can follow progress of her developing wine service education program at: www.lizjoneswineexperience.blogspot.com.