Lange Honors Old World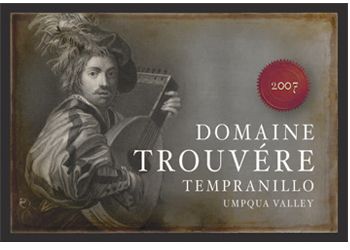 By Karl Klooster
When evaluating the quality of Oregon Pinot Noirs, wine aficionados reference the elegance, refinement and nuanced complexity of wines from France's Burgundy region. California's over-extracted fruit bombs do not figure in the equation.
Don and Wendy Lange need no further proof of Oregon's Old World connection. As co-owners of the Dundee Hills winery that bears their name, 24 seasons of growing grapes, making wine and mollifying Mother Nature have made them true believers.
From their first vintage in 1987, the couple has built a solid reputation for the consistently high quality of Pinot Noir, Chardonnay and Pinot Gris under the Lange label.
Augmented by the winemaking skills of their son, Jesse, they now find the time to explore avenues for expanding their offerings beyond the company's established portfolio.
"We wanted to try our hand at some additional varieties and small individual vineyard lots," Wendy said. "But we didn't think it was a good idea to change the Lange mix, which has done so well for us. So we started talking about another label."
But exactly what the name of that label — in essence a new brand — ought to be, not to mention its design, remained an unanswered question until 2005, when a stunning piece of 16th century artwork captured their imagination.
It was an engraving entitled "The Four Ages of Man," by 18th century French artist, Antoine Louis Romanet. The scene consists of four figures, three men and a child, juxtaposed around one another in a dramatically composed visual statement.
They were all the same person shown at different times in life. What particularly attracted the Langes' attention was the figure on the left, a debonair, mustachioed young man wearing a plummed hat and strumming a lute.
He gazed serenely out directly at the viewer, dominating the scene. Wendy couldn't get the image out of her mind. She called him La Trouvére — the troubadour — a legendary personage of medieval French society who traveled from village to village, singing and playing for pay.
Such age-old artwork long ago outdated proprietary claims and moved into the public domain. So it, or any portion thereof, can be reproduced without charge for commercial purposes.
As it turned out, this particular engraving was a faithful copy of an original oil painting created sometime between 1627 and 1630 by French Baroque artist Jean Valentin de Boulogne. It hangs in the National Gallery, London.
The Langes had a graphic artist isolate the upper portion of the body of the young man holding the lute. That single, arresting portrait, rendered in subdued tones, formed the central theme for their Domaine Trouvére Oregon label.
It was complemented by stately serif font, all capitalized, and an embossed seal displaying the vintage year. With that, their French connection sprang to life.
At first glance, uninformed observers could easily be excused for assuming the fermented grape juice residing in a bottle bearing the label was of French origin.
But, in fact, the Langes had hit upon the exact balance they hoped to achieve at the outset: the blending of Old World elegance and New World style. Oregon wine in a classic European package.
The first Domaine Trouvére wine was a 2005 Pinot Noir from Cancilla Vineyard. All 75 cases were released in late 2008. Following that initial offering have since come a Dundee Hills Chardonnay as well as a Tempranillo and Syrah from Delfino Vineyard in the Umpqua Valley.
Don said they are delighted to now be able to offer Southern Oregon wines and looks forward to having them as an ongoing part of the Lange family. He is particularly excited about the future prospects for Tempranillo as a variety in Oregon.
With just 2,000 cases annually bottled under the Domaine Trouvére label, availability is limited to a select group of restaurants and retail outlets in Oregon, as well as at the winery. The wines reflect Lange's competitive pricing philosophy.
The Tempranillo costs $20 per bottle, the Syrah and Chardonnay are $28 each, and the Pinot Noirs are $35.
In an interesting contrast, the ongoing line of Lange wines is being aged in French oak, whereas the new Domaine Trouvére offerings are seeing the inside of American oak.
"We're very pleased with the barrels we've purchased from Pennsylvania and Virginia over the last couple of years," Lange said. "The flavor profiles from the Virginia oak have been especially promising, and we plan to continue the program."
It seems a most fitting counterpoint to the New and Old World amalgam that finds its intersection in the American wine district considered most akin to Burgundy's Côte d'Or — the Dundee Hills.