Tempranillo on Tap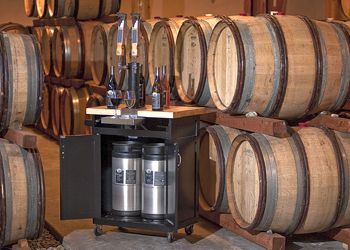 By Tamara Belgard
Keg wine. It might not sound very romantic, and it's certainly not an entirely original idea, but both Oregon's Wooldridge Creek Vineyard and Johan Vineyards are taking a risk in a tough economy selling wine kegs to restaurants for their by-the-glass pours.
The wine-by-the-keg program is really nothing new; it's been around for at least a decade, in the U.S. and abroad. Nationwide, approximately 60 wine kegs are in rotation in Las Vegas establishments on an ongoing basis, while wines-by-the-keg are also being embraced by restaurants and wine bars in Los Angeles, San Francisco and Napa Valley, Atlanta, Traverse City, Mich., and even New York City at Daniel Boulud's downtown locale.
When the McMenamins, Oregon's beer brothers, initially began producing wine, they actually finished their wines off in kegs; they were a brewery first and used what equipment they had on hand. But they soon gave in to the demand for glass, corks, labels and foils and haven't looked back. Maybe their heads will turn now.
According to Cask Wine Brokers owner Mark Strelcheck, one of the preconceptions people have about bulk wine is that wineries are unloading less-than-premium bulk juice. That may be true with some keg wines, but Wooldridge Creek and Johan don't compromise on anything — they're selling the same high quality wine they would be putting in bottles. In fact, Strelcheck says the wine in his kegs has earned 92 points by Wine Spectator magazine.
The real beauty of keg wines is that everyone wins. The wineries save money on production costs (less time at the bottling line) as well as packaging costs (fewer bottles, labels, corks, Stelvin closures, capsules, cardboard boxes, storage), which reduces the winery's environmental impact as well. Ultimately, the savings are passed on to the consumer, but the benefits don't stop there.
For restaurant owners, the fact that it's cost effective and efficient makes the return on investment irresistible. An easy-to-transport, reusable, five-gallon stainless steel keg — equaling 25 bottles of wine — will keep optimally for over five months without compromising the integrity of the wine.
Since the wine is protected by argon gas, it never oxidizes. As a result, the guest will have an improved experience and memory of the wine. When someone's poured a tired glass of wine from a bottle that should have been put to rest some time ago, the average consumer is likely to think it was actually just a bad wine and will probably not purchase that brand again.
The keg is also extremely efficient since there's no recycling or trash, no worries about corked bottles — wine tainted with TCA — and no time wasted opening bottles, saving the restaurant both time and money. Bottom line: Wine pricing no longer has to be affected by waste.
The advantages go beyond the winery, the restaurant, the environment and the consumer. Strelcheck advocates buying local and aims to put Oregon wines back into Oregon restaurants.
"I'd really like to eliminate the cheap foreign and domestic glass pours in many local establishments and replace them with high quality yet inexpensive wine," he said. "I believe in good, local wine for less money."
Even though Oregon wine is more expensive to produce and buy, when purchased by the keg, wholesale costs are reduced dramatically, from $18/bottle to $6.00/bottle, which is passed on to the restaurant, and in turn, to the consumer. I'm no mathematician, but the way I figure, that means a $16 glass of the finest Oregon Pinot would cost an affordable $8 instead.
Though there are some installation set-up fees, Strelcheck says the cost will pay for itself after selling only half a keg. He has a long and strong background in the restaurant industry, and it's partly that experience that enables to him to tackle the installation side with such confidence, as he does all the work himself.
Wooldridge Creek Vineyard produces and will keg Chardonnay, Viognier, Tempranillo, Cabernet, Merlot, Pinot Noir, Syrah and Zinfandel, and they'll even create custom blends — the opportunities are endless.
Currently, you can find Wooldridge and Johan wine kegs around the Portland area at these restaurants that have already caught the buzz: The Melting Pot, H5O Restaurant at Hotel 50 downtown and Agave Grill in Bridgeport Village. Additionally, you'll find keg o' wine catching on at a few McMinnville establishments and at 14 restaurants in Southern Oregon.
As Strelcheck and I chatted, I couldn't help but wonder why more tasting rooms aren't utilizing kegs. I realize there's a certain expectation for how a wine should be presented and how it should be stored — one only has to look so far at the Stelvin closure debate. However, sometimes, someone has to take a risk and invest in what's environmentally sound and what makes good business sense as opposed to what's expected and historically acceptable and determine how to make it work for them.
I applaud Wooldridge Creek and Johan Vineyards for their spirit of innovation and am confident these are the wineries and this is the packaging of the future. Try it for yourself and see how it will change your impression of wine-by-the-glass.
Tamara Belgard writes for her blog, Sip With Me.