Supper's Comin' Back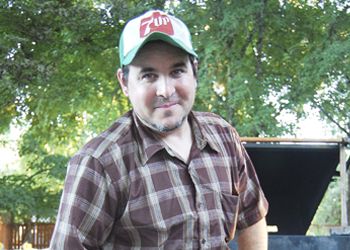 By Mark Stock
Be it the economy's humbling affect on the citizenry or a collective side ache from all things industrialized, people are returning to their deeper, healthier roots. This is especially true in the culinary world, where high-end chefs are rolling up their sleeves and offering a taste of what they're eating away from the workplace.
Local standout Paul Bachand, most recently executive chef of Dundee's Farm to Fork Restaurant, is leading the trend in the northern Willamette Valley. This coming spring he'll cut the tape to his newest gastronomical project, aptly named REC-I-PE. The Newberg supper club will offer five-course prix fixe meals Thursday through Saturday and family-style dinners Sunday evenings.
Like Bachand's other ventures, REC-I-PE's menu will draw from classic European style and source most of its ingredients locally. Unlike most, the supper club will strive for a homey mood as comfortable and casual as your own kitchen. And while you may not be able to stuff a Cornish game hen or make your own pasta, Bachand aims to have you eating with the joy of someone who prepared his own meal in his own home.
"Our goal is to provide happiness, inspiration and graciousness through food, wine and friendship," Bachand said. Philosophically heavy, yes, but a certain possibility for anyone who's ever had a life-changing kitchen story. Think back to your first Thanksgiving, your first barbecue or that off-the-cuff spice blend that ended up turning into something special well after the initial worry.
Bachand subscribes to a very Oregonian approach, often dubbed "live to eat, not to live." The slow food movement doesn't quite do it justice, especially when considering his long list of local producers, growers and fishermen that arm him with the colors he paints with. To Bachand, "it's all about incorporating what's around you," and for this, there is no better place than the Willamette Valley.
While working at Farm to Fork, he was committed to a 200-mile radius for sourcing ingredients. Bachand would make frequent trips to area farms to taste the raw beginnings of his next menu item. Most famously, at least locally, he could be seen chomping down on fresh rhubarb, transfixed by the color and crunchiness of his chosen sample. He stops before he reaches the leaf, reminding his audience that it's "extremely poisonous."
REC-I-PE's name is not just the product of our present generation's tendency to read the cover for the book. The word itself spoke to Bachand, especially one definition: "A method to attain a desired end." This, Bachand and his girlfriend, Emily, believe is the cornerstone for the supper club. The method has taken years to design, born of extensive travel and education abroad and a strong attachment to and fascination for Oregon agriculture.
To be expected, REC-I-PE will offer a far-reaching wine list focusing primarily on local bottles. Bachand has long seen the northern Willamette Valley as the gateway to wine country and would be handicapping the hungry by not inviting Pinot Noir's many personalities to the table.
While a private event chef at Willa-Kenzie Estate, Bachand joined Oregon's famed red wine with savory profiteroles, wild boar rillettes and truffled black lentil salad. For a dinner at the Brookside Inn in Carlton, Bachand prepared hand-cut Tajarin pasta, truffled carrot purée and English peas to go alongside a St. Innocent Pinot Noir. He is a known forager and loves to use freshly pressed grape juice and even lees in his creations.
Pairing Industries
What brought Bachand to Oregon is part of what brings scores of tourists every year: bounty. In fact, the folks at Travel Oregon have built an entire harvest time tour around the area's famed edibility with their current Wanderfeast campaign.
Most of the foodie credit is sent Portland's way. Rightly so, as anyone who has dined in the city knows very well that for every eatery chosen, many more of equal quality will have to be sacrificed. In wine country, options are tighter and the gap between reserve level and entry level can be quite wide.
California has Thomas Keller, the brains behind The French Laundry and Bouchon. His artistic and super refined approach to food has put a certain frame around the Napa Valley. Restaurants like Nick's, The Joel Palmer House, The Painted Lady, Jory and others entertain palates but are relatively few in number, at least when compared to the abundance of fine wine and produce growing in the region.
The local addition of REC-I-PE is doubly exciting because it feels like a native idea, and a timely one at that. People are strapped from a tireless recession but are unwilling to abandon the many sensations of good eating. And with local wine prices becoming somewhat friendlier, that pork and Pinot pairing you've been after doesn't have to be sold short by a glass of Sea Ridge.
With regards to the wine, Bachand adds that in addition to menu's routine changing, the list will include "bottles we love to drink with our friends and families."
Set to open spring 2011, REC-I-PE will try out an old-school dining method on an established appellation. Based on Bachand's past work at Farm To Fork and Hunter's Ridge, there's a salivating contingent of people already deciding which bib to bring with them to Newberg.
Mark Stock, a Gonzaga grad, is a Portland-based freelance writer and photographer with a knack for all things Oregon.