Garage Tales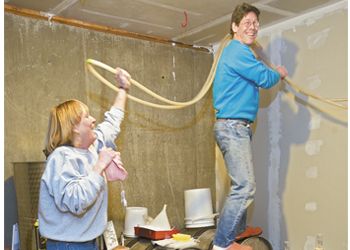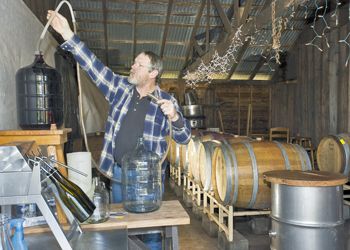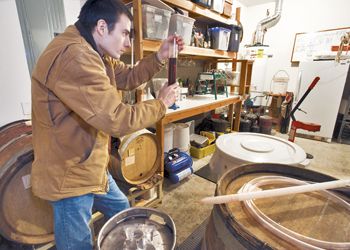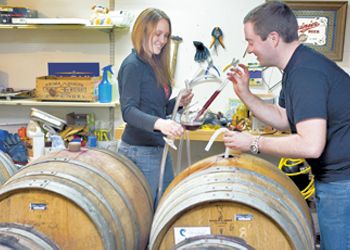 Story and Photos by Janis Miglavs
Scott Robbins unwittingly became part of an Oregon tradition while a high school senior in Michigan. That's when he had his first "Ah-ha" wine moment. It was at a family dinner when his sister's fiancé brought over a bottle of German Mosel Riesling.
"I'll never forget that taste," the now-bearded Robbins recalls with a raised voice of enthusiasm. "It was like this nectar. I remember the aroma, the body, wine texture on the tongue." While his sister's marriage to the wine bearer didn't last, Robbins' awakened enthusiasm for wine did. He's been making wine since October of 1979.
Robbins is not a commercial winemaker at one of Oregon's 400 or so wineries. His day job is as a research farm manager for the Oregon State University Horticulture Department. Robbins is a garagiste — a French term used to describe a garage-based winemaking operation.
Oregon has a long history of garagistes. It's still possible to see the garages where Oregon wine pioneers like Dick Erath and Dick Ponzi first started making wine. And the tradition is still alive and thriving in Oregon. How many? No one knows. If the homemade wine is not sold, it's unregulated, untaxed and unreported. In fact, your neighbor might be making some.
Through friends-of-friends-type connections, I unearthed and interviewed a handful of Oregon garagistes, most dreaming of one day establishing commercial wineries. Their stories tell of dreams, discovery, passion, sacrifices, hard work, all while balancing hobby, family, a day job, finances and sleep.
With memories of the Riesling still on his palate, Robbins got his winemaking start when he moved west to work at Oregon State University. There he met Barney Watson, then the OSU winemaker and statewide extension enologist, who took the transplanted wine enthusiast under his experienced wing. With Watson's connections, they purchased grapes from Sokol Blosser and started making wine, which Robbins has done every vintage for the past 31 years.
The winery operation, which Robbins calls Chateau Beauzeaux (pronounced as in French Bozo), is at one end of his backyard weathered wood barn in the flat rural agricultural outskirts of Corvallis.
Opening the Chateau's rustic wooden barn doors reveals a neatly organized living room-sized winery complete with about a half dozen wine-stained oak barrels set on stands, a few metal barrels, a hand-operated bottling machine, lots of glass bottles and carboys, a string of Christmas lights hung from the ceiling and a sign that reads "Tasting Room Open." Standing tall in the doorway, Robbins looks like the Moses of OSU garagistes he has become, leading other young converts over the troubled waters of making wine.
One of those disciples, Evan Bellingar, makes wine in his garage located in the middle of a lawns-all-trimmed Newberg neighborhood. During the interview, Bellingar, site manager for Advanced Vineyard Systems, and his wife, Kim, office manager at Adelsheim Vineyard and a self-confessed Manischewitz-at-Passover-only drinker until she met Evan, bottle wine in the dining room while their cat sleeps on the living room sofa.
When the Bellingars got married, they served Evan's 2005 Pinot Noir to their wedding guests.
"It really was a pretty phenomenal vintage, and that kind of solidified things," explains Kim. "If that had been a poor vintage, we may have rethought the winemaking process, not the marriage. Everything turned out pretty beautifully."
But who does all the little winemaking chores? Evan clears his throat to explain their arrangement, "If I try to encourage Kim to clean bottles, I think it would be very bad for our marriage; so that's just kind of my job." But then last year, Kim picked and de-stemmed all their grapes with some of her friends before Evan came home from a long day harvesting the commercial vineyards he manages.
When it comes to nosing and tasting, it's a joint venture. While Evan has more experience, he often defers to Kim. "I am way too emotionally invested in this wine," explains the joke-a-minute Bellingar. "If she smells something bad, it hurts me. It's like an insult to my character. It's like saying that my kids smell bad or look ugly. But I know I'm too emotionally close to this project. So I definitely defer to her nose."
In a shiny new McMinnville neighborhood with streets named after grape varietals, Travis Cook, another OSU garagiste graduate, carefully measures an SO2 preparation on a wooden workbench in his garage. Behind him is a white erase board with a winemaking schedule leaned against the house water heater. Cook, also a vineyard manager for Advanced Vineyard Systems, talks about how winemaking has taught him patience and balance.
The patience lessons come at harvest. Cook says he would love to be able to harvest his grapes Saturday morning, process them and be cleaned up by five o'clock Saturday night. One problem, it's also harvest time for his job. So he might not get to harvest his own grapes until Sunday at 8 p.m. This means he must process through the night, and be up at 6 o'clock Monday morning harvesting grapes for his clients again.
"I've learned about being patient with my expectations with my own fruit," says Cook. "That way I'm not affecting my job, my clients. After all, they come first and then my hobby comes second."
Cook's also learning to balance his winemaking costs with the family budget. He is the solo winemaker in the house but thinks his wife supports his hobby, for the most part.
"Sometimes when it comes time to write a check for the fruit, she is like, where is that money going to come from? Or if I want to purchase something larger, like a brand new French oak barrel, about $700, questions arise." But Cook has the new oak barrel in the garage, and his wife is currently helping him fill out all the paperwork necessary to get bonded.
The cost of the fruit is a serious consideration. Last year Cook bought 1,000 pounds of Pinot Noir — enough to make one barrel of wine — for $1.25 a pound. "That's really good," he says. "That computes to about $2,500 a ton. A lot of the vineyards up here in the Willamette that I manage get quite a bit more. I'd say you'd be looking anything from $3,000 to $5,000 a ton, maybe even more."
Besides the cost, it can be difficult for a garagiste to even get quality fruit. The top vineyards want to sell hundreds of tons to one buyer, not a half ton to some hobbyist. And any hobbyist who dreams of getting a blend of clones for his one ton must have serious connections. Scott Robbins had the Watson connection; Cook got a ton of three different Pinot Noir clones from his association at the OSU research vineyard.
Those who want the ultimate control, and happen to have some land, plant their own vineyard, like Kathy and Lee Miller did. Before they got this "wild hair" of an idea to buy some land, split it with David Lett — yes, the Eyrie Lett — and plant their own vines, they were at the mercy of buying fruit from some vineyard guy in Scholls who also happened to have a hand-crank stemmer-crusher.
Lee, a pharmacist for his day job, laughs with wife Kathy — who now manages their vineyard and kids — as he recalls the multiple drives every year between their home, then in Milwaukie, and the Scholls vineyard.
"We went out there to pick the grapes and run it through the stemmer-crusher. Then we put it in a food-grade garbage can so we could haul it home to ferment until the cap falls." Waving his hand in a circle, Lee continues, "Then we stuck it back in the truck and drove out to Scholls again to use his press. After we pressed it off, we put it in glass carboys and drove it back home again."
In their rural ranch house behind their hazelnut orchard and commercial vineyard, Kathy and Lee fit winemaking around the rest of life, including kids' sport meets, school events and ballet.
While he is the chief winemaker, Lee confessed it would be a disaster if they were not on the same page of priorities. Nevertheless, there are sacrifices.
"We're doing this winemaking on a shoestring," Kathy explains. "While I was working at a corporate job, there's no way we could have kids, do the commercial vineyard and make wine, too. So I quit working in the corporate world." But the years have zoomed by and in the last two years the kids have been able to drive themselves, freeing Kathy to help more with the winemaking.
Naturally, equipment and facilities are a huge consideration. For those working in the garage, winemaking tools can be relatively blunt and unsophisticated. Often winemaking practices are based on budget — read poverty — and facilities — read garage, attic or basement. So summers can be hell on wine in a hot uninsulated garage, especially in July and August. And a garage winter can be cold.
Evan Bellingar states bluntly, "We can't push the wine through malo over one winter, because we're not going to spend the money on the heating bill to get that garage warm enough to push it through." Down jackets just don't work. And in a Corvallis barn, 13 degrees for a couple of days can freeze a carboy of Pinot solid.
Not surprisingly, things do go wrong. The Millers tried making Rosé without having it go through malolactic fermentation. It went off in the bottle. "It's really fizzy," says Kathy. "We have plenty down there if you want to try some."
What about the future? Some have big dreams. When the Bellingars start talking about their visions, the air bristles with seriousness. Their dream: Bellingar Estates.
Evan explains, "My dream is to have 100 acres planted, a true estate, not just a five-acre postage stamp that you have grapes on, something that could support a family economically. At 100 acres, you're really cooking. You could provide jobs for your family in marketing, management and sales. That's really the dream, to build something, not just for us but for our family, for the future."
Kim chimes in, "something we can pass down to our kids." Sound familiar? Other pioneer Oregon wine families, like the Ponzis, provide the role model. Only thing, Kim and Evan don't have kids yet.
But when asked what the winery will look like, the dream becomes fuzzy. Practical, Evan thought it wouldn't necessarily be inspiring … but Kim has other ideas. "There's Evan's version of a winery, which is a pole barn, and then there's my version of a winery. I live up to Adelsheim standards (remember, she works there), where you have something magnificent and cool."
Back in the McMinnville suburb, Travis Cook also dreams of a commercial vineyard operation with a winery on the side. He has already planted vines on the old family homestead way out in Eastern Oregon, near Baker City, in the Snake River Valley AVA. His winery would be called Mother Lode Cellars because just up the road from the homestead is an old historic gold mine called the Mother Lode Mine. He wants to carry on that piece of Oregon history with pictures on his wine labels.
After filling the last wine bottle in their dining room, Evan Bellingar leans back with a satisfied smile. "It's really a lot easier than you think," he says, folding his hands behind his head. "And all the people you meet in the wine industry, almost to a T, want to help you. They want to teach you, especially here in Oregon, where a lot of the godfathers of the industry are still in it."
Yes, garagistes can be a bit more philosophical about the process since they have the luxury of making wine on a small scale rather than having millions of dollars at stake in a commercial venture, these modern-era garagistes truly embody the spirit of Oregon wine.
Janis Miglavs photographs Portland, Oregon, Pacific Northwest, world-wide architecture, vineyards, wineries, landscapes and writes vineyard photography books that win international awards.