Botanical Sanctuaries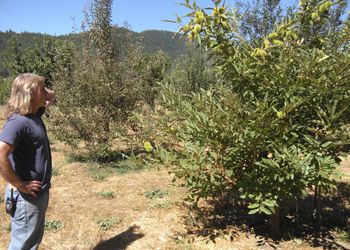 By Michael Altman
Though grapevines occupy a special place in our hearts and minds, and may be integral to our livelihoods and health, they're also a major agricultural crop that takes up large swaths of land. In many ways, this is a positive trend, since perhaps land transformed into vineyards is acreage that won't go towards poorly planned development in years to come. On the other hand, standing forests, grasslands and native plants have been sacrificed to make room for grapes.
The potential exists to transform vineyard properties into more diversified landscape without sacrificing grape yield. Botanical sanctuaries, insect nurseries attracting beneficial bugs, and edible, native or medicinal "plantscapes" can be alternatives to the grapevine monocultures of today.
Thoughtful and well-conceived land use can also offer a range of marketing opportunities, goods and services enabling winery customers to become more acquainted with the vineyard and species that live and grow there. Moreover, customers may exhibit more loyalty toward a good steward of the land who restores riparian corridors and minimizes use of synthetic herbicides, for example.
Some grapegrowers dialing into sustainability practices are already on their way to implementing a more diverse polyculture — where pollinators such as butterflies and hummingbirds can be seen — from which cash crops, value-added food, herbal and bee products, crafts and, of course, quality wines can permeate the community.
Planting and selling varied crops can also help a vineyard owner weather a bad grape year. Though some winery owners may object to having a range of products other than wine in the tasting room, others with adequate space appear to benefit from merchandising assorted novelties.
Living in Ashland, a part of Oregon with a more southern exposure, I can't avoid mentioning an iconic California winery, Benziger, based in Glen Ellen. Watching sheep graze — and fertilize — the vineyards, and checking out potentially endangered pollinators buzzing around their insectary garden, the Benziger family has successfully turned sustainable winemaking into a tourist attraction, without seeming uppity or "eco-righteous" and without sacrificing profits.
Fortunately, I don't have to travel nearly so far as Sonoma in order to see these kind of practices; Cowhorn Vineyards & Gardens is producing some of Oregon's best wine and is becoming its own self-styled botanical sanctuary. A Demeter-certified Biodynamic property, Cowhorn's mission is in no small part restoring and preserving biodiversity, and its owners, Bill and Barbara Steele, take pride in the practice.
According to the Biodynamic Farming and Gardening Association's website, within Biodynamics, the farm is considered a "self-contained individuality." Integral to that one-ness, however, is the complex web of countless organisms, many of which come with the property, for better or worse.
I visited Cowhorn, only a stone's throw from the Applegate River, to walk the land with Bill Steele. We started along the irrigation ditch, which he's successfully reclaimed from meddling Himalayan blackberries — no easy task — that are now giving way to emerging irises and other native plants.
Like many vineyards, Steele's land isn't entirely dedicated to grapegrowing, though he's expanded fruit production, recently planting more Viognier, which also goes into their white blend, Spiral 36.
From the ditch, we walked towards the asparagus patch. Asparagus in late summer doesn't at all resemble the diminutive shoots we eat in the spring. As an example of the profit potential of vineyard diversity, Cowhorn harvested close to three tons of asparagus in 2010 from a two-acre block. The asparagus is showcased and retailed at one of the premier produce shopping destinations in Southern Oregon, the Ashland Food Co-op, for $4.95 per pound. Cowhorn's wine sits only a cheese display away from the produce section.
The fact that Barbara is planting a medicinal garden caught my attention, not only because medicinal plants are part of my work, but also because they're functional and often beautiful and exotic.
From the medicinal area, we walked through a small, diverse orchard with a fruiting chestnut, and a nearby plot where they're hoping to grow truffles under hazelnut trees. According to Steele, the soil pH is suitable for such an undertaking and hazelnuts are a good medium for truffle production.
Botanical sanctuaries adjacent to vineyards don't have to follow anyone's rulebook, though as with any agricultural endeavor, growers are at nature's mercy. Growing food, culinary herbs or native plants may be a goal, but there are many non-native, non-invasive, medicinal, fiber and other "utilitarian" plants that serve their human sponsors in countless ways. In order to find them, in fact, one doesn't have to leave the environs of the Applegate Valley.
Horizon Herbs is a great source for native, rare and very unusual medicinal and edible plants and seeds. They're based in Williams, only several miles from Cowhorn, as the crow flies. In addition to Horizon, Herb Pharm and Pacific Botanicals are other exemplary local land stewards and medicinal herb growers and processors who don't cultivate grapes, but can teach vineyard owners much about biodiversity and value-added products.
At this point, sustainability won't go away. Whereas 10, 20 years ago, many folks viewed the movement as a nice idea, now it's mainstream and gaining steam. Biological diversity is a well-recognized cornerstone of sustainability and food security, and finding a marketing niche in diversified plantscapes may be a worthy idea for a vineyard near you.
Michael Altman is a freelance writer and nutrition instructor at Southern Oregon University and College of the Siskiyous in Northern California. He maintains a clinical nutrition and herbal medicine counseling practice for various conditions and can be emailed at altmanm@sou.edu.