Vincent Vino Unveiled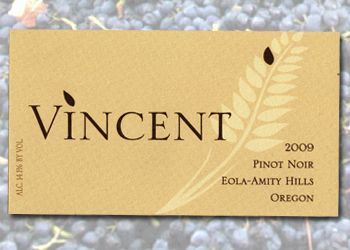 Portland has yet another player on its ever-evolving wine scene.
Enter Vincent Wine Company. The brainchild of former home winemaker Vincent Fritzsche, the new label is definitely boutique with 216 cases of 2009 Pinot Noir — and an estimated 300 cases for 2010.
With such a small production, building a winery would be economically challenging, so Fritzsche and his wife, Jennifer, make their Pinot at the Portland Wine Project, the home of Boedecker Cellars and Grochau Cellars, as well as custom-crush tenant Helioterra, also a new winery.
Like many in the industry, wine wasn't always in Vincent Fritzsche's blood. Growing up in Los Angeles, Pacific Palisades to be exact, Fritzsche, 41, was one of seven children in a house in which wine was not a priority but more of a luxury.
"Wine wasn't a big thing in the family, but there was some interest," Fritzsche said. "There was more jug wine and cans of Bud, but occasionally there was something good."
It wasn't until he was older and had moved that Fritzsche discovered a passion for wine and a love for less-than-sunny skies.
"I always liked trees and rain, to be honest," he explained. "I've moved north my entire life. First to Santa Clara for college, then to San Francisco for grad school and work."
And farther north, yet again, when the Fritzsches relocated to Oregon 10 years ago for a final change of scenery. But just before they moved, he dipped his hands in the wine biz by volunteering at Carlisle Winery in 1999. Mike Officer, the winery's winemaker, started out as a hobbyist who went 'pro' in 1998.
In Oregon, Fritzsche continued to learn the trade by making wine at home — as Officer once did — as well as working harvests at Evesham Wood, Belle Pente and several with Grochau Cellars.
He could have moved southwest of Portland to Dundee or McMinnville to be closer to the vineyards, but after growing up in L.A., the city seems to fit Fritzsche.
"Making wine in Portland is actually a key thing for me," he said. "I see a need for what I call 'city wine' and more urban wineries in Portland. We've got breweries, distilleries, food carts and restaurants, but not nearly enough wineries in town. I want to change that."
Fritzsche recently released his first vintage: 2009 Vincent Pinot Noir Eola-Amity Hills (192 cases) and 2009 Vincent Pinot Noir Zenith Vineyard (24 cases).
For more information on Vincent Wine Company, visit www.vincentwinecompany.com.