Jan-Marc Makes Its Mark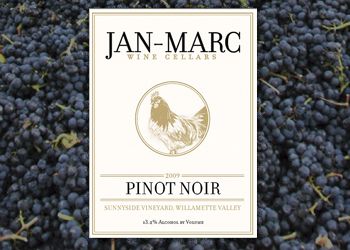 Jan-Marc Baker and his wife, Barbara, have launched their own new wine label, Jan-Marc Wine Cellars.
The Bakers are classically trained French chefs from San Francisco, who relocated to Portland in 1995, settled into careers there and began studying winemaking. Their company, Cuisine Bebe Catering, has been operating since 1996 and is well suited to combine with the winery venture, with winemaker dinners, picnics, wine tasting events and food and wine pairings.
Along with coursework at the Northwest Viticulture Center at Chemeketa College, the Bakers have worked with Rex Hill, Sineann and Anne Amie Vineyards over the years. Their 2009 vintage was produced with John Grochau of GC Wine Company in Portland at the Portland Wine Project.
Winery production focuses on Sunnyside Vineyard Pinot Noir from Salem, barrel-fermented Chardonnay and Hillside Vineyard Cabernet Sauvignon sourced from The Dalles.
A special focus of the couple's marketing effort is to highlight foods that complement the wines, with the website featuring menus, recipes and food photos to entice and develop an appetite.
"Our hope is to lead people into a lifestyle of good eating, with fresh ingredients available to them in every season that they can easily prepare and enjoy with our wine," Jan-Marc said.
Jan-Marc Wine Cellars is currently on the market with its 2009 Columbia Valley Oregon Chardonnay and a limited-production 2009 Oregon Rosé — a saignée blend of Cabernet Sauvignon, Merlot, Syrah and Pinot Noir. Jan-Marc Pinot Noir is scheduled for release in early spring of 2011 and the Cabernet Sauvignon will be ready this coming summer.
For more information about this new winery, contact Jan-Marc at 503-341-4531 or janmarc@janmarcwinecellars.com. For more details about Cuisine Bebe Catering, visit www.cuisinebebecatering.com or call 503-285-5754.