A Whole Lot of Brasserie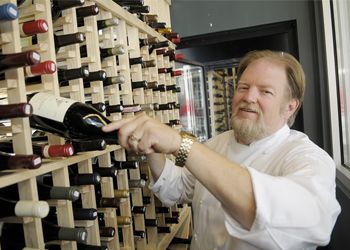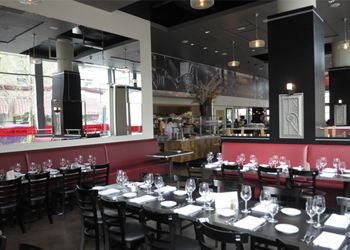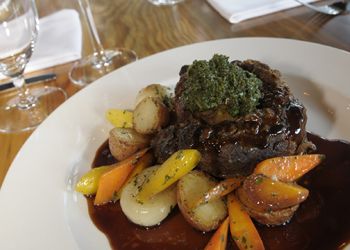 By Karl Klooster
Almost 30 years ago, Bill King was his own boss. He owned a classy little café and charcuterie called Savoir Faire in the highly lauded but short-lived Yamhill Marketplace.
Prolonged MAX light-rail construction killed the fledgling businesses in that creative urban market venture and sent King off on a near three-decade career working for other restaurant operations, including the noted McCormick & Schmick's chain.
Now, with the help of three investors who firmly believe in his estimable abilities, King has launched an exciting new restaurant in uptown/downtown Portland just a block away from his former employer's flagship, Jake's Famous Crawfish.
Newly opened on Aug. 2, Pinot American Brasserie is in the platinum LEED (Leadership in Energy and Environmental Design) Platinum-certified Indigo 12 West Buidling at 120-5 S.W. Washington Street.
Platinum-certified buildings are so rare they should be a must-see on bus tours and travel itineraries. Many LEED Gold-certified building owners say they just couldn't afford to spend the additional money for the frosting on the green cake.
Nonetheless, King and company are newly ensconced in the Indigo with a contemporary take on a traditional French brasserie. For the uninitiated, a brasserie is a type of restaurant with a relaxed yet upscale setting, which serves single dishes and other meals.
The word 'brasserie' is also French for brewery and, by extension, the brewing business. In a bow to this Francophile aspect of the word, Pinot American Brasserie, though not brewing on premise, is carrying an extensive selection of beers.
Pinot's menu is a reflection of traditional French brasserie fare but uses ingredients grown and raised in the Pacific Northwest. Variety and value are woven throughout; entrées are mostly under $25, with the majority between $15 and $20, and include Grilled Leg of Anderson Ranch Lamb served with Baby Squash, Preserved Lemon and Flageolet Bean Salad; Dijon-Basted Kodiak River Sockeye Salmon served with Ricotta Dumplings and Fennel-Herb Broth; and Carlton Farms Double-Cut Pork Chop served with Bacon-Apricot Glaze, Baby Carrots, Cipollini Onions and Tater Tots.
The space is lined with windows and accented with silver finishes and textured concrete floors. It's cozy and welcoming at all hours. The chef's table is the centerpiece of the restaurant, effortlessly surrounded by comfortable brasserie chairs and bistro tables. There's also a classic counter-service seafood bar, red banquettes and wine room, carving stations and a lively bar.
King's decision to be open for breakfast, lunch and dinner seven days a week shows a real commitment to what he calls the heart and soul of the West End. His goal is to position Pinot as the hub of the action.
In fact, "Pinot" is what he hopes the public will ultimately come to call his restaurant although it wouldn't bother him if they said the entire name or any portion thereof, just so long as they show up regularly.
Pinot should also provide an unsubtle hint as to the real featured beverage here. Beer may be offered, but this place has wine in mind. So much so that King employed a unique method to select the Brasserie's signature wine type — Oregon Pinot Noir.
A long-time member of the Oregon Wine Brotherhood, he assembled a panel of 30 brother members for a tasting. They included wine professionals, winery and vineyard owners and avid wine buffs.
Over a two-day period, the panel tasted, evaluated and scored 246 wines from 121 wineries to come up with 36 Pinots that are now being offered on the restaurant's wine list.
After the tasting, the Brotherhood released comments on their participation in the tasting. "It is a tribute to the depth and breadth of winemaking in Oregon," the statement said, "that there were so many excellent wines submitted.
"The tasters had a very difficult time selecting the recommended top 60. The final 36 were selected from the recommended list to provide a comprehensive range of vintages and price points for the restaurant's Pinot Noir list."
The three top-scoring wines from the tasting were: Rex Hill 2006 Reserve, Sineann 2008 Schindler Vineyard and Stoller 2007 JV Estate. Wines range in price from $23 to $100 per bottle and are a part of a predominantly Pacific Northwest wine list.
Oregon wineries represented on the list include: Amity Vineyards, Bethel Heights, Carabella, Del Rio, De Ponte, Dewey Kelly, Dobbes Family Estate, Dominio IV, EdenVale, Elk Cove, Eminent Domaine, Erath, Four Heathens, Hawks View, J Albin, Jovino, Luminous Hills, Medici, Methven, Ponzi, Red Hawk, Rex Hill, Seufert, Sineann, Soléna, Stoller, Stony Hill, Terra Vina, Viridian, Vista Hills and Z'IVO.
Drew Lehman oversees the Brasserie cellar and said that the wine list totals 196 entries, 81 of which are from Oregon and 30 from Washington.
Reiterating the restaurant's name, Lehman further emphasized their commitment to wine service. "We do tasting and food pairings at staff meetings," he said. "The servers know their wines."
As to the current restaurant scene in Portland, King said, "The public has been very supportive and I don't think the restaurant industry here was hit as hard as other places.
"I'm very fortunate to have many friends here, and we're looking forward to Pinot becoming a vibrant part of a town with a great food culture." ◊
RESTAURANT INFO
Pinot American Brasserie
Address: 1205 S.W. Washington Ave., Portland
Hours: Dining: Sun.–Thurs., 7 a.m.–10 p.m.; Fri.–Sat., 7 a.m.–11 p.m. • Bar: Sun.–Thurs., 11 a.m.–midnight; Fri.–Sat., 11 a.m.–1 a.m. Happy Hour: 4:30–6:30 p.m., 10 p.m.–midnight
Information: 503-719-5506; www.pinotpdx.com
PACIFIC COASTAL SHEELFISH STEW
Recipe by Executive Chef Bill King, Pinot American Brasserie
1 yellow onion, small dice
1 green pepper, small dice
½ fennel bulb, small dice
1 stalk celery, small dice
2 tablespoons minced garlic
3 tablespoons olive oil
3 cups canned tomatoes in water
¼ cup chopped fresh parsley
1 teaspoon grated orange peel
1 teaspoon grated lemon peel
1 tablespoon chopped fresh oregano (1 teaspoon dried oregano)
1 cup dry white wine
* pinch saffron
½ tablespoon smoked paprika
12 clams (use as many as 16 clams)
12 mussels
12 spot prawns or large shrimp, peeled and deveined
1 body (plus legs) from whole Dungeness crab, broken into sections
* plus, anything else you like, including chunks of cod or halibut, even some cooked Italian sausage
1. Sauté vegetables in oil until slightly softened (about 5 minutes). Do not brown. Add tomatoes, herbs, citrus and wine, and simmer 20 minutes on low heat. Add saffron and paprika, and simmer another 5 minutes. 2. Add all the shellfish and simmer, covered, until clams and mussels open (about 3 to 5 minutes). The rest of the seafood will be ready as well by that time. 3. Serve in big bowls with lots of garlic bread. Yields 4 servings.