Washington's Cheesy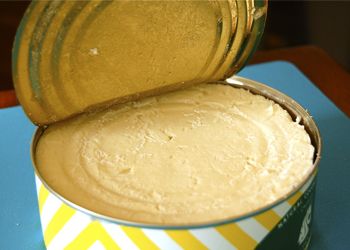 By Christine Hyatt
Our Washington State cheesemaking neighbors to the north are in the spotlight this month in the continuing "Great Cheese Regions of the World" series. Recently, Seattle played host to the preeminent gathering of the cheese community, the American Cheese Society annual conference, Aug. 25–28.
Seattle was also host to the conference in 1997, when a then-record-breaking 360 cheeses were entered into the competition. Last month, an astounding 1460 entries from throughout the Americas was on display at the Festival of Cheese at Benaroya Hall in downtown Seattle.
This mind-boggling growth in a mere 13 years parallels the growth in the wine and craft beer industries a decade ago. A great mix of established and new cheesemakers in the state has brought the total number to an impressive 42, up from just eight in 2000.
Cougar Gold
The state has deep roots in dairy and many notable cheeses, including the only cheese in a can you'll ever hear me rave about: Cougar Gold. The creamery at Washington State University developed this cheese in the 1940s when the search was on for a way to package and store cheese indefinitely without refrigeration.
Though refrigeration is necessary, it does hold up incredibly well for years with many people buying cheeses annually and holding them, similar to a vintage of wine. The cheese relies on specific cultures that produce a minimum of gas, using a special culture known as "WSU 19" to reduce carbon dioxide production. The result is a cheddar-style cheese with a softer, creamier finish.
Sally Jackson Cheeses
In the late '70s, a new breed of cheesemaker emerged in the form of Sally Jackson and her line of creative leaf-wrapped cheeses. Jackson and her husband got their start in 1976 from a "Small and Appropriate Technology" grant from the Carter Administration and have been producing cheese since 1979 on their 140-acre subsistence farm in Oroville, near the Canadian border.
Jackson's signature mixed-milk cheeses are wrapped in grape or chestnut leaves and expertly aged for two to three months. Her cheeses have set a standard in the cheese community for decades and garnered national renown, selling in top cheese shops as far away as New York City.
Quillisascut Cheese Company
Rick and Lora Lea Misterly founded Quillisascut Cheese Company in 1987. Lora grew up on a dairy farm where her mother made a farmhouse-style cheese. That cheese became the inspiration to begin farming and cheesemaking.
This initial vision has grown to include a 36-acre farm with 37 milking does and two Jersey cows and a farm school where they help people understand food origin. The school offers classes in small-scale sustainable farming, homesteading and culinary arts.
In the last decade, a talented crop of new talent has emerged, further establishing the quality and creativity of cheeses from the state on the national and international map.
Beecher's Handmade Cheese
Beecher's Handmade Cheese opened its doors in the Pike Place Market in 2003. Founded by Kurt Dammeier, a passionate advocate for pure, good food and an expert in marketing and business, the company has met with great success.
From the outset, Dammeier and cheesemaker Brad Sinko (formerly of Bandon Cheese) focused on creating an exceptional version of a well-loved classic. In 2004, the company unveiled Flagship, a cheddar/Gruyère-style cheese available both aged and extra-aged. The cheese is immediately accessible to cheese novice and gourmand alike, much like the production which takes place in full view of an appreciative crowd in a windowed corner establishment in famed Pike Place Market.
Estrella Family Creamery
Founded by Kelli and Anthony Estrella and their six children in 2003, Estrella Family Creamery is a vision in what a sustainable family farm looks like. The creamery produces an incredible 18 different types of raw milk cheese with seasonal variations made with milk from the farms' Normandy cows and La Mancha goats.
In 2007, the Estrellas christened their newly constructed cheese cave, which allows for the careful aging of their many cheeses. All the effort has not gone unnoticed. The family has won numerous awards at ACS, and in 2009, the outstanding Grisdale Goat won a gold medal for semi-hard goat cheese at the World Cheese Awards.
Mt. Townsend Creamery
Mt. Townsend Creamery opened in 2006 in Port Townsend. Owners Matt Day and Ryan Trail are on a mission to create great cheese in this scenic seaside community. They hope to preserve and reinvigorate a once robust dairy industry on the North Olympic Peninsula.
Right out of the gate, the small operation produced some of the most exceptional surface ripened cheeses available in the form of the triple cream Seastack and a Camembert-style called Cirrus. They also produce an aged Tomme called Trailhead and a jack-style cheese dubbed New Moon.
Black Sheep Creamery
Black Sheep Creamery is Washington's first sheep dairy. In 1993, Brad and Meg Gregory bought a 100-year-old farmhouse on the banks of the Chehalis River. In 2000, they acquired their first three ewes when their second son had a sensitivity to cow's milk. Over time, their flock grew, and they began experimenting with cheese production.
In March 2005, they were licensed to make cheese, producing seasonal, aged cheeses, including Mopsy's Best, named after one of their first ewes, and Tommes "Black Sheep" and "Tin Willow" made from milk produced on Tin Willow Farm in Eastern Oregon.
Willapa Hills Farmstead Cheese
Just down the road from Black Sheep is the new-on-the-scene Willapa Hills Farmstead Cheese. A true family farm, owners Amy Turnbull and Stephen Hueffed work along with three generations of their family to create a line of handcrafted cheese.
Using milk from the farm's flock of 140 ewes, along with cow's milk sourced from a nearby family dairy, Willapa Hills produces an outstanding single- and mixed-milk line of blue cheeses as well as yogurt cheeses and seasonal sheep milk cheeses.
The Northwest is truly blessed with a growing number of talented food artisans. It's wonderful to see the camaraderie behind the scenes among cheesemakers who are working to improve the quality and availability of specialty and artisan cheeses. A mixed plate of Northwest favorites may just be the perfect way to ring in autumn!
Christine Hyatt is a cheese educator and food writer. Look for recipes, video and the latest cheesy news at www.cheese-chick.com.