Sunshine Daydream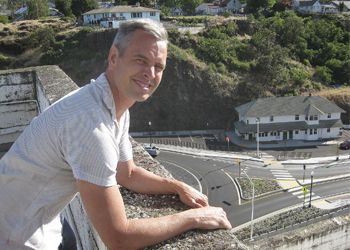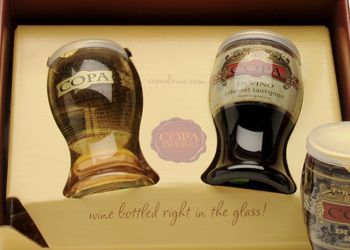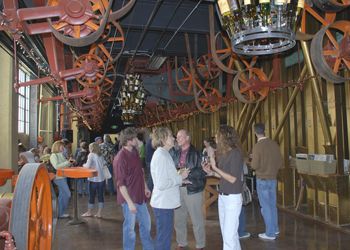 By Stuart Watson
When it comes to vision, James Martin is firmly rooted in The Dalles and creatively all over the map.
On one hand, he's trying to reinvent the way consumers think about buying and consuming wine, with an innovative glass-shaped plastic single serving product called Copa di Vino.
On the other hand, he's trying to change the way travelers think about The Dalles, a vibrant blue-collar community along the Columbia River, 80 miles east of Portland. The centerpiece of that vision is something of a local white elephant — the once-derelict Sunshine Mill, its 12 nested silos, the six-story mill building and assorted outbuildings dotting a four-acre site at the east end of town.
"My passion is to build an artisan community on this property," Martin said, using artisan in the sense of artisan bread, artisan cheese, artisan meats. "The question is: Can we save this building, one glass of wine at a time?"
Tour the dusty hulk with Martin, and you see opportunity at every turn. All the equipment remains from a century of milling flour for the Sunshine Biscuit Co. Rollers, sifters, chutes, exhaust ducts, even the (now idle) "man lift," a rubberized belt that had evenly spaced protruding steps that workers would step onto and rise (or descend) a floor or more.
Beneath the silos, huge buttresses fill a room that cries out for diners. Just to the west, Martin has finished the lowest level to house a bottling line, his office and the tasting room for Copa di Vino wines.
Based on French technology developed by Pascal Carvin, Copa di Vino uses a patented foil seal to hold 6.3 ounces of wine in a curved plastic "glass." The product won a silver medal this year in the DuPont Awards for Packaging Innovation.
Released two and a half years ago with French wine in actual glass containers, the product on Northwest shelves now comes in plastic, because it works better with the taste-neutral sealing technology. Martin notes that today's Copa also features better juice from Milbrandt Vineyards on the Washington side of the eastern Columbia Gorge. Varietals include: Merlot, Cabernet Sauvignon, Pinot Gris and Chardonnay.
Made from the same plastic used in bottled water, the plastic Copa weighs 30 percent less than glass, which boosts the wine-to-packaging ratio and cuts shipping costs. Martin is hoping to produce a biodegradable product in a few years.
"With this design, wine will go places that wine hasn't gone before," he said.
Shoppers can find Copa di Vino — Italian for "glass of wine" — at Whole Foods, New Seasons and nearly 200 other locations around the region. It's the only wine sold at the Gorge and White River concert venues.
Martin says Copa di Vino is hoping to license its packaging to wineries in the Northwest and elsewhere. Kendall-Jackson has agreed to provide wine and distribution for the Copa label in California.
Down in the tasting room, the "copas" make great conversation starters. Tasting room manager Meghan O'Halloran says she wants to start a blog to share ideas about other uses for them.
"I've heard of people using them for salt and pepper shakers," she said. "Someone else used them for a Christmas light display."
Martin isn't new to wine. Raised in a local orchard family, he and his wife, Molli, launched the Silver Salmon label in 2005, followed by Quenett. They contract winemaking through Maryhill Winery.
With wine, Martin hopes to create a revenue stream to underwrite his first passion: restoration of the mammoth mill. "It's like being in a Willy Wonka factory, with all the belts and pulleys," he said
He has an option to buy the property from the city. Dan Durow, community development director for the city, says its Urban Renewal Agency bought the property from its last owner, Cereal Food Processors of Kansas City, then asked for proposals.
Others were interested, but Martin was the only bidder.
"We liked his vision of an artisan mall," Durow said. "We appreciated his courage to step forward and try this."
Martin can buy the mill for just under $300,000, in large part because demolition costs would cost the city three times that amount. The city also has loaned Martin $600,000 to fund improvements. One significant step in a positive direction was recent completion of a new traffic roundabout just south of the mill, which provided three points of entry.
When he looks at the silos, Martin envisions a stack of 280-square-foot hotel rooms. With a winery crush pad on the roof. And gardens and viewing decks. Overlooking a climbing wall on the interior silo walls. At ground level, visitors will relax in a small landscaped courtyard. The adjacent boiler room could house a casual diner or brew pub.
"The first thing I'd like to build is a village oven, where people could come down and bake bread," he says.
If any of this has appeal, Martin would welcome a call at 503-380-0381.
"So far, it's succeeding," Durow said. "We're very hopeful and confident that he'll continue to make it a very interesting and beautiful part of downtown."
A veteran newspaper and magazine reporter and editor, Stu Watson owns Watsonx2 Communications in Hood River.