#6 STORY of 2010: Ponzi Celebrates 40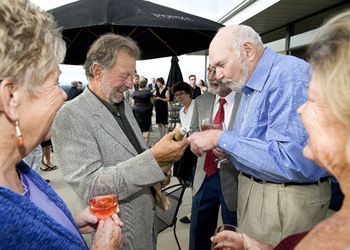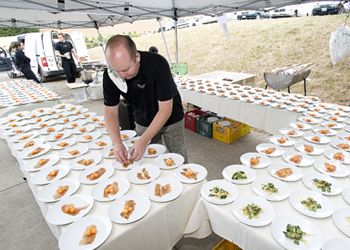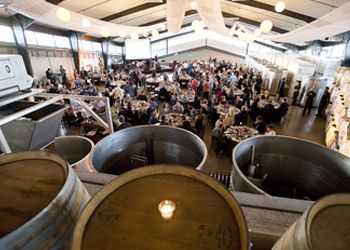 First Published in the September 2010 Edition
By Karl Klooster
Dick Ponzi joined a stalwart little band of would-be Oregon winemakers 40 years ago this year. In his book "The Boys Up North," fellow trailblazer Dick Erath counted Ponzi, along with himself and just four others, among the "true" pioneers.
A lot has happened since then. Dick and his wife, Nancy, are essentially retired from daily involvement in the business, having passed the reins over time to their three children, Luisa, Maria and Michel.
Still, Dick has continued to contribute to Ponzi's big picture as evidenced in the construction of their new winery, Collina del Sogno, or "Hillside of Dreams,"
Completed in 2008 just off Hwy. 219 on the Washington County side of the Chehalem Mountain Range, the 30,000-square-foot "green" complex features four levels and a gravity-fed production system capable of producing 40,000 cases annually.
On Saturday, Aug. 21, Collina del Sogno welcomed a very special group of guests who came to join the Ponzi family at their 40th Anniversary Gala. It was a sold-out affair attended by a veritable who's who of the Oregon wine industry.
Prior to the big evening, an eager gaggle of media folks, including this writer, were invited to a pre-celebration tasting event designed to showcase the progression of Ponzi wines over a span of 30 years.
Dick and Luisa Ponzi co-hosted the tasting, which led off with the 1979. Few of us have the opportunity to taste wines of such advanced age, and fewer still are fortunate enough to experience one that has aged so beautifully.
Considered to be a very good year, ideal weather during the 1979 vintage yielded a large crop. All of the then-small group of North Willamette wineries experienced excellent, problem-free harvests.
Dick was astounded at the fresh, sweetness of the fruit, exclaiming, "It's hard to believe this is 31 years old." Agreeing wholeheartedly with that assessment, other tasters also commented on its nuanced complexity and finesse. An elegant Pinot.
The next wine was a 1985. This bottle exhibited the classic character that proved why the year was called exceptional early on. Classically Burgundian earthiness combined with tasty fruit and spicy notes for a mature, yet still solid wine.
Moving forward into the 1990s, Dick mentioned that they had graduated from pretty primitive hand operations and small batches into more sophisticated production techniques.
The 1991 showed some earthy and minerally notes but was beginning to fade particularly in comparison with the lively 1994, which presented plenty of fruit on the palate and seemed to be holding nicely.
Luisa assumed primary winemaking from her father in 1993 and said her priority was to control fermentation temperatures and introduce longer maceration time.
The 2002 vintage may be one of the quintessential examples of her talents to date. Working with what she called "perfect ripeness," the wine has an enticing, floral nose, ripe fruit and beautifully balanced flavors.
My personal favorite was the 2005, and this is not the only top-tier Pinot for which I have found this to be true. Though growers say it was a difficult year to manage in the vineyard, the extra effort was rewarded by intense fruit with great acidity and structure.
Ponzi's 2005 is yet another example of the round, lush mouthful of layered flavor and pebbly texture I have found from this year. If you can find them and, of course, afford them, 2005s from just about any producer of note would be a vintage to stock up on.
As for the final wine, an unreleased 2008 from the winery's two-acre Abetina Estate Vineyard, it is showing real promise. Full, ripe fruit is wrapped in a nicely balanced robe of acid and tannin. Hints of cola, cedar and spice are already in evidence.
The vertical tasting was a terrific prelude to be sure. But only a warm-up for the main event. Once again, this was a star-studded soirée the likes of which are seldom seen in wine country.
To try and name even a fraction of those on hand would occupy this entire space. But, the featured speakers give an indication. They included Dick Erath, David Adelsheim, Myron Redford and Susan Sokol Blosser.
Greg Robeson, who has long been associated with the Classic Wines Auction, served as master of ceremonies for a memorable evening filled with fabulous food, great wine and wonderful reminiscings about the past four decades.
Jason Stoller Smith, now at Timberline Lodge, and Christopher Flanagan, who has succeeded Smith as executive chef at The Dundee Bistro, did the honors in the kitchen.
Ponzi prosciutto with Hermiston cantaloupe was accompanied by a 2008 Arneis, the tasty Italian grape Ponzi is championing in Oregon. The first course was spot prawns with gazpacho, complemented by a 2007 Ponzi Chardonnay Reserve.
Cascade Natural Oregon Beef Flat Iron Steak comprised the main course, with an heirloom tomato, cilantro-scallion duo and corn Arancini. The unreleased 2008 Ponzi Pinot Noir was its pairing.
A cheese course of chevre, arugula and preserved blueberries followed along with the 2008 reserve Pinot and a sampling of library wines.
Argyle Winery's 2006 Brut was poured with the Maryhill peach boccone dulce dessert course. Since, Ponzi doesn't make a sparkling wine, they deferred the pairing to a friendly competitor. Argyle winemaker Rollin Soles was undoubtedly all smiles.