Terroir or Technique?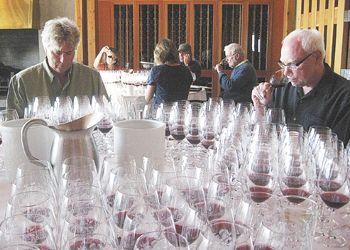 By Karl Klooster
Congeniality, camaraderie and collaboration are applicable descriptors of the Oregon wine industry. Winegrowers and winemakers here are well known for openly sharing what they've experienced in an effort to help improve overall quality.
Not coincidentally, this congenial environment has led to many close personal relationships among industry members. And one such relationship, years in the making, led to a unique joint effort, the likes of which is not known to have been undertaken in any other wine region of the world.
In 1997, the six winemakers, "joined forces," as they put it, "in order to learn from each other's successes and failures, share winemaking secrets and tackle the challenges that arise in the process."
The sextet — consisting of Ted and Terry Casteel of Bethel Heights, Steve Doerner of Cristom, Laurent Montalieu of Soléna Estate, and Lynn Penner-Ash and Ken Wright of their eponymous wineries — has been tasting for a decade prior to starting what they named the "Cellar Crawl."
They met at one another's wineries, pondering problems and ultimately arriving at solutions. They embarked on a joint marketing junket and later traveled to France's Burgundy region as a group.
The collaboration continues to this day. And all participants acknowledge that both their winegrowing and winemaking efforts have greatly benefited from it over the years.
Still, preferences as to approach and technique vary among the individual winemakers, often imparting distinct differences in the style and character of their finished wines.
Being experimental by nature, the group began to discuss what would happen if the single most significant variable of all were not a factor. If everyone made wine from grapes picked from the same vineyard, it would level the playing field at the outset, they reasoned.
The idea came to fruition in 2006, a year of high yields and mature flavor profiles for Pinot Noir in Northwestern Oregon. The Cellar Crawlers couldn't have asked for a better vintage from which to conduct their experiment.
An estate vineyard from each winery was selected — Bethel Heights' Southeast Block, Cristom's Eileen and Soléna's Willakia, all in the Eola-Amity Hills AVA, along with Ken Wright's Abbott Claim in the Yamhill-Carlton District and Penner-Ash's Lia in the Chehalem Mountains.
Everyone would make a wine using an equally shared lot of grapes from each vineyard. That would be five wines from each vineyard, or 25 wines in all.
After three years, the winemakers would all come together to taste their handiwork for the first time.
The wineries chose to have their Cellar Crawl coming out party during the 2009 International Pinot Noir Celebration. The wines were tasted at IPNC dinners and offered for sale in complete limited-edition sets at $1,250 each.
Carrying their collaboration yet another step, $250 from each set sold has been earmarked for the Parkinson Center of Oregon in support of Bethel Heights co-winemaker Terry Casteel's battle against the disease.
"Gaining a better understanding of the influence that soil and individual style have on Oregon Pinot Noir," was how Terry's twin brother, Ted, summarized the experiment, dubbed "The Hand or the Land."
Subsequent blind tastings challenged tasters to try identifying individual vineyards and winemakers. Having had the opportunity to taste two five-wine flights on one occasion and all 25 in a five-flight set on another, I can attest that this was no simple assignment.
Although the wines were excellent across the board on balance, distinguishing vineyard similarities proved more difficult than one might imagine. This seems to indicate that the hand does, indeed, play a role equal to if not greater than that of the land.
When I tasted the first two flights in July 2009, one was said to consist of wines from the same vineyard, the other of wines from the same winemaker. But it turned out they were wines from two different vineyards.
The first flight, from Bethel Heights' Southeast Block, featured a diversity of styles, from rich and robust, to round and fruity, to soft and earthy.
Similarly, the second flight, all from Ken Wright's Abbott Claim, ranged from floral and feminine, to dense, tannic and fruit-forward, to classically Burgundian terroir, to concentrated dry fruit with a touch of anise.
The most recent tasting, held at Penner-Ash on July 26, was put together specifically for the national trade publication Sommelier Journal, out of Denver.
Five top sommeliers from the Portland area were brought in to render their judgments under the demanding blind-tasting format. And members of the media were invited to test their olfactory and gustatory acuity along with them.
As anticipated, another year in bottle has brought more complexity to most of the wines. Pretty floral aromas abounded, along with plenty of fruit that was ripe and fresh in one, dry and dusty in another and layered with berry accents in yet another.
Full, fleshy structure and firm yet unobtrusive tannins were an often-shared trait, though flavors from caramel to cocoa and burnt toast to tar offered a diversity of palate impressions.
Once again, though a common varietal thread was readily apparent throughout, clear-cut family resemblances were difficult to discern. This was evidenced by the comments of the five sommeliers, who, like the rest of us, had their favorites but fell short in determining what was what.
The five horizontal groups turned out to be the vineyards and the five vertical groups, the winemakers. But nearly 60 percent of those who took part in the tasting guessed the opposite.
For the record, this taster preferred Penner-Ash wines to all others. Among my personal favorites were the Penner-Ash Eileen, Abbott Claim and Willakia, along with Ken Wright's Southeast Block and the Soléna's Eileen.
I emphasize personal, because long experience has taught me that, although a panel of professional judges may be able to reach consensus, there will never be unconditional unanimity. When it comes to wine, subjectivity rules.