#8 STORY of 2010: Oregon Wine Press 2010 Superior Cellar Awards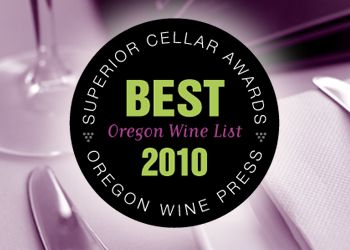 First Published in the September 2010 Edition
by Karl Klooster
With this, the 2010 restaurant issue, we are proud to announce the Oregon Wine Press Superior Cellar Awards Program. Its purpose is to recognize restaurants in Oregon and ultimately across the country whose wine lists include a solid selection of Oregon wines
We are launching the program by honoring Oregon restaurants whose support to the state's wine industry is truly commendable. The establishments honored herein are Superior Cellar BEST OREGON WINE LIST Award winners. The standard for an Oregon restaurant to be so designated is higher here than it will be elsewhere.
A restaurant's list must be decidedly Oregon-oriented in order to merit consideration. And with good reason.
It makes economic sense to get behind local products, none of which is more worthy of being offered in the state's public dining places than our own fine wines.
Not only have Oregon wines risen to a world-class level, the industry's commitment to environmentally sensitive practices and agricultural sustainability gives it arguably the smallest carbon footprint of any industry in the state, small or large.
Owing to the wide range of wines produced around the state, a restaurant could have a 100-percent Oregon wine list and still be able to offer almost every type and style — aperitif, sparkling, red, white, rosé and dessert — available.
Furthermore, by featuring local wines, as well as farm fresh produce and locally raised meat and poultry, restaurants are truly showcasing the best of Oregon's bounty to tourists and other visitors.
When asked why it is important for Oregon restaurants to feature more Oregon wines on their lists, Oregon wine industry members responded with some compelling reasons. The following are just a few of them:
"We have amazing farmers producing great food, many farmers markets, diversity of products, etc. Buy local is becoming more mainstream. Now, in this economic climate, it is time to open up the doors and welcome Oregon wineries in. We need to be in the restaurants now more than ever. Wine and food go together. At a minimum, half the wines on a restaurant list should be Oregon wines." —Trudy Kramer, Kramer Vineyards.
"Consumers really want to support the system of small family wineries in Oregon. It's a logical way for them to ensure that agriculture will be preserved for future generations." —Michael Donovan, RoxyAnn Vineyards.
"It is time for us as consumers and as an industry to demand the same attention be given to local wines that is already given to local food products in our restaurant scene." —Thomas Houseman, Anne Amie Vineyards.
"Investment in the local economy impacts all local business, and restaurants are particularly affected by this truism." —Mauricio Collada, Cubanisimo Vineyards.
"As neighbors and cultures go, what we have here is pretty special. The way to save a culture is to buy its products, consume them, and then buy more." —Marcus Goodfellow, Mattelo Wines.
"Pinot Noir is the best wine to pair with foods. Its acidic qualities help digest cheeses and meats, and the flavors are light enough to accentuate even vegan dishes. There are so many flavors of Pinot Noir that it should be easy to find wines that match with almost any restaurant's menu." —Jean Driscoll, WildAire Cellars.
"When you pair fresh-caught salmon with a local Pinot Noir, or a Southern Oregon Cab Franc with local bison, or oysters with a Pinot Gris to name a few, how can you not want this at your restaurant?" —Michael Bailey, In Vitis for Wine LLC (Distributing only Oregon Wines).
"Wake up, restaurants! We make world-class wines here in the Willamette Valley Keep it local. We will all benefit." —Paul de Lancellotti, de Lancellotti family vineyards.
That said, with the Superior Cellar Awards, Oregon Wine Press expresses our appreciation to restaurants that have already made the commitment to featuring local wines. We look forward to seeing many more follow their example in the near future.
Acknowledging that we may have inadvertently overlooked some deserving restaurants, potential awardees will be considered on an ongoing basis. We welcome recommendations for those already deserving as well as establishments upgrading their lists.
The process that led to selecting our first-ever award recipients has been thoughtful and thorough. A number of wineries weighed in with recommendations, as did members of the wholesale and retail trade.
OWP editors evaluated wine lists for breadth, depth and balance, as well as specific selections. Emphasis on waitstaff training and education, special tastings and other wine-related events were also taken into consideration.
Sheer numbers of Oregon wines alone, though certainly a favorable attribute, was not a requirement. Restaurants with smaller, yet well-selected lists are among the awardees.
Still, there might well be some worthy restaurants that have been inadvertently overlooked and we appreciate input from readers in that regard. After all, this is an ongoing program and consideration of potential awardees will be conducted on a regular basis.
To be deemed an award winner means the restaurant has risen above hundreds of contemporaries to emerge as a champion of Oregon wines.
For 2010, the names of only 41 elite eateries around the state have been given a Superior Cellar Award. Following are a few examples of our honorees. (Note: Figures are approximate.)
The Bay House - Lincoln City
Totaling 146 pages, The Bay House's prestigious and prodigious wine list is a breathtaking lexicon encompassing every well-known wine region in the world. With more than 2,000 wines in all, patrons with deep pockets could ponder for hours. Bay House owner Steve Wilson makes it a bit easier for the budget-conscious by including a list of 40 well-chosen wines for under $30 per bottle, five of them from Oregon.
The inventory of 220 Oregon Pinot Noirs may be as large as that of any restaurant in the world.
Bentley's Grill - Salem
If doing business in Salem means being politically astute, Bentley's sommelier Brian Kemmerle is the ultimate wine diplomat. Of the 247 wines he has selected for the elegant eateries list, 133, or 54 percent of them are from Oregon. Out of a commendably large offering of 35 wines by the glass, 14 of those are also from Oregon.
Celilo - Hood River
A nod to its location finds several Columbia Gorge and Eastern Oregon wines on Celilo's list, which Jacqueline Carey oversees. At 83 wines of the 141 total, Oregon represents an impressive 59 percent of an excellent selection that includes 23 half bottles, four magnums and even a double magnum.
Dundee Bistro - Dundee
Not surprisingly, Luisa Ponzi, with the assistance of Chris Berry, has selected a whopping 97 Oregon wines or 78 percent of the 124 total on the Dundee Bistro's list. Most come from grapes grown in the Willamette Valley and 50 are Pinot Noirs. For the opportunity to compare them with Pinots from other parts of the world, there are 13 international offerings, but none from California.
Farm to Fork - Dundee
If more restaurants did what owners Kendall Bergstrom and Paul de Lancellotti are doing, there would be more happy patrons enjoying higher-end Oregon wines with their meals. Press, A Wine Bar & Bottle Shop, is just adjacent to the restaurant.
Diners can chose anything available from among the more than 200 wines offered in the shop, of which about 90 percent are Oregon, purchase them at the retail price, and pay a $15 corkage fee per bottle to have them served at their table.
Joel Palmer House - Dayton
One-hundred percent. That's the all-Oregon figure diners will find at the mushroom-oriented gourmet mecca founded by Jack and Heidi Czarnecki.
Their son, Chris, has assumed daily management and executive chef duties, which includes overseeing a Pinot Noir-oriented wine list featuring 51 wineries and older vintages from a cellar collection that was started when the restaurant opened in 1997.
Jory - Newberg
Brand new but bankrolled by Ken and Joan Austin of A-Dec dental equipment manufacturing renown, the elegant Allison Inn's fine dining venue evokes the red clay soil known for the character it gives Pinot Noir and boasts a wine list worthy of the name.
Of the 717 wines selected for the list by wine buyer Enrico Crugnale, 256 are from Oregon. And what a list it is. Big names in Pinot abound with, in several instances, older vintages including collections from Beaux Frères, Brick House, Shea and Ken Wright.
La Rambla - McMinnville
Kathleen Stoler's tapas hot spot on Third Street has an ultra cool decor and a superb wine list featuring 60 percent Oregon wines. Serving an especially tantalizing type of Spanish Cucina might have tempted Stoler to lean more toward tinto and bianco, but being in the heart of wine country obviously won out.
Of her 340 wines, 203 are from Oregon — including 120 Pinot Noirs — and the rest are, indeed, from Spain. Olé!
Madrone Kitchen & Wine Tavern - Shady Cove
So where is Shady Cove? It's on the Rogue River about 20 miles due north of Medford, and locals say what comes out of owner/chef Helena Darling's kitchen is well worth the side trip. Even better, Madrone is another 100 percenter. Every wine on the list — well, a French Champagne did slip in there — is from Oregon. And not only from Oregon, but from Southern Oregon. Now THAT is local support.
Nick's Italian Café - McMinnville
Oregon winemakers have been congregating at Nick's Italian Café in downtown McMinnville for more than three decades. The renowned restaurant was a pioneer in featuring the best Oregon wines through the early years of the industry, and that tradition continues today with Nick Peirano turning over the business reins to his daughter, Carmen Peirano, and son-in-law Eric Ferguson.
The Painted Lady - Newberg
Victorian elegance in fine dining. Local emphasis in fine wining. Co-owner Jessica Bagley has made Oregon selections for 58 of her 129 wines, and an evaluation of the list reveals that considerable thought has gone into each category. The wines are not just from Northwestern Oregon, but also Southern Oregon as well as California, France, Portugal, Spain, Italy and Australia. Excellent and eclectic company any wine lover would fine compelling.
Paley's Place - Portland
Would a Portland fine dining icon, where local, organic, sustainable and dedication to perfection are the bywords, have anything less than a first-class wine list? At 93 entries, including 39 from Oregon, Paley's list is not large. But every wine is there because it has earned its place. Vitaly and Kimberly Paley are passionate about wine, and they have demanded excellence in wine selection and service ever since they opened in 1993. Their wine steward, Josh Wiesenfeld, carries forward that uncompromising standard.
Timberline Lodge - Mt. Hood
The venerable Mt. Hood retreat's Cascade Dining Room has gained an award-winning reputation over the years and with it a wine cellar of substantial size with a major Oregon orientation. Of the 628 wines, 390, or 62 percent, are Oregon.
Visitors from all over the world come to Timberline making it a showcase for all things Oregon. A staggering 271 Oregon Pinot Noirs top the mountaintop list, giving diners insight into its extent and an opportunity to experience the state's signature grape.
The Winchester Inn - Ashland
A stately Queen Anne Vernacular Victorian residence is home to luxurious lodging and delightful dining in downtown Ashland. With its excellent restaurant and wine bar, Winchester Inn is the place to go in this eclectic Southern Oregon community for wine.
The 192 wines on the list include 83 from Oregon, or 43 percent; but more than that, it features interesting examples in the spectrum of categories from up and down the state.
So, if you wanted a taste of just about everything Oregon has to offer wine-wise, all you'd have to do is sidle into a seat at the long oak bar that evokes the saloons of yesteryear and start ordering.
2010 Superior Cellar Honorees
Best Oregon Wine List
PORTLAND
Bar Avignon
2138 S.E. Division St. - Portland
503-517-0808 - www.baravignon.com
Randy Goodman
Blue Hour
250 N.W. 13th Ave. - Portland
503-226-3394 - www.bluehouronline.com
David Holstrom
Davis Street Tavern
500 N.W. Davis St. - Portland
503-505-5050 - www.davisstreettavern.com
Gretchen Wilcox and Christopher Handford
The Farm Café
10 S.E. Seventh Ave. - Portland
503-736-FARM - www.thefarmcafe.com
Fearn Smith and Guy Weigold
The Heathman
1001 S.W. Broadway - Portland
503-790-7752 - www.heathmanhotel.com
Jason Ludlow
Higgins
1239 S.W. Broadway - Portland
503-222-9070 - www.higgins.ypguides.net
Andy Zalman
Meriwether's
2601 N.W. Vaughn St. - Portland
503-228-1250 - www.meriwethersnw.com
Ludwig Dulka
¡Oba! Restaurante
555 N.W. 12th Ave. - Portland
503-228-6161 - www.obarestaurant.com
Scott Neuman
Paley's Place
1204 N.W. 21st Ave. - Portland
503-243-2403 - www.paleysplace.net
Josh Wiesenfeld
Park Kitchen
422 N.W. Eighth Ave. - Portland
503-223-7275 - www.parkkitchen.com
Anna Josephson
Pazzo
627 S.W. Washington St. - Portland
503-228-1515 - www.pazzo.com
Travis Boslar
Pinot American Brasserie
1205 S.W. Washington Ave. - Portland
503-719-5506 - www.pinotpdx.com
Bill King and Drew Lehman
Portland City Grill
111 S.W. Fifth Ave. - Portland
503-450-0030 - www.portlandcitygrill.com
Chris Fronsoe
RingSide
838 S.W. Park - Portland
503-223-1513 - www.ringsidesteakhouse.com
Jan Peterson
Ten 01
1001 N.W. Couch St. - Portland
503-226-3463 - www.ten-01.com
Didier Porteaud and Damien Baker
Urban Farmer
525 S.W. Morrison St. - Portland
503-222-4900 - www.urbanfarmerrestaurant.com
Dan Mages
Veritable Quandary
1220 S.W. First Ave. - Portland
503-227-7342 - www.veritablequandary.com
Nicole Rocco
Wildwood
1221 N.W. 21st Ave. - Portland
503-248-9663 - www.wildwoodrestaurant.com
Jeff Moore
WILLAMETTE VALLEY
Bentley's Grill
291 Liberty St. S.E. - Salem
503-779-1660 - www.bentleysgrill.com
Brian Kemmerle
Dundee Bistro
100-A S.W. Seventh St. - Dundee
503-554-1650 - www.dundeebistro.com
Chris Berry
Farm to Fork
1410 N. Hwy. 99W, No. 102 - Dundee
503-538-7970 - www.farmtoforkdundee.com
Becky Boyd
Joel Palmer House
600 Ferry St. - Dayton
503-864-2995 - www.joelpalmerhouse.com
Chris Czarnecki
Jory at The Allison
2525 Allison Lane - Newberg
503-554-2525 - www.theallison.com
Ercolino Crugnale
La Rambla
238 N.E. Third St. - McMinnville
503-435-2126 - www.laramblaonthird.com
Kathleen Beseth Stoler
Marché
296 E. Fifth Ave. - Eugene
541-342-3612 - www.marcheprovisions.com
James West
Nick's Italian Café
521 N.E. Third St. - McMinnville
503-434-4471 - www.nicksitaliancafe.com
Carmen Peirano and Eric Ferguson
The Painted Lady
201 S. College St. - Newberg
503-538-3850 - www.thepaintedladyrestaurant.com
Jessica Bagley
Red Hills Provincial Dining
276 N. Hwy. 99W - Dundee
503-538-8224 - www.dundeehills.org
Nancy and Richard Gehrts
Tina's Restaurant
760 Hwy. 99W - Dundee
503-538-8880 - www.tinasdundee.com
David Bergen
SOUTHERN OREGON
38 Central
38 N. Central Ave. - Medford
541-776-0038 - www.38central.net
David Graham
Chateaulin
50 E. Main St. - Ashland
541-482-2264 - www.chateaulin.com
Beverly McKenzie
Elements Tapas
101 E. Main St. - Medford
541-779-0135 - www.elementsmedford.com
Chris Dennett
Jacksonville Inn
175 E. California St. - Jacksonville
800-321-9344 - www.jacksonvilleinn.com
Jerry Evans
Madrone Kitchen & Wine Tavern
21900 Hwy. 62 - Shady Cove
541-878-2076 - www.madronekitchen.com
Helena Darling
The Winchester Inn
35 S. Second St. - Ashland
800-972-4991 - www.winchesterinn.com
Andy Phillips
COLUMBIA GORGE
Celilo Restaurant
16 Oak St. - Hood River
541-386-5710 - www.celilorestaurant.com
Jacqueline Carey
Nora's Table
110 Fifth St. - Hood River
541-387-4000 - www.norastable.com
Kathy Watson
Timberline Lodge
27500 E. Timberline Rd. - Timberline Lodge
800-547-1406 - www.timberlinelodge.com
Dan Alfred and Tanya Kern
COAST
The Bay House
5911 S.W. Hwy. 101 - Lincoln City
541-996-3222 - www.thebayhouse.org
Steve Wilson
Bridgewater Bistro
20 Basin St., Suite A - Astoria
503-325-6777 - www.bridgewaterbistro.com
Tony Kischner
CENTRAL OREGON
Brickhouse Steak & Seafood
412 S.W. Sixth St. - Redmond
541-526-1782 - www.brickhouseredmond.com
Jeff Porad