Carlton Farms Pork Chop, Yellow Finn Potatoes, Trotter, Cabbage and Sauce Charcuterie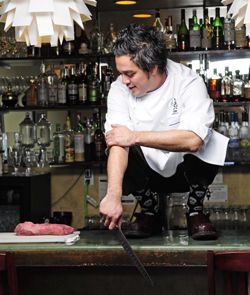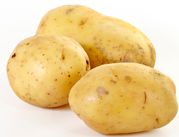 Recipe by Gabriel Gil of The Rabbit Bistro & Bar in Eugene
"This recipe reminds me of summer, and I love the local pork in Oregon. The chops we use are from Carlton Farms, and the trotters are from Tails and Trotters. The 2007 Pinot goes terrific with the sweet charred flavor of the pork, particularly the anise notes from the brine." —Gabriel Gil, The Rabbit Bistro executive chef
INGREDIENTS
4 bone-in pork rib chops, brined (recipe follows)
12 small Yellow Finn new potatoes, sliced in half
3 teaspoons lard or canola oil
6 sprigs of thyme, chopped
1 head green cabbage, finely shredded
1 pork trotter, cooked, meat picked and cut into ½-inch pieces (recipe on page 37)
1 shallot, finely chopped
* sauce charcuterie (recipe on page 37)
* canola oil
1 lemon
* salt
1. Heat a gas grill to high, or, for better results, use a charcoal grill with natural alderwood briquettes. At the same time, preheat your oven to 450°F, and place a sheet pan on the bottom rack. 2. Liberally salt the cabbage and place it in a colander to drain and soften (about 15 minutes). Taste. If too salty, drain briefly under cold water and set aside. 3. Toss the potatoes in lard (rendered pork fat) or canola oil in a bowl along with the chopped thyme. Season with salt and pepper and place face down on the heated sheet pan in the oven. Cook for approximately 12 minutes or until potatoes are crisp and golden. 4. Meanwhile, grill your pork chop to medium (about 135°F on an instant-read thermometer); then set in a warm place to rest for about five minutes. 5. Remove potatoes from oven and heat a sauté pan on medium heat with a little canola oil and sweat the shallot until translucent (about 2 minutes), and toss in the potatoes, cabbage and trotter. Season to taste with salt and a squeeze of lemon. 6. On the plate, place 6 potato halves on each plate in a small circle in the center of the plate, arrange some of the cabbage and trotter mixture inside the circle of potatoes. Spoon a circle of sauce charcuterie around the potatoes and place the pork chop on top of the potatoes.
PORK BRINE
¾ cup salt (175 grams)
¾ cup sugar (175 grams)
1½ teaspoons black peppercorns (7 grams)
2 teaspoons anise seed (10 grams)
10 juniper berries, crushed
¼ teaspoon espelette pepper or red pepper flakes (1 gram)
2 bay leaves
5 allspice berries
2 cloves
2 sprigs thyme
1 cup water (235 ml)
1 gallon water (2 liters)
DIRECTIONS
1. Place sugar and spices into a cup of water and bring to a boil. 2. Let steep until cool and mix with 1 gallon of water. Stir well and put in chops. Let soak for 5 hours. Remove and pat dry.
PORK TROTTER
1 pork trotter (lower part of the pig foreleg)
1 small onion, chopped
1 small carrot, chopped
1 rib celery, chopped
½ teaspoon black pepper (3 grams)
1 tablespoon salt (15 grams)
2 bay leaves
* water to cover
1. Place trotter in cold water to cover in a pot and bring to a boil. Skim off all the film that rises to the top. Lower heat to a simmer and add the rest of ingredients. Simmer until tender (about 2 hours). Let cool and remove trotter. 2. Pick meat from bones. Strain and reserve cooking liquid.
Sauce Charcuterie
1 small onion finely chopped
1 pat butter
2 cups trotter cooking liquid (500 ml)
2 cups rich, dark chicken stock (500 ml)
5 ounces heavy cream (150 ml)
2 teaspoons dijion mustard (10 grams)
2 teaspoons cornichons, chopped (10 grams)
1 teaspoon capers, preferably salted, well rinsed and chopped (5 grams)
½ bunch tarragon, finely chopped
½ bunch Italian parsley, finely chopped
½ bunch chive, finely chopped
½ bunch chervil, finely chopped
DIRECTIONS
1. In a small saucepot, sweat the onion in butter until translucent and add the liquids (except cream). Bring to a boil and skim off the film that rises to the top. Lower heat to a simmer and reduce by half. 2. Add cream and reduce by half again. Whisk in mustard and add the rest of ingredients. Set aside.
WINE SUGGESTION
Anne Amie 2007 Estate Pinot Noir
ABOUT THE CHEF
Chef Gabriel Gil was born in Southern California. Inspired by his time spent growing up in the kitchen of his Mexican grandmother, Gil developed a passion for cuisine. Cooking was initially a hobby and part-time career as Gil spent his early twenties traveling around the world as a musician.
Gabriel's love for food ultimately influenced his decision to pursue cooking full time. He relocated to Portland and began using local, organic and sustainable products while working at Castagna. He continued his training as sous chef of Bistro Casanis under the tutelage of Chef Bradley Bordchardt, formerly of famous New York kitchens such as Veritas, Montrachet and Café Boulud.
Lured out of Portland, Gil moved to Santa Fe, N.M., when offered a job as chef de cuisine of the renowned Coyote Café. After a year and half in the Southwest, Gil returned to Los Angeles and teamed up with Chef Gabriel Gabreski at Blue on Blue Restaurant. From there, he accepted his first executive chef position, cooking at the contemporary, eclectic Mediterranean restaurant Neomeze in Pasadena, Calif.
Eventually, Gil was drawn back to Oregon and now expresses his passion and creativity through his menu at The Rabbit Bistro & Bar. Incorporating seasonal food variations, he integrates his unique perspective on cuisine by creating classic French bistro fare with a modern twist.