Get Yer Green Goat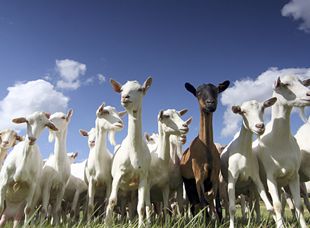 By Christine Hyatt
For as long as I've worked in cheese, I have "known" August is National Goat Cheese Month. But, funny thing is, no one I asked could tell me definitively how this evolved. Even a cursory Google search seemed pointless … until I scrolled to page four.
There I came across a tiny snippet from a Parade magazine insert from the Reading (Pennsylvania) Eagle, dated July 22, 1988. It turns out the designation was the brainchild of the American Cheese Society and Bongrain Cheese, a large exporter of French cheese. A few e-mails to several goat cheese luminaries, who have been crafting great cheese for 25-plus years, yielded a few more details, including tales of tastings for members of Congress in Washington, D.C. in the late '80s.
With the Oregon Wine Press' focus on sustainability for the month of August and the fact that this is National Goat Cheese Month, it's the perfect issue to showcase the incredible array of goat cheeses made throughout Oregon on small to mid-scale farms. Family owned and operated, many of these creameries are green at the core.
Oregon boasts 14 goat creameries – the majority of which are recent arrivals on the scene in the last five years. The cheesemakers produce a wide variety of distinctive styles of cheese, from the traditional fresh chèvre to perfectly ripened pyramids to exquisitely aged wheels.
Though goats were the first dairy animals on our shores, arriving in North America with the earliest European settlers, goat cheese is a relatively new phenomenon in the modern culinary world, getting its start in the mid to late '80s — maybe those tastings for members of Congress had something to do with it? — becoming more mainstream in the '90s. Early on, most goat cheese was made by people who raised goats and made primarily in the fresh, soft style popularized by California cuisine.
Goat cheese came to Oregon in 1987 when Juniper Grove Farm opened in Redmond. Today the farm is home to cheesemaker Pierre Kolisch and his family and 110 happy goats. Pierre produces traditional French-style ripened cheeses that reflect his French training as well as several fresh and aged varieties. His cheeses are known nationwide as some of the finest in the country.
Like many of the goat cheese producers who have come along since, Juniper Grove is a farmstead operation, meaning the cheese is produced on the same farm where the animals are milked.
Because Oregon goat farms are small-scale, they have an inherently lower impact on the land than larger, high-volume operations. The average herd size for Oregon goat cheese producers is just under 60 goats, and cheesemakers produce an average of six different cheeses, depending on the season.
Goats are very social animals with loads of personality. Keeping herd size smaller puts less stress on the land and allows for interaction between the farmer and their animals.
Jan Neilson, owner/cheesemaker of Fraga Farm, a certified organic producer in Sweet Home, says, "It all begins with the goats; content, healthy, well-respected animals produce superior milk." She notes that her animals are browsers, not grazers, meaning less impact on the land.
Gianaclis Caldwell of Pholia Farm, an off-the-grid creamery in Rogue River, says one of her favorite parts of the day is taking her "girls" on daily walks, letting them browse the undergrowth on the farm. These walks keep undesirable undergrowth like blackberry, poison oak and manzanita in check. This natural "weed control" also provides a healthy snack for the goats.
Sourcing feed locally to keep money in local communities is also a trend with Oregon cheesemakers, cutting down on the need to truck in products from far away.
Laurie Carlson of Fairview Farm in Dallas says she tries hard to buy their largest expenditures from people they know, rather than large corporations. "We get our feed milled at the small family-owned feed mill at Union Point and our hay from a family in Corvallis."
Many farms also take a sustainable approach to waste products such as whey and manure. Carine Goldin, owner of Goldin Artisan Goat Cheese in Molalla, is a recent arrival on the Oregon cheese scene. She uses composted manure from her herd to replenish her own soil; she also sells it to customers.
Oregon's latest licensed cheesemaker, Sarah Marcus of Briar Rose Creamery in Dundee, is in the final stages of construction on her creamery and has already researched ways to use one of the primary waste products of cheese production: whey.
This nutrient-dense by-product has many uses, and Marcus has already connected with a local pig farmer who can use the whey for a delicious treat for the pigs as well as with local Biodynamic wineries that spray vines with whey to prevent downy mildew. She notes that "working well with my neighbors keeps the whey from going to waste."
Marcus also developed an innovative way to keep packaging to a minimum. Inspired by her time as an intern at Goat Lady Dairy in North Carolina, she worked with her distributor, Provvista, to use reusable plastic containers to ship her product rather than package in cardboard.
Knowing the ways in which Oregon goat cheese producers engage in sustainable practices, on both large and small scales, adds to the experience of enjoying their cheese. The range of flavors and textures is truly astounding and a testament to the high quality milk and exacting craft that the cheesemakers put into every batch.
Christine Hyatt is a cheese educator, food writer and producer of cheese-centric videos. She welcomes cheesy questions at christine@cheese-chick.com.
RECIPE
Anita's Goat Cheesecake
Recipe by Anita Kolisch of Juniper Grove Farm in Redmond
INGREDIENTS
2 pre-made 9-inch graham cracker crusts
2 pounds Juniper Grove Farm Fromage
1 cup sour cream
2 large eggs
2 cups sugar
1 tablespoon pure vanilla extract
2 tablespoons fresh lime juice
DIRECTIONS
1. Preheat oven to 350ºF. 2. In a bowl, beat (about 5 minutes) goat cheese with a mixer until thick, smooth and creamy. Beat in sour cream, eggs and sugar, and continue beating (about 4 to 5 minutes) until mixture is very smooth and creamy. Add vanilla and lime juice, and beat (about 2 minutes) until thoroughly incorporated. 3. Pour filling over crusts — divided evenly between the two pans — and bake 1½ hours or until brown and springy. Remove from oven and allow to cool to room temperature. If you refrigerate the cake, remove from the refrigerator and let it to come to room temperature (about 2 hours) before serving. 4. To serve, cut wedge of the cheesecake with warm knife. Dip the knife in a tall glass of warm water between slices. Yields 2 cheesecakes.