Rogue Restaurant Redux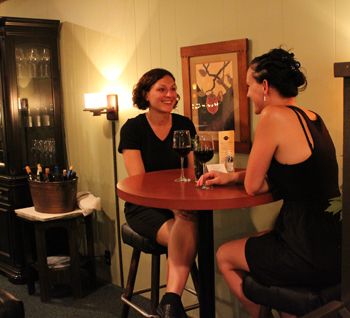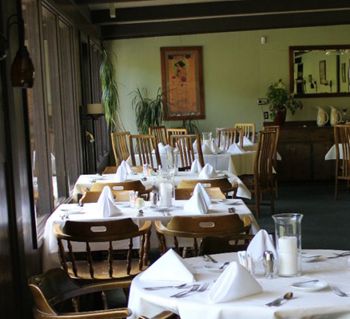 By Wine Press Staff
One of the most picturesque small towns in America just got a restaurant worthy of its setting.
Shady Cove, on the banks of the famed Rogue River in Southern Oregon, is now home to Madrone Kitchen & Wine Tavern. Owned and operated by Helena Darling, the 4,500-square-foot eatery is the former Bel Di's, a longtime rustic local favorite situated on the river.
This spring, Darling and her team updated the restaurant's interior and created a vibrant contemporary menu. Only 20 minutes east of Medford, Madrone is on route to Crater Lake National Park, one of the Northwest's most popular destinations.
"The Upper Rogue Valley's abundant culinary resources allow us to create a first-rate table at Madrone," Darling said. "We're focusing on clean, fresh flavors and innovative dishes served in a unique and inviting atmosphere."
Darling draws heavily from the area's prized vegetables, fruits and herbs, as well as specialty meats and handcrafted cheeses. Local suppliers, such as Noonan Farms in Klamath Falls, Rogue Creamery in Central Point, Plaisance Ranch in Williams, Butte Creek Mill in Eagle Point and Dagoba Chocolates in Ashland, provide Darling a great variety of products with which to craft the restaurant's menus. Her creations are always inspired by the seasons, when ingredients are selected at their peak.
"I see and taste food as if I'm standing in a farmer's field," Darling said. "Customers often call my cooking 'warmly comforting' because we make great food an everyday thing for those who savor this region's bounty."
At Madrone, Darling celebrates Southern Oregon wine with her cuisine. She understands the important influence of soil and microclimates on food, which complements local wines that express the same terroir. Focusing on local labels, the wine list does not lack diversity; Southern Oregon excels at a number of varieties such as Syrah, Pinot Gris, Tempranillo, Viognier, Cabernet Franc, Semillion, Malbec, Marsanne and more.
Besides wine, classic cocktails — made with fresh herbs and juices — as well as single-malt Scotch and local beer are available.
Previously, Darling owned the popular Palace Café restaurant in Ashland's historic Railroad District, but her love of food did not start there; it began on the farm.
She grew up on a Wisconsin dairy farm, where cheese, bacon and sausage were produced and consumed on the spot. When she moved to the Rogue Valley in the 1980s, Darling acquired a discerning appreciation of Northwest flavors and a European approach to cooking, which, ultimately, evolved into her signature Southern Oregon cuisine.
Whether she's making food for one or hundreds, Darling prides herself on delivering homemade dishes a farm girl can identify and a chef can love.
RESTAURANT INFO
Madrone Kitchen & Wine Tavern
Address: 21900 Hwy. 62, Shady Cove
Hours: 5–9 p.m., Wed.–Sat. (restaurant); 4–9 p.m., Wed.–Sat. (tavern); 10 a.m.–2 p.m., Sun. (brunch)
Reservations: 541-878-2076
Web: www.madronekitchen.com
RECIPE
Oregon Rosé Gelée with Basil Whipped Cream
Recipe by Helena Darling Madrone Kitchen & Wine Tavern
"I love the floral, powdery depths of the Rosé with the acid of the berries and tomato. The gelée is always a hit and the subject of much speculation as to its components." — Helena Darling
INGREDIENTS
1 cup sugar
1 cup water
1 cinnamon stick
4 allspice berries
6 anise seeds
2 sprigs spearmint
2 sprigs rosemary
4 cups Oregon Rosé
2 tablespoons gelatin, softened in 1/4 cup of Rosé
2 cups mixed fresh berries
½ cup ripe tomato, peeled and seeded
1 cup heavy cream
¼ cup basil leaves, tightly packed and chopped
1 tablespoon sugar
DIRECTIONS
1. Combine first seven ingredients and heat to just boiling. Remove from burner and let sit for 15 minutes. 2. Open the Rosé and pour out 1/4 cup into a small bowl; sprinkle gelatin evenly over and let it sit for 5 minutes. 3. Strain syrup and return to pot; add gelatin and remaining 4 cups of wine. Heat until gelatin is completely dissolved. 4. Bring to room temperature. Add fruit and tomato. Pour into wine glasses and chill 4 hours. 5. In the meantime, make the whipped cream. In a large mixing bowl, whisk cream until soft peaks form. Gently fold in sugar and chopped basil. Store in fridge until ready to serve.
WINE SUGGESTION
Cowhorn Syrah Rosé