Digging for a Better Wine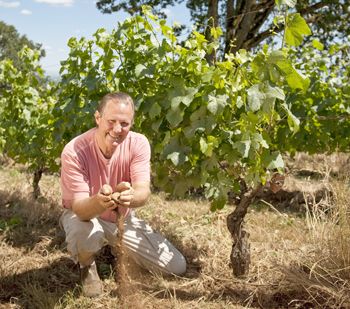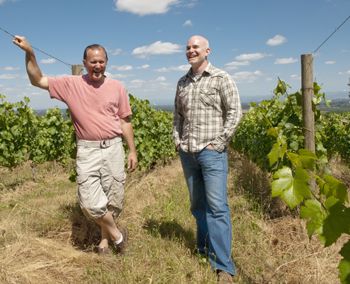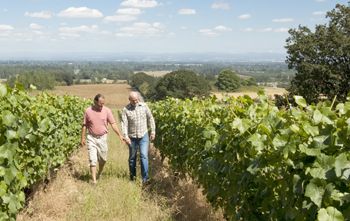 Story by Mark Stock | Photos by Andrea Johnson
Forty inches of rain a year and one of the dreariest Junes in recent history can make irrigation seem like little more than an afterthought in the northern Willamette Valley. Much of the shaded slopes of the area are still soft underfoot, just weeks away from the hottest period of our petulant Pacific Northwest climate cycle. But grape vines are thirsty creatures, consuming something to the tune of 100 to 200 gallons of water each per year. And if the water is not falling from the sky, it must come from elsewhere.
Environmental stewardship has always framed Oregon viticulture. From organic farming to native yeast fermentations and cork recycling, the philosophy is one of minimal manipulation and maximum quality. The Deep Roots Coalition (DRC), initiated in 2003 by John Paul of Cameron Winery and Russ Raney of Evesham Wood Vineyard, flowered from this very mindset. The loosely assembled advocacy group of 12 wineries sticks to a grape growing manifesto that stresses dry farming over irrigation, and place over yield.
Burgundy set the standard long ago, well before the advent of agricultural irrigation. Vines were forced to burrow deep for nourishment, allowing them to pick up intriguing green flavors of minerality and earth in the process. Today, the song remains much the same in this famous region. Only under severe drought conditions are growers able to turn on emergency sprinklers.
In California, the hand of cards dealt by climate is a little harsher. Dry, arid conditions make irrigation a necessity for many growers there, especially since the replacement of many drought-resistant rootstocks by shallower, higher-yielding types in the late 1970s and early 1980s. During this time, the driving force in Central and Northern California was production, and many vineyards were treated like lettuce farms or strawberry plots. In other words: Plant densely, water heavily and expect a huge harvest.
The organic and sustainability movements have altered these practices, especially in Oregon. For DRC members, the issue is bigger than water usage. "We've simply been making the point that dry-farmed wines aren't necessarily inherently better," Raney explained, "It's just that they tend to be more distinctive and more representative of their respective terroir." He uses words like "authentic" to describe the Pinot Noir that arises from these conditions.
"If you're not experiencing the soil far underneath the vine, then where is the terroir?" Paul added. He stresses that the DRC is by no means exclusionary. In fact, it's the opposite, with no dues and meetings, just a sturdy philosophy and a large welcome mat.
"The whole point is to make the concept of irrigation a talking point in the marketing arena so that the consumer can weigh in with their buying preferences," Paul said. "We welcome all true practitioners!"
Paul believes the best wine in Oregon to be those made from dry-farmed vines. Lower alcohol levels prevent fruit bombs, and vines that lack "life support," or irrigation, reflect the earth they reside in, he argues. Moreover, the precipitation of a specific vintage is showcased by fruit grown this way, bringing terroir to the fore and eliminating the possibility for water addiction in the vineyard.
Extensive water use, the DRC argues, is not only wasteful but also inappropriate. Wines ought to reflect the natural conditions of their region. Just as the Willamette Valley isn't famous for Merlot, Eastern Washington isn't renowned for its Pinot Gris.
In addition, members agree that there's room for water addiction in over-irrigated vineyards. This dependency of vines on their growers is welcomed by some (who love the control) and frowned upon by others (DRC). Aside from consumption and cost, heavy irrigation can also tamper with the physiological clock of Vitis vinifera. Controlling the water switch is, in part, like sitting in for Mother Nature, allowing one to create spring in the heat of summer or plump up fruit during an off year.
The Deep Roots Coalition accommodates the uncertainty of nature herself. Growers can spot-water initially with new vines and special terms have yet to be defined for intense drought conditions. Aware of the New World industry's tender age and comparatively small amount of regulations, the DRC is trying to establish a new era of grape-growing guidelines that will keep roots digging sustainably for generations to come. Oregon is not Burgundy, but the history and approach of our French sister region is worth learning from.
As for labeling, it continues to be difficult to tell exactly how a wine is made. The DRC has a logo but lacks the strength and spread of logos like that of Demeter Biodynamic or Oregon Tilth Certified Organic. "We think it's a useful educational tool for the consumers when we can indicate on the label that the wine is produced from non-irrigated vines," Raney said.
If the movement continues to snowball, as John Paul predicts, a bigger DRC presence on Oregon bottles is very likely.
For now, a small logo appears on many of the labels for Cameron and Evesham Wood wines. If the movement continues to snowball, as John Paul predicts, we may see more and more of the DRC on Oregon bottles.
When it comes to Pinot, fashion will change — it always does. And there's no denying the market's force on winemaking styles. California's recent push for Pinot made in the Oregon style — lighter, slimmer, trimmer — reflects a recent resurgence in Old World methods. Under DRC regulations, wines could not outdo their respective vintages or AVAs. Dry years would produce bigger wines; wet years, lighter wines, and production levels would likely decrease due to lower yields.
In many ways, the DRC movement is yet another declaration of independence from the American winemaking norm, especially that of larger operations. Or, at the very least, a return to the common practices of long ago, before automated irrigation, chemical treatments and mechanical harvesters. In Oregon, these traditional methods are at the forefront, but it takes the encouragement and leadership of groups like DRC to keep it rolling.
What we'll almost certainly be talking about most in the coming decades is water usage. We're no strangers to the conversation out West, but the rest of the nation is still realizing the severity of the situation. It may take a catastrophe to wake the masses — a dried-up Colorado River, Willamette River algae blooms, a barren Central California — but one is very much a possibility according to the current agricultural mode.
Perhaps then, the DRC will unanimously cry, "We told you so." But this is unlikely. The dry-farming group and like-minded Oregon viticultural coalitions are not acting on vendettas. Currently, it's a movement that blends the flavor of terroir with precautionary, preemptive advice. It's about making our new prized crop healthy and right at home within its natural landscape. Moreover, it's about crafting a history.
Mark Stock, a Gonzaga grad, is a Portland-based freelance writer and photographer with a knack for all things Oregon.
Deep Roots Coalition Members
The following wineries and most of their fruit sources, including estate vineyards, are all located in the Northern and Central Willamette Valley. :Ayres Vineyard, Belle Pente, Brick House Vineyards, Cameron Winery, Crowley Wines, Evesham Wood Vineyard, The Eyrie Vineyards, J. Christopher Wines, Matello Winery, Patricia Green Cellars, Thomas Winery, Westrey Wine Company