Torii Mor's Big Score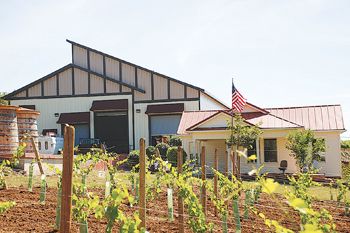 By Karl Klooster
Keeping a small business afloat in today's fractured economy takes innovative thinking. And it appears that Dr. Donald Olson, owner of Torii Mor Winery in Dundee, is one who puts a capital "I" on innovation while simultaneously exploiting opportunity.
In a July 12, 2010 news release, the U.S. Department of Agriculture announced that "Torii Mor Winery, LLC was selected to receive a $6 million guaranteed loan that will enable the company to restructure debt and establish a working capital reserve to create and retain jobs — including preserving nine existing positions."
The release went on to state: "the 17-year-old business in the heart of Oregon Wine Country is an integral part of the local value-added agricultural economy. The winery purchases nearly 90 percent of its grapes from local vineyards, which helps sustain additional jobs and agricultural businesses in the region."
Similar claims could be made for dozens of other wineries in the state of Oregon, but Olson took the initiative to go through the lengthy and complex process in hopes of qualifying for the loan.
The fact is that any of those wineries would be eligible to apply for a business and industry loan through the USDA's Rural Development Business and Industry Guaranteed Loan Program, which was bolstered by $1.57 billion in American Recovery and Reinvestment Act funding to help rural businesses stimulate their economies and support local communities.
The reality is that each of the department's several rural loan programs has only so much money available each year, and well-qualified applicants who get in line early put themselves in an advantageous position.
That may be a roundabout way of saying "the early bird gets the worm," but, in this case, the bird also has to have the right breeding. Having been a bright bird in the past doing his best to provide a favorable environment for worms helps a lot.
The analogy is that ever since Torii Mor's new, gravity-flow winery opened in September 2007, it has rigorously adhered to ecologically conscious practices.
Both the winery operation and Olson Estate Vineyard have earned certification from LIVE (Low Input Viticulture and Enology), the Oregon-originated nonprofit that certifies winegrowers and producers according to strict international sustainability standards.
On March 31, 2010, Torii Mor received LEED (Leadership in Energy and Environmental Design) GOLD Certification from the U.S. Green Building Council with a score of 42 points. The only other Oregon winery with LEED GOLD certification is Stoller Vineyards, located in nearby Dayton.
In order to achieve that high level of certification, the facility met specific guidelines and criteria. They included sustainable site development, energy efficiency, water savings, material selection and resources, indoor environmental quality and gravity-flow winemaking.
Sustainable practices extend to the offices and tasting room as well, with the recycling of bottles, foils, corks, paper and plastics, the use of recycled and recyclable boxes and green housekeeping products.
This level of responsible stewardship was obviously not lost on the USDA officials who awarded a guaranteed loan to Torii Mor, along with nine other rural businesses.
They included four produce growers, two food processors, a dairy, a cheese factory and a potato chip maker spread among Iowa, Mississippi, Nebraska, North Carolina, Ohio, Pennsylvania, Washington and Wisconsin.
Recognizing and getting in early on a good thing seems to have been a pattern for Olson. Though the Wisconsin native didn't take his first sip of fine wine until he had graduated from medical school and moved out West, he knew something good when he tasted it.
Not only did he become an avid wine aficionado, he also developed a fascination for the art and science of winemaking, subsequently enrolling in classes at University of California, Davis, and taking an extended trip to France in the early '70s.
His introduction to great French wine was inestimably augmented by the fact that the father of a friend he'd made while a med student was the owner of one of the most famous restaurants in France.
At Restaurant Lasserre, a Michelin three-star, the young physician was wined and dined in high style, coming away with an experience and an appreciation afforded few Americans.
Olson's son apparently inherited his father's palate and love of the fermented grape. In 1985, the two started talking seriously about investing in a vineyard.
A fatal car accident abruptly and tragically ended that father-son collaboration. But Olson continued with the dream, left his position as a neuroanatomy professor in Las Vegas and bought a prime vineyard in the heart of the Dundee Hills.
Good fortune, wine-wise, befell him in being able to acquire a 15-acre vineyard planted by the well-known McDaniel family of McMinnville. It yielded beautifully mature Pinot Noir grapes, which he sold to Argyle until launching the Torii Mor label in 1993.
When asked about the origin of the name, Olson mentioned his Japanese landlord in Paris who had become a good friend. From him, he developed a deep appreciation of the Japanese culture, which is firmly rooted in the philosophy of balance.
And what could be more appropriate than to revere that for which every winemaker strives? He then named the winery Torii Mor, which translates "gateway to the earth." More wine-related symbolism: balance and terroir.
The final piece in Olson's wine puzzle fell into place in 2005, when Burgundian winemaker Jacques Tardy came on board. "I always wanted to have a French winemaker. I even went to France trying to find someone, but failed," he said. "Then Jacques left Montinore to join us. Perfect."
But in striving for that perfection, there are inevitable hurdles to overcome. When the recession hit and bank lending screeched to a halt — even for worthy borrowers — it took some innovative thinking on Olson's part to happen upon and take advantage of the USDA recovery act program.
Now that the out-of-the-box effort has paid off, he'll proceed with actions that will augment Torii Mor's ability to further enhance their upward quality curve while growing in size and adding jobs.
Annual production has increased from 1,000 cases in 1993 to 15,000 cases currently. The production capacity of the new winery is 30,000 cases, leaving plenty of room for potential growth.
High on his priority list is championing carbon credits for winegrape growers. "Vineyards are CO2 gobblers," he said. "We're missing out on the opportunity to qualify for credits which would allow us to lower grape and wine costs."
It's exactly what you would expect from a man who says, "If you don't have passion, you shouldn't be in the wine business."
WINERY INFO
Torii Mor Winery
Address: 18323 N.E. Fairview Dr., Dundee (tasting room)
Hours: Daily, 11 a.m.–5 p.m.
Phone: 503-538-2279
Web: www.toriimorwinery.com