Chardonnay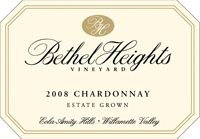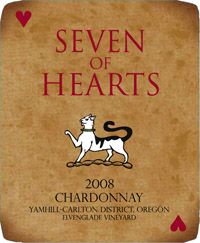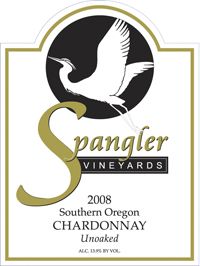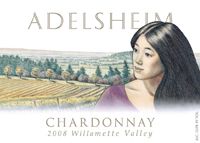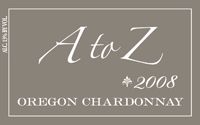 Seven of Hearts 2008 Chardonnay, Elvenglade Vineyard, Yamhill-Carlton • $24 (97 cases)
Single vineyard, tiny quantity, tons of taste. All sorts of good things going on in this limited-production example of the white Burgundian grape. A spectrum of intriguing flavors — honeyed oak, tropical fruit, apple tartness and tangy citrus — is nicely balanced by lively acidity. The palate-pleasing whole delivers throughout.
A to Z Wineworks 2008 Chardonnay, Oregon • $14 (11,081 cases)
"No wood" is the back label statement on this low-priced, relatively large production blend from various Oregon sources. Though it could just as likely have said "unoaked" or "stainless steel fermentation," the clear message here is "pay attention to the taste of the grapes," as in notes of green apple, citrus and minerality. An enjoyable, easy-drinking wine.
Spangler 2008 Chardonnay, Southern Oregon • $20 (168 cases)
"Unoaked" on the front label leaves no ambiguity in identifying the treatment of this soft, zesty charmer. A floral nose introduces a piquant palate that exhibits notes of nutmeg, clover and honeysuckle. The rich, spicy flavors do a textured dance across the tongue.
Adelsheim 2008 Chardonnay, Willamette Valley • $22 (1133 cases)
Dijon clones from several Yamhill County vineyards lend their regional similarities and site-specific differences to a stylish wine that is light, bright and clean on the palate. The fresh crispness is complemented by hints of vanilla, wild clover, lemon zest and sorrel.
Bethel Heights 2008 Estate Chardonnay, Eola-Amity Hills • $18 (162 cases)
A blend of 67 percent Dijon and 33 percent old-vine Wente clones, this estate wine exhibits ripe fruit flavors reminiscent of baked apple and poached pear, enhanced by the solid structure of good acidity. Buttery oak and flinty minerality add complexity to a very promising package.
The Oregon Wine Press tasting panel has selected the above wines based on overall quality and value within their respective categories. To the best of our knowledge, they are currently available in the retail marketplace, but a call to the winery or your favorite wine merchant will best determine where they may be purchased. The above wines have met the following criteria: (1) produced by an Oregon winery; (2) retail price up to $30 per 375 ml bottle for Pinot Noir and $25 per 750 ml bottle for all other varieties and blends; (3) currently available to consumers. Recommended wines were selected using a double-blind method and a 20-point ranking system for appearance, aroma, taste, balance and finish.