Green Wine Groupie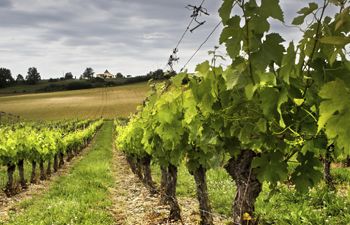 By Kerry Newberry
Identifying "green" wine has certainly become easier. Labels marked LIVE (Low Input Viticulture and Enology), Oregon Tilth Organic, Demeter Biodynamic, Salmon Safe and OCSW (Oregon Certified Sustainable Wine) guide consumers to sustainably produced product. Plus, many stewards now stock a specific area to highlight these earth-friendly labels, making them even more accessible.
But besides the obvious, buying eco-conscious Cabernet and sustainable Sauv Blanc, how else can the Green Wine Groupie express his love for Mother Earth?
After a few phone calls, countless e-mails, a smattering of lunches and late nights sipping sustainable wines with friends — in the name of research, of course — the long list I compiled narrowed in scope as common themes emerged.
DRINK LOCAL
Providing the perfect explanation supporting a local food economy, Jennifer Maiser from the Eat Local Challenge blog gives followers many reasons to eat and drink locally. As referenced on the website: "According to a study by the New Economics Foundation in London, a dollar spent locally generates twice as much income for the local economy. When businesses are not owned locally, money leaves the community at every transaction." This fits into the economics of wine sustainability.
Wine writer Steve Heimoff added to this sentiment on his eponymous blog; in his post "A vintner's plea: Buy local, please," he urges consumers to buy local wines in wine shops and restaurants. His message was a reflection on an opinion piece by blogger Oded Shakked, the winemaker/owner of Longboard Vineyards, who questioned the idea of talking local, then buying non-local. Heimoff encourages restaurant patrons to question a list if there are no local wines featured. His experience is told from a California perspective but is applicable everywhere.
Created by Dave McIntyre, wine columnist for The Washington Post, and Jeff Siegel, a Texas wine writer known as The Wine Curmudgeon, www.DrinkLocalWine.com champions local wine scenes. "Wine Country is Everywhere," the blog's mantra, explains the duo's passion for community consumerism.
McIntyre and Siegal's vision is clear: "In the global economy, we are lucky to be able to drink wine and eat food from anywhere. Yet increasingly the trend is away from giant agribusiness and toward a restoration of local farms as we insist on produce and meat 'from around here.' Vineyards are farms. Local wine should be part of the local food movement."
Another benefit to buying and drinking local wine is environmental sustainability. Whenever possible, it's always earth friendly to decrease the miles our food or wine travels.
Buying local has many positive outcomes. An important one: Less transportation equals less fuel burned. If you are in Oregon, buying locally is even greener because more than likely the wine you choose has been produced using responsible agriculture. Sustainability is at the core of most Oregon vineyards. Additionally, Oregon wine subscribes to the third tier of social sustainability with programs that provide healthcare to vineyard workers throughout the year.
The key take-away: Live here, drink here.
TRY BOXES
Portland's Boedecker Cellars recently launched an innovative program, Community Supported Wine (CSW) — which operates like the popular Community Supported Agriculture (CSA) services found at many Farmers' Markets. For $20 a week (plus an initial bottle deposit), participants receive two bottles of wine — one white and one red. Bottles returned to the winery at the end of the week are washed and sterilized for reuse.
Thinking "inside the box," Grochau Cellars — also housed in the same winery as Boedecker —plans to release select wines in box format. The three-liter boxes include GC's 2009 PINK, 2009 WHITE and the 2009 Commuter Cuvée Pinot Noir.
Efficient, environmental and economical, boxes are becoming increasingly accepted. In fact, Springhouse Cellars already packages its Columbia Gorge wine in a box, and — like Boedecker — the winery offers refills, but instead they use growlers instead of traditional wine bottles.
Besides boxes and refillables, corks can be sustainable, too.
Cork Reharvest is leading recycling and educational efforts involving the enclosure in the U.S. and Canada. Its mission is to educate the public about the rich biodiversity found only in the Mediterranean cork forests — and the vital source of income the forests provide to the family farmers. Thanks to this nonprofit, over 292 Whole Foods stores across the nation and Canada provide drop boxes for wine drinkers to recycle the stoppers.
BUY GREEN ART
Inspired by the reuse philosophy, artists locally and nationally are creating functional and fashionable wine paraphernalia made from used wine wares. "I can't think of any other industry that creates such beautiful works of art from its used items," said Jennifer Sterling, owner of Green Products & Gifts.
"Recycling rubber, paper and plastic produces some useful products, but not the functional art crafted from used wine products," she added.
Sterling works with over 25 vendors, supplying avant-garde bottle creations such as wine bottle lamps and wine bottle wind chimes. Similarly, Sweet Organics & Naturals' online boutique sells handcrafted glass jewelry from three different designers. Choose from intricately designed necklaces, pendants, rings or earrings made from reclaimed wine bottles.
The Green Glass Company turns old wine bottles into elegant stemware, while Kera Ortberg-Wydman sets old wine bottles aglow with her handcrafted Soy Vey Candles line. The soy wax candles are available locally at Del Rio Vineyards and at Found Objects in McMinnville.
Of course, what is wine without a cheese plate? Kevin Budde from the Portland-based Glassworx NW has been producing wine bottle cheese platters made from old wine bottles for eight years. The platters are available around the country and at all Made in Oregon stores.
Barrel lovers will want to contact Mark Russell Lutz of Barnhouse Products, he crafts chic barrel tasting tables and swivel stools made from old wine barrels right in The Dalles.
What's inside the bottle is key for the Green Wine Groupie, but with a little research — and a glass of red in hand — the eco-conscious consumer will discover endless ways to save the planet with a Pinot, or whatever your preference is.
Kerry Newberry is a Pinot-sipping, vineyard-hopping wine and food writer. She resides in Portland.