WOW: It's a Party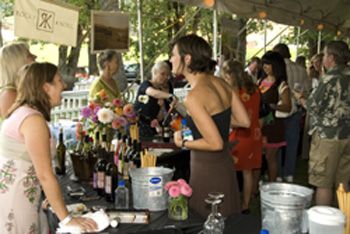 By Janet Eastman
The idea was simple: Throw a summer party to promote wines made from Southern Oregon grapes. The first World of Wine Festival was so grassroots it was financed by a few grape growers on their personal credit cards. They invited the winemakers they knew and made the food.
Eight years later, WOW can no longer be contained inside a tent the size of two baseball fields.
More than 500 people are expected to buy tickets to the Aug. 28 event at Del Rio Vineyards in Gold Hill. They'll taste more than 120 wines paired with locally produced beef, cheese and chocolate. They'll compare their favorite wines to the ones the judges single out for awards. And they'll have a chance to talk to winery owners who know that earning a medal at this competition gets them noticed.
"Winning Best in Show for red wines at the 2009 WOW generated immediate interest in our Cab Franc," said Steve Simmons of Misty Oaks Vineyard, who quickly sold 100 cases of the 2007 Jones Road Cabernet Franc. "It was kind of a launching platform for our Bordeaux varietals."
Simmons said people come to his Oakland tasting room specifically requesting a taste of the winner. This "gives us a chance to expose them to our red blend, Malbec and other wines," he said.
South Stage Cellars also earned Best in Show for its 2008 Early Muscat, and their Jacksonville tasting room, too, became more crowded. "Customers reach out their glass and ask for the Early Muscat by name," said events manager Porscha Schiller.
When grape growers Lee Mankin, Joe Ginet of Plaisance Ranch and Cal Schmidt of Schmidt Family Vineyards conceived of the idea for this festival in 2003, they hoped it would encourage more people to buy wine, which would mean more wineries would need to buy their grapes. They did not imagine that the growth and recognition of WOW would parallel Southern Oregon's gaining respect.
"There is a symbiotic relation," said Mankin, a retired Washington State dentist who moved to the Rogue Valley in 2002 to start growing Merlot grapes on what is now Carpenter Hill Vineyard in Medford.
In 2003, there were only seven wineries, he says. Today, there are 57, crafting wine from 70 different varieties of grapes. Not surprisingly, the three founders have graduated to making and selling their own wine from their estate fruit.
WOW is so successful that it now generates enough money to underwrite the Rogue Valley Winegrowers Association's educational programs and to promote public events organized by the Southern Oregon Winery Association. A portion of the money raised through the silent auction provides scholarships to the Southern Oregon Wine Institute at Umpqua Community College.
Another advancement: Star chefs from the McCully House, Jacksonville Inn and Ashland Springs Hotel prepare the food using ingredients procured from Gary West Smoked Meats, Rogue Creamery, New Sammy's Cowboy Bread and RoxyAnn Bakery.
From the start, the founders wanted to showcase new wineries, too. Fred LaBrasseur of LaBrasseur Vineyard in Eagle Point is submitting his newly bottled Estate Viognier, Merlot and Syrah to judges for the first time, anywhere.
He'll get evaluations from Joel Butler, who is the president of North America's Institute of Masters of Wine, Patrick Farrell, the Institute's vice president, Bob Paulinksi, wine buyer for the Winn-Dixie chain and Patrick Comiskey, senior editor for Wine & Spirits magazine.
"WOW is the premiere venue for showcasing wines from Southern Oregon," said LaBrasseur, who is pioneering a new area of Southern Oregon in the foothills of the Cascades. "Being a brand new winery, we hope to get some excellent exposure to the local wine drinking public. We also hope that others will see our success and be encouraged to plant grapes in our area."
Janet Eastman writes for national publications and covers Southern Oregon wine for www.examiner.com. Her work can be seen at www.janeteastman.com.
EVENT INFO
World of Wine Festival
Location: Del Rio Vineyards
Address: 52 N. River Rd., Gold Hill
Date/Time: Aug. 28, 5–9 p.m.
Tickets: $75 (available online)
Web: www.worldofwinefestival.com