#3 STORY of 2010: Land Use Dispute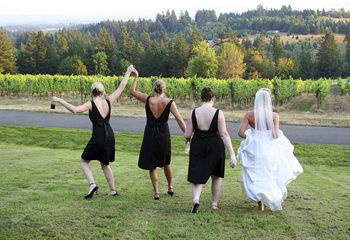 First Published in the August 2010 Edition
By Hannah Hoffman
The passage of Senate Bill 1055, which permits events on vineyard land but not other types of farmland, has spurred a debate across the state about what wineries in exclusive farmlands should be allowed to do in the course of conducting business.
"This has been a problem waiting to blow up. And it just did," Pat Dudley of Bethel Heights said at a Newberg town hall meeting.
Widely seen as a stopgap measure, the bill will sunset in 2013. In the meantime, wine industry leaders and county government officials have been working simultaneously but independently on the problem.
Industry leaders held a series of town hall meetings dedicated to discussing what wineries should be allowed to do on farmland. Meetings were held in Roseburg, Central Point, Newberg, Hood River and Milton-Freewater.
Leaders are planning to draft a proposal for consideration by the Legislature during its 2011 session.
Meanwhile, officials from counties around Oregon have formed a task force to decide how to regulate events on any farmland facilities, not just wineries. However, the wine industry has been the focus, since its controversy inspired the creation of the group.
That dispute touches on several points. At the forefront is how to balance the business of selling wine with maintaining the integrity of farmland. Deeper inside the argument are debates over local versus statewide regulation and how vineyards should be treated under the law as compared to other types of farms.
At the Newberg town hall meeting on July 12, Alex Sokol Blosser of Sokol Blosser Winery presented a set of 10 "value statements" the Willamette Valley Wineries Association has drafted to start the conversation. The meeting at the Allison Inn drew about 80 wine industry leaders.
The value statements elicited a mixed response. They proposed legal limits and conditions on special events, the sale of food and the wine that can be sold at a winery not attached to a vineyard. The statements emphasized the role of farming in a vineyard, but also noted that events such as Memorial Day and Thanksgiving are necessary to conduct business.
No one knew how to define "special events," but most said events that attract large crowds simultaneously — like a wedding — bring in business that sells wine; several people protested the idea of the wine industry voluntarily limiting those events.
The WVWA noted in its value statements that, "The Oregon wine industry and its vineyards can only exist if non-farm uses in EFU-zoned lands continue to be limited. Therefore, the members of our industry should be encouraged to provide leadership in helping the State understand the need to limit those non-farm uses."
But not all winery owners see themselves as typical farmers.
Many said wineries should be treated differently from other farms because their crop is different. They said most of Oregon's agricultural commodities are sold in bulk, with little or no processing and packaging, while wine requires extensive handling. Thus, they argue, wine is unique, or nearly so, in demanding aggressive on-site promotion.
However, others said the wine industry ought to unite with other farmers because the success of their respective industries relies on a similar business model. These advocates said visits from urban customers who want to experience food production first-hand will be crucial to the success of 21st century agriculture.
Mary Olson from Airlie Winery said, "All farming on a local level will be dependent on being value-added. We aren't separate from them."
It's a fact that other agricultural industries want to host events. Operators of Christmas tree farms, roadside produce stands and pumpkin patches share a strong interest in on-site promotional activity.
According to a survey of county planning directors, conducted by the statewide task force, counties are seeing farmland activity involving a wide range of events, including rock festivals, bike races, spiritual gatherings, mud bog races, pumpkin firings and, more than anything else, weddings.
They said they favor a comprehensive initiative rather than one limited to the wine industry. It shows they also favor the conditional use process as a way of regulating non-farm uses.
In some counties, such events require permits; in others, they don't.
Receiving virtually no state direction, the counties are responding in widely divergent ways. And the inconsistencies are serving to further inflame concerns already being raised about traffic and noise.
Statewide surveys went to all 36 of Oregon's county planning directors, and 21 responded.
Most planners said they prefer the conditional use permit process, which evaluates each event and non-farm use on an individual basis.
However, that approach receives criticism from the wine industry. Winemakers complain it subjects them to lengthy, expensive and litigious land use proceedings, and they said the process varies by county.
Several complaints were directed at Washington County, known for its inflexibility regarding events at vineyards. Meanwhile, in its survey response, Washington County's planning department noted that Yamhill County is known for its relaxed rules.
Yamhill County Planning Director Mike Brandt said his office allows every winery three events per year and requires a conditional use permit for any use beyond that.
Yamhill County Commissioner Mary Stern, a task force member, said the idea is to standardize the process to approve events on farmland but still allow for local control. She said the task force members favor the conditional use process but want to develop a set of standard practices that every county can use to grant those permits — standards that can be used in every county for every industry.
"Why should anyone be treated differently?" she said.
But Stern said the permit process would allow each county to address its own concerns without overarching state regulations.
Local control is a solution the Willamette Valley wine industry doesn't appreciate, but the Southern Oregon wine industry certainly does.
According to a survey conducted by the Oregon Winegrowers Association, 60 percent of winemakers in the Willamette Valley who do business on farmland want statewide regulations. But in Southern Oregon, 61 percent of wineries on farmland favor local rules.
Both the wine industry and statewide task force plan to present possible solutions to the 2011 Legislature, and it's almost a foregone conclusion that there will be some significant differences.
Sokol Blosser observed, "We all know land use planning is as easy to talk about as abortion and the war in Iraq."
Hannah Hoffman is a reporter for the News-Register.