A Lot to Like about Little Lyle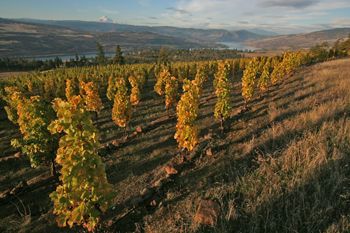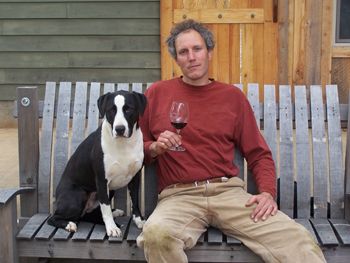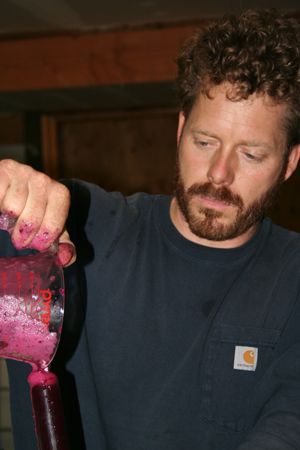 By Stuart Watson
On a bright, sunny spring day, Brian McCormick leads a group of wine lovers on a long amble, north and downslope from his parents' Mistral Ranch home, to two acres of young, deer-fenced Grenache vines.
Angled toward the southern sun on a slope above the Columbia River just west of Lyle, Wash., this vineyard is perched perfectly for a view across the signature island that gives the family winery its Memaloose name, toward the younger McCormick's own farm just east of Mosier, Ore.
In addition to vegetables and orchard crops at what he and his wife, Maria Czarnecki, call Idiot's Grace, McCormick - who holds a master's in enology and viticulture from U.C. Davis - tends eight acres of winegrapes, including Cabernet Franc, Dolcetto, Primitivo, Barbera, Syrah, Sauvignon Blanc and Muscat.
As the Columbia Gorge wine scene exploded during the last decade, the McCormicks planted their dreams about the same time and the same place as those of three other young wineries: Luke Bradford of COR Cellars, James and Poppy Mantone of Syncline Winery, and Alexis and Juliet Pouillon of Domaine Pouillon. The four wineries all grow and press and share gear within a cork's toss - or a crow's flight - of one another, up on what they call the "Lyle Bench."
Visiting their modest wineries and tasting rooms, a veteran wine explorer might recall the bootstrap beginnings of now-notable brands in long-established regions. Pull into Bradford's facility off the White Salmon-Lyle Road (also known as the Old Highway 8), and he'll show you the press he bought from one those Sonoma County forebears, Gundlach Bundschu.
"Moving here wasn't like moving to Walla Walla or Sonoma, where you're just another winery," Bradford said. "We all get along well; we meet every month and compare wines, we borrow equipment from each other."
Other wineries had set up shop before the Lyle bunch arrived. Back in 2001, when Craig and Vicki Leuthold were building Maryhill Winery out east, James and Poppy Mantone shed their cellar rat lives in the Willamette Valley (Secret House, LaVelle) and started their Syncline label in the tiny town of Bingen, just across the Columbia from Hood River.
As Syncline established its brand among wine lovers in Portland and Seattle, the Mantones bought their Steep Creek Ranch property near Lyle from Joe Campbell, founder of Elk Cove in Gaston.
Familiar with a variety of grapes, they now concentrate on Rhone varietals. Which is why Bradford, after Mantone told him about the property he now owns, chose to focus on Bordeaux reds and Alsatian whites. He wanted his wines to complement Mantone's, not compete with them.
Drawn to the Northwest by skiing, kayaking and rock climbing, Bradford fell in love with winemaking while visiting a cousin's Tuscan winery in 1999. He finished school, came to the Gorge, started working at Wind River and Syncline. In 2005, he released his first Sauvignon Blanc.
Alexis Pouillon felt a little release, himself, in 2005, arriving in the Gorge after several years in the California wine industry (Fetzer). He had worked in France, as well, and studied soil science and viticulture with the dream of his own enterprise.
California wasn't it. Land was too expensive. Water was too dear. And state government was too poor. He found oak trees and comfort in Lyle.
"We're all passionate about what we're doing," he said. "And we're not trying to be quick-flip wineries. We're trying to live the lifestyle. We're here for the long haul."
Like Mantone, Pouillon loves Rhone varietals. His wife, a former chef and farmer, handles sales and marketing.
They've planted 2.5 acres of their 20, and may double that area. But long range, they plan to purchase two-thirds of their grapes. Their three reds and two whites - all but one of them blends - source largely from the Horse Heaven Hills and Columbia Valley AVAs.
"I like the Rhone-style wines, because they use 14 different varieties, and you can create these great wines in blending," Pouillon said. Rousanne - 80 percent of his 2008 Blanc du Moulin - is a favorite.
Like other members of what he jokingly calls "the young guns of the old highway," Pouillon eschews the big fruit bombs that put Washington on the map.
"The winemakers up here are trying to do more balanced wines, not over-oaked, not so high in alcohol," he said. "We want wines that are more food-friendly instead of wines that need a cigar and black and blue steak."
You wouldn't have to leave Lyle to find that glass, though. Until he can open a new winery near Cascade Cliffs, Brad Gearhart has based the tasting room for his Jacob Williams Winery in Lyle. The label has garnered increasing kudos from people who love big Bordeaux varietals. His 2007 Cabernet Sauvignon was honored as the "Best Red" at the 2010 Northwest Wine Summit.
"I'm pretty proud of it," he said. "The other guys in Lyle don't use a lot of oak, and their wines are a little lighter. We try to have wines that are immediately approachable and drinkable."
Of the more permanent "bench bunch," Brian's parents, Rob and Barbara McCormick, also hail from California and food backgrounds - he in production, she as a restaurant chef. Rob says the family loves Old World-style wines.
"We try to do more food-friendly wines, and more out on the front edge of that," Rob said.
With 17 varietals planted across 17 acres, their Memaloose label will release 1,700 cases this year. The goal is for all Memaloose wines to come from estate grapes.
Not so for their new second label. Idiot's Grace, due out this summer, will give Brian a freer hand to use different sources. In his father's view, it's all about innovation.
"There's just a great spirit of cooperation out here," Rob said. "I think the wineries here in Lyle are more innovative, with younger ideas; and we're more willing to try new things. We're the leading edge of this wine region."
A veteran newspaper and magazine reporter and editor, Stu Watson owns Watsonx2 Communications in Hood River.