Beet-Pickled Hard-boiled Eggs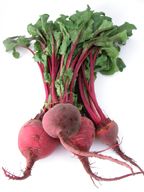 Recipe by Christopher Israel of Grüner in Portland
"I developed this recipe for our opening menu; it encapsulates a lot of the flavors we love at Grüner: beets, horseradish, vinegar and pickles. These colorful snacks pack a lot of flavor and are the perfect way to start a meal." -Christopher Israel, Grüner chef/owner
INGREDIENTS
12 hard-boiled eggs, peeled
4 cups beet juice (cook 2 large peeled-and-cubed red beets in 5 cups water until soft; approximately 1 cup will evaporate during cooking)
1 cup red wine vinegar
1 cup sugar
2 bay leaves
2 cloves
12 peppercorns
12 yolks (pulled from boiled eggs above)
1 tablespoon prepared horseradish
¼ teaspoon black pepper
1 teaspoon salt or to taste
* dash cayenne pepper
2 teaspoons finely minced shallot
2 teaspoons finely chopped parsley
3 tablespoons finely chopped cornichons
1 teaspoon sugar
½ cup mayonnaise
DIRECTIONS
1. Put eggs in a jar. Combine next 6 ingredients, bring to a boil, pour over eggs. Let eggs cool down and then refrigerate for 4 to 6 hours. You can leave them in longer but the whites will get very firm. 2. Remove eggs from jar; take out yolks and add them to the next nine ingredients. Mix well and fill eggs. Garnish with freshly grated horseradish and chopped parsley. Yields 6 servings.
WINE SUGGESTION
2009 Cameron Pinot Bianco Giovanni
ABOUT THE CHEF
Christopher Israel is a two-time winner of The Oregonian's "Restaurant of the Year," for Zefiro in 1990 and Saucebox in 1998. After a six-year break from cooking (serving as associate art director for Vanity Fair in New York City), Israel returned to Portland, and in 2006, he stepped back into the kitchen as executive chef at 23Hoyt, which was subsequently chosen by Esquire as one of the ten best new restaurants in America in 2007.
In December 2009, Israel opened Grüner in Southwest Portland. He describes his seasonal menus as "cozy alpine cuisine."
Grüner is located at 527 S.W. 12th Avenue, Portland. Call 503-241-7163 or visit www.grunerpdx.com for more information.