Small Plate Primer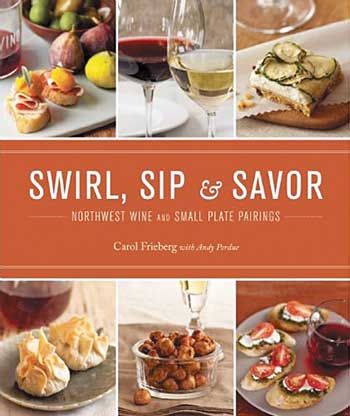 Book Review by Kerry Newberry
With flip-flops in place, patio doors open and sun on my face, it seems summer is here, and recently a new cookbook beckoned from the shelf: "Swirl, Sip & Savor: Northwest Wine and Small Plate Pairings" by Carol Frieberg and contributor Andy Perdue.
After a week of grilling and garnishing, slicing and sautéeing, mincing, mixing and molding, I am convinced this profuse collection of recipes from 100 wineries in Oregon, Washington and British Columbia has earned a top spot on the stack of must-read cookbooks for this season.
An author of five Northwest cookbooks, including "Breakfast in Bed Cookbook" and "The Best Places to Kiss Cookbook," Frieberg found inspiration for "Sip, Swirl & Savor" from lively houseboat fêtes and a love of small plates.
Years ago, she lived on a houseboat on Lake Union in Seattle and held blind-tasting wine parties, with guests mulling favorite pairings late into the night. The gatherings married her favorite ways to dine, "nibbles of fabulous food with sips of wonderful wine," and inspired this compilation of Northwest winemakers' favorite small plates.
"It's the type of cookbook I want to have and cook from," she said. "The recipes are doable, not overly labor-intensive and utilize ingredients indigenous to the area."
Dishes range from simple starters to more seasoned small plates.
"I was not looking for chef's recipes that would intimidate a home cook," Frieberg said. "This book is intended to live in the kitchen."
Each recipe accompanies a suggested wine pairing from a winery or vineyard, spanning a mix of boutique and hallmark producers from the Northwest. Andy Perdue, the editor-in-chief of Wine Press Northwest, penned vignettes for about one-third of the highlighted wineries.
"While the pairings in this book are pretty specific, they are meant as a starting point, an opportunity to explore," he said. For reference, the appendix contains easy-to-use guides, offering advice on wine pairing.
Frieberg wisely suggests a theme party to delve into the book, inviting friends over and giving them a recipe to prepare and bringing the specific wine it pairs with - this minimizes the work of hosting a party and allows everyone to participate. More of a fly-by-strings-of-my-apron kind of gal, I cajoled a culinary wingman into back-to-back impromptu patio parties sparked by the early taste of summer.
Step One entailed tagging every recipe accompanied by an Oregon wine with a post-it. It was necessary to narrow down the recipes somehow - and, well, this is the Oregon Wine Press. Note: there are over 25.
Step Two led to manic efforts to procure off-the-beaten path wines from over 300 miles away. One such wine (Devitt Winery Viognier) is still en route and will be promptly paired with the Molded Salmon Pâté and consumed patio side upon arrival.
The first post-it pick paired Goat Cheese and Pesto Crostini with the Et Fille Pinot Noir Kalita Vineyards. My culinary compadre and I agreed that the secret to maximizing flavors for this recipe is to make your own pesto. The simple but savory bites come from Mona Mozeico at Et Fille and her try at a "easy-to-assemble-and-multiply tasting nibble."
The crostini served as sustenance for the prep and skillet skills necessary for the hot dish that night: meatballs. The book features three meatball recipes, and which one to make was a toss-up. A close second was the Three-Berry Meatball Martini - mostly because the meatballs are skewered and served in a martini glass.
My friend and I settled on the Spicy Lamb Meatballs with Tahini Sauce paired with Trium Winery Growers Cuvée. If a meatball can be airy, this one is - likely due to the mix of chickpeas and generous portions of fresh cilantro and parsley mixed into the ground lamb. The memorable notes to this dish are in the house-made Tahini sauce.
Prep work for the next night took mere minutes with the Smoked Salmon Spread paired with Scott Paul Pinot Noir Paulee. The recipe comes from Martha Wright, who divulges: "I do indeed make this all the time." The salmon is a classic pairing with Pinot, and seemed a perfect choice for the almost-summertime celebration.
"You'll notice that this has a lot less cream cheese than many smoked fish recipes and that is the point," Wright said. "I want to taste the salmon, sweetened and brightened with shallot and lemon." She suggests using only enough cream cheese to bring the ingredients together and just a dash of half & half for moisture. "If I have it on hand, I use mascarpone instead of cream cheese," Wright noted.
I arrived the next night with a pound of shrimp, a pound of crab, slivers of prosciutto and wildly tropical fruits, ready to snack on the spread while cooking. It was already gone. "John and I devoured it," my friend freely confessed.
The three dishes that eventually came out of the kitchen that night - with five cutting boards, two mixers and countless bowls piled up - were equally relished under the starlit skies.
Spoons clinked against martini glasses, as we scooped the DePonte Cellars Gazpacho topped with Dungeness Crab. The bites of crab were sublime, and the patio patrons agreed: This is a recipe to repeat during heirloom tomato season. The gazpacho tasted even better the next day.
The next sea-salt indulgence: the Crab Salad Tower. Its base, a mound of mango and papaya, matched with the crab possessed island fresh flavors reminiscent of a Caribbean escape. The book pairs this with the Daedalus Maresh Riesling. We, instead, opened a 2008 Dr. Bergstrom Riesling because it was already chilled in the fridge, but I plan to make it again with the Daedalus.
We ended the evening with the Prosciutto-Wrapped Grilled Shrimp, which satiated all the senses. Provided by Phelps Creek Vineyards, the recipe's transcendent ingredient: a teaspoon of toasted and crushed fennel seed for the marinade.
Frieberg says she ultimately hopes the book inspires people to cook at home. "All that is needed is a bottle of wine, a trip to the grocery store or farmer's market and an adventuresome spirit."
I know a patio full of people ready to "Sip, Swirl & Savor" this summer, with pages are already dog-eared for favorites and future use. Like the Gorgonzola-Stuffed Figs paired with the Winderlea Ana Pinot Noir. When fig season finally arrives, the party is on my patio.
Kerry Newberry is a Pinot-sipping, vineyard-hopping wine and food writer. She resides in Portland.
BOOK DETAILS
"Swirl, Sip & Savor: Northwest Wine and Small Plate Pairings"
Author: Carol Frieberg with Andy Perdue
List Price: $21.95
Publisher: Sasquatch Books
Release Date: May 18
Details: 224 pages; paperback