Farm to Fork to Mouth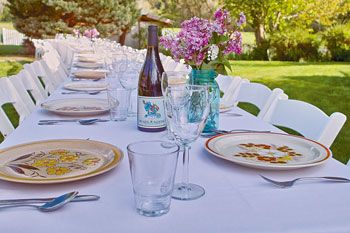 By Janet Eastman
On June 5, a party will grow at Peter Salant's remote Jacksonville farm. Musicians will start to perform, guests will arrive and wine will be poured. Then platters of grass-fed beef, wild mushrooms, asparagus and other ingredients raised within reach will be carried out of the kitchen and set under the evening sky on tables that stretch out in front of a garden.
Before sunset, those contributing to the event - farmers, chefs, winemakers and organizers of the Rogue Valley Farm to Fork dinners - will take a bow before a now-stuffed group of people who believe the best food is grown locally and eaten fresh in season.
Thus will launch a new series of farmland dinners designed to put cash in local food producers' pockets. And remind every diner that fruits, vegetables, meat, seafood, dairy products and bread don't magically appear in grocery stores but result from hard labor under the sun, in the rain, frost and snow and finally, delivered to be enjoyed.
Seven Farm to Fork dinners will be held, each hosted by a different farm: Salant Family Ranch in Jacksonville, June 5; Dunbar Farms in Medford, June 26; Restoration Farm near Ashland, July 31; Happy Dirt Veggie Patch in Ashland, Aug. 28; Blackberry Lane Farm & Garden in Grants Pass, Sept. 11; Rogue Valley Brambles in Talent, Oct. 9; and finally returning to Dunbar Farms, Nov. 6.
The food will be dictated by what's freshly harvested and prepared by chefs Matthew Domingo and Kristen Lyon. The two celebrated chefs have helped organized the events along with specialty food producer and teacher Lori Campbell and Sascha Meier, a sustainable business consultant and promoter of small farm agriculture.
As for the adults attending the dinners, "Wine is not an afterthought," Chef Domingo noted. The Farm to Fork founders met early on with Southern Oregon winemakers to secure a variety of wines - Viognier, Pinot Gris, Rosé, Syrah, Cabernet Sauvignon and Chardonnay - for the dinners.
Participating grapegrowers and wine producers Caprice Vineyards, Cowhorn Vineyard & Garden, Quady North Winery, Rocky Knoll Vineyards, RoxyAnn Winery, Trium Wines and Valley View Winery are familiar with the Farm to Fork concept as they often host their own events in which locally harvested foods are expertly paired with regional wine.
"The foods and wines that go best together all come from the same places," said Laura Lotspeich of Trium Wines in Talent. "The soils that nurture the vines feed the animals, grow the vegetables and fruit. The cheese from the milk and the fish from our rivers express terroir as much as the wines do.
"It is also part and parcel of sustainability to support other local products and producers," Lotspeich continued. "More local folks make a better living, and we spend less on transportation, plus the food is fresher and healthier for all of us."
RoxyAnn Winery holds a weekly grower's market on its Medford land and encourages all efforts to bolster small family farms. Michael Donovan,the winery's managing director, calls the family farm "the foundation of our Rogue Valley agricultural heritage."
"We believe in supporting local growers who truly care about good food and the quality of life that can be gained from living close to the earth and its natural rhythms," he said.
Cattle rancher Peter Salant can't wait to host the first Farm to Fork dinner.
"Everyone who attends will be shown that it's possible to have a great eating experience in an amazing setting, and they'll get to meet the people who produce their food," he said, while driving through his pasture populated by nonchalant Black Angus cows and curious calves.
Salant bought his picturesque land irrigated by the Little Applegate River in 1994 while he was still a partner in a food distribution company. He moved there with his wife, Karen, and daughter, Carly, from Encinitas, Calif., in 1998. A former student member of the 4-H program, he wanted to get back to the land and raise cattle naturally, without using hormones or antibiotics.
A decade later, he's happy with his decision. "Southern Oregon is the perfect place to raise kids and cattle."
With an anticipated guest list of 64, this will be the largest party Salant has hosted on his property.
"I'm really looking forward to it," he said, standing near blooming wisteria. "I love sharing my ranch."
Unlike other well-known roving alfresco farm dinners, such as Outstanding in the Field, which can cost $220 a person, the suggested minimum donation for a Rogue Valley Farm to Fork event is $60 (plus a tip to the professional servers). This includes a four- to five-course meal, three glasses of wine, a guided tour of the land by the farmer and time to chat with the food providers. The Nov. 6 Season Finale is only $25.
"We want to make healthy, local food accessible to everyone," Lyon said, "and still support our local farm and food economy."
Suppliers will be compensated and contributions will also be made to support food advocate groups, including the Ashland-Talent Growers Collective, Friends of Family Farmers and Rogue Valley Farm to School, which teaches schoolchildren about agriculture and nutrition, and works to incorporate locally produced food into school cafeteria menus.
Janet Eastman writes for national publications and covers Southern Oregon wine for www.examiner.com. Her work can be seen at www.janeteastman.com.
EVENT INFO:
Farm to Fork
Location: Rogue Valley family farms
Tickets: $60 (suggested donation); $25 (Nov. 6); available online
Phone: 503-473-3952