Trying Times for Oregon Wine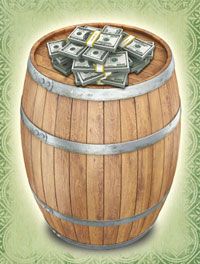 by Karl Klooster
For the past year or more, local wine industry pundits and prognosticators have been parsing every aspect of the protracted economic downturn in an effort to predict the outcome.
What will the face of Oregon wine look like in five years? Who will be around then? Who won't? Will vineyards have to be ripped out? Will a price-depressed retail wine market force wineries to make less expensive wines simply to survive?
If quality has to be sacrificed, how will that impact the image of Oregon wines? And what about the best? Will there be enough consumer demand nationwide to support the amount of high-priced Pinot Noir projected to be produced here?
Those and many more questions demand answers as wineries struggle merely to maintain existing sales levels, much less increase them. But none of it should be surprising given that the problem reaches far beyond the borders of the Beaver State.
Looking at the big picture, total U.S. wine sales for 2009 reached 767 million gallons compared to 753 million in 2008. But the retail value dropped from $30 billion in 2008 to $28.7 billion in 2009.
Per capita wine consumption may have not decreased, but gross sales have, reflecting the reality that the majority of consumers are trading down at least a few notches in price while still seeking the best quality for their money.
The consequence for wineries, importers and distributors is, of course, that the ratio of cost of goods to selling price has diminished, thus reducing gross profit.
Higher-end restaurants, too, have suffered a downturn in business, leaving only retailers as the least-affected link in the marketing chain.
A recently completed study of alcoholic beverage consumption nationwide found that approximately 26 percent of consumers planned to spend less on wine and spirits in 2010.
This reduction, coupled with predicted lower profit margins, led the research firm conducting the survey to conclude that, "given their precarious financial positions and high total debt, some 35 percent of alcoholic beverage firms are in danger of failing within the next 24 months."
At the 2010 Oregon Wine Industry Symposium in Eugene this past February, three knowledgeable presenters addressed a record crowd of attendees on "Charting Our Course in Challenging Times.... and Beyond."
Rob McMillan of Silicon Valley Bank, Chris Welch of the Ciatti Co., a wine and grape brokerage, and Christian Miller of Full Glass Research shared their expertise in finance and market research.
McMillan, who founded Silicon Bank's wine division, couldn't stress strongly enough the need for Oregon to focus its energies on joining forces and resources to create greater awareness and identity for the state's industry as a whole. "Building Brand Oregon should be their number one priority," he said.
Using the formula, "value equals perceived quality divided by price," he postulated that perception is the key to success. As long as the price is competitive, consumers will consider it a deal if they are getting quality.
Dubbing this "business Darwinism," McMillan acknowledged that with tight credit and continued pricing pressures, more fallout is on the horizon for Oregon. But he predicted the industry would emerge stronger for the experience.
A litany of detailed data verified that retrenching on the part of affluent consumers - the top 20 percent of households - has affected premium wines. And though consumption hasn't diminished, cost per bottle has become a primary factor in purchasing decisions.
The consensus among the speakers was that expectations are up and improvement in sales, although slow, will continue through 2010. However, significant momentum will not be achieved until 2011.
In the interim, Oregon will have to contend with inventory surpluses, and new planting will necessarily remain stalled.
As if the recession hasn't created enough financial woes for the wine industry here and across the country, proposed legislation introduced in Congress on April 15 has the potential to severely compound the problem, particularly in Oregon.
If passed, HR 5034, dubbed "The Comprehensive Alcohol Regulatory Effectiveness (CARE) Act of 2010," would restrict direct to consumer wine shipments across state lines. This is a sales avenue that many smaller Oregon wineries consider their salvation.
In fact, the consumer-direct portion of winery sales in Oregon, which contains the most boutique wineries of any state, accounts for 20 to 30 percent of the annual total. Even more for some producers, much of whose business comes from club membership sales.
The House bill is sponsored by a seemingly unlikely coalition of four congressmen, none of whom has made much of a mark during their collective terms in office, but three of whom share one crucial commonality.
The congressmen are: Bruce Delahunt, Massachusetts Democrat; Howard Coble, North Carolina Republican; Mike Quigley, Illinois Democrat; and Jason Chaffetz, Utah Republican.
What motivated Delahunt to sponsor the bill is unclear. He is retiring at the end of his term. Coble, Quigley and Chaffetz, however, are known to be strong on states' rights and Chaffetz is from one of the most alcohol-restrictive states in the nation.
As for the deep-pocketed, behind-the-scenes backers, they couldn't be more apparent. During the last big go-round on the rampant evil that would surely come from unrestricted wine shipments, it was the Wine & Spirits Wholesalers of America.
This time, the National Beer Wholesalers Association is behind the bill. Wine Spectator obtained a draft copy from a source within the organization that is essentially identical to HR 5034.
The bill's razor-sharp teeth lie in the fact that it would effectively allow the 21st Amendment to trump the Commerce Clause, granting states immunity to litigation based on inequitable alcohol distribution laws.
One prominent attorney said, "The whole idea behind the bill is to make it prohibitively difficult for wineries and consumers to challenge discriminatory and irrational regulations that have little or nothing to do with the protection of the public."
But what they do have everything to do with is protection of the three-tier distribution system: producer, distributor, retailer. And, on the distribution side, that arena has changed dramatically over the years
Where there were once dozens of beer, wine and, in non-controlled states, distilled spirits wholesalers nationwide, consolidation has reached the point where only a handful of huge companies do the vast majority of the business.
And that exclusive group is inextricably tied to an even more elite inner circle of mega-marketing firms that either own or have long-term agreements with the producers and brands they represent.
A few telling statistics paint the picture. Of the 317 million total cases of wine, both domestic and imported, sold in the United States during 2008, 251 million cases, or 79 percent, were sold by 25 companies.
That leaves just 21 percent divided among all the others - producers, importers, small distribution firms - numbering in the many hundreds, if not thousands.
In other words, this is about greed. No matter how small the piece of the pie remaining outside their control, the biggest players want it all. And, where wine is concerned, they represent only sizable winery operations that can guarantee continuity.
No consideration seems to be given to the dire consequences their monopolistic goals would have for the hundreds of small wineries here in Oregon and across the country.
In pursuit of achieving these self-serving ends, they have presented over-the-top arguments that amount to little more than scare tactics. Evasion of taxes is one, but the tens of thousands of shipping transactions that have already taken place disprove that.
As for the specter of underage alcohol abuse, the scenario of teenagers ordering fine wine over the Internet for a weekend drunk-up, rather than slip some older buddy a few bucks to buy them a case of beer, is ludicrous, if not laughable.
Still, states rights, particularly when it comes to alcoholic beverages, is a political hot potato. Although some contend that this bill won't hold up under scrutiny, Washington, D.C. insiders point to the possibility that it will at least get out of the House Judiciary committee.
That committee is chaired by Michigan Democrat John Conyers. It is widely believed that Michigan's Congressional delegation is in the pocket of alcoholic beverage distributors. Among Conyers' five leading campaign donors in recent years was the National Beer Wholesalers Association.
Of further note is the fact that Michigan and New York were the losing plaintiffs in the much-publicized 2005 Supreme Court case, a wholesaler-driven legal action that backfired on them, relaxing regulation of wine shipments across state lines.
Most encouraging for the possibility that fairness will ultimately prevail is the groundswell of support primarily promulgated through the Internet. It rose up immediately after the announcement of HR 5034 and continues to grow.
Wouldn't it be a satisfying serendipity to know that the very vehicle of communication and commerce that serves small wineries so well in their direct-to-consumer marketing efforts would play a key role in keeping that vital channel open to them?