Adelsheim's Winning Plan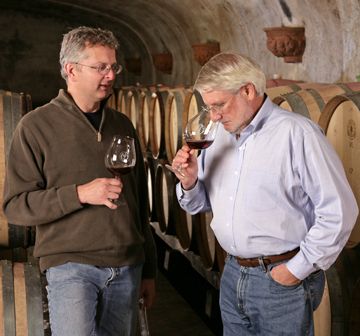 By Karl Klooster
Those familiar with the history of Oregon wine recognize David Adelsheim as an industry icon. His name is spoken in the same breath with that of Charles Coury, Richard Sommer, David Lett, Dick Ponzi and Dick Erath.
Four decades later, Coury's short time on the scene is but a distant memory. Sommer and Lett have passed on. Ponzi relinquished control to his children years ago and Erath sold his winery in 2006.
Perhaps Susan Sokol Blosser and Myron Redford should be included, as they rode the final curl of that first wave. But Sokol Blosser has also turned the reins over to her offspring.
That leaves only Adelsheim, who got his start in 1971, and Redford, who followed in 1974, as members of the founding generation still at the helm.
Whereas Redford continues to run his business very much the way he always has, Adelsheim had taken a more aggressive growth approach. The sophisticated operation he currently oversees bears little resemblance to his first basement space, or even to the 6,000-square-foot winery he built next to his home in 1982.
Today, Adelsheim Vineyards produces its wine in a handsome, state-of-the-art facility built atop Chehalem Mountains on Calkins Lane.
The initial 35,000 square feet went up in 1997, and another 10,000 square feet was added during the last two years.
The winery's first commercial release, in 1978, consisted of 1,300 cases. Its current facility is capable of producing 40,000 cases a year.
Adelsheim emerged as an industry leader from the outset, traveling to Burgundy to study its techniques and obtain better clones, and working to establish standards and regulations that would enhance the industry without strangling it.
He helped create the Oregon Wine Board and served as its first chair. He also served as president of the Oregon Winegrowers Association, using the position to spearhead research, education and promotion.
His winery has excelled with several white varietals, including Pinot Gris, Chardonnay, Riesling and Gewürztraminer. At one point, he was also putting out regular releases of Merlot, certain vintages of which would likely prove stunning if brought forth today from the winery's substantial library collection.
But Pinot Noir has always been Adelsheim's true passion. And over time, his devotion to the noble Burgundian grape has manifested itself on many levels.
The winery will launch its latest this fall with what appears to be a very savvy marketing strategy.
It's all part of a master plan that saw the founder gradually step back from day-to-day management in order to take a long, analytical look at the big picture, devise a plan to move in a new direction and oversee implementation of that plan.
Adelsheim took a transformational step in 1994 when he partnered with vineyard owners Jack and Lynn Loacker, setting the stage for growth he would need to personally oversee.
I didn't realize until we actually got into it what having partners meant," Adelsheim said. "They had their choice of a lot of investments, but they were betting on me, and I think I felt the obligation more than I would if it had only been to myself. I decided that I could not allow the business not to succeed.
"We needed a long term plan - five, ten years out. One that would carry us through bad years as well as good ones. So far, I believe it has served us well.
"We've taken our lumps through this downturn, like everyone else. But it hasn't been terrible. And now things are starting to look up again, and I think we're well positioned to go forward with our plan for the future."
The plan's first major element was put in place in 1997 with completion of a new winery at the Calkins Estate Vineyard. The second came four years later, when Dave Paige was hired to assume head winemaking duties, culminating a search for the right fit in that vital position.
Viticulturist Chad Vargas arrived in 2006 to manage a portfolio of vineyards totaling 190 acres. Other key staffers include David's brother, Michael, who has criss-crossed the country as the winery's director of sales since 1983.
When Katherine Stalmann was hired as director of customer sales in 2005, it underscored the growing importance of consumer-direct sales for Adelsheim and virtually every Oregon winery, for that matter.
Bringing in Catherine Douglas as the winery's first full-time marketing director in 2009 marked another key move in the creation of an Adelsheim team for the 21st Century.
She is overseeing the introduction of a new lineup of Pinot Noirs, crafted to compete in separate pricing tiers and thus target distinct market segments.
Willamette Valley varietal cuvées destined for restaurants and retail outlets will continue the quality-to-value ratio that has always characterized Adelsheim. Meanwhile, the winery is making a committed move toward individual vineyard Pinots for direct sale to club members and other discerning consumers.
To facilitate its move to ultra-premium, single-vineyard designation wines, the latest expansion provided floor space for installation of an array of small-lot fermenters.
The first use of that new space was during the 2009 harvest, when the cellar team handled 100 of its 153 fermentations there. The ultimate goal is to have 25 percent of the winery's overall Pinot Noir production devoted to the upper-tier category.
Douglas is currently working with Flint Design, a noted Portland graphics firm, on labels reflecting the Adelsheim look of the future. Though not yet finalized, she hinted they would incorporate the AV symbol prominently featured on the winery's façade.
That design was created by Ginny Adelsheim, the winery's co-founder and a co-owner. She also served as the artist for their much-admired portrait series of wine labels.
The labels in development will appear on bottles this fall. Ultimately, they will be seen in almost every U.S. state and several foreign countries, including Canada and Japan.
They will also grace tables at out-of-state club dinner series in San Francisco, Chicago, Washington, Dallas and Houston, where the message will not be just about Brand Adelsheim, but about Brand Oregon as well.
WINERY INFO
Adelsheim Vineyard
Address: 16800 N.E. Calkins Ln., Newberg
Hours: Wed.-Sun., 11 a.m.-4 p.m.
Phone: 503-538-3652
Website: www.adelsheim.com