Pinot Gris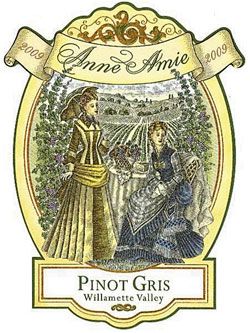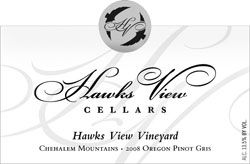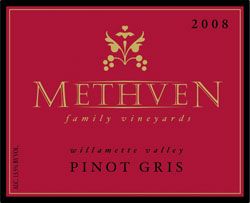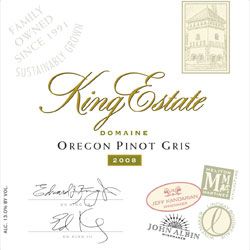 2008 Hawks View Vineyard Chehalem Mountains Pinot Gris • $24 (421 cases)
Succulently lush impressions of honey, mead and passion fruit lend depth of flavor to this well-structured wine, while fresh, citrus-laced acidity supplies the backbone. An excellent early effort from a winery that came on the scene just two years ago.
2009 Anne Amie Willamette Valley Pinot Gris • $19 (3,400 cases)
A prime example of the allure Pinot Gris has in its youth. Crisp, zesty and immediately appealing, Anne Amie's recent release offers hints of ripe tropical fruit, banana, juicy pear and minerality. Why wait when a wine is already so tempting?
2008 Methven Vineyards Willamette Valley Pinot Gris • $18 (210 cases)
Beautifully balanced throughout, Methven's '08 Gris satisfies from first sniff to final swallow. The intriguing combination of applesauce and anise is augmented by floral nuances, all of which lead to a long, lingering aftertaste.
2008 King Estate Domaine Oregon Pinot Gris • $25 (7,800 cases)
This effort underlines the fact that it's worth a few dollars more to enjoy the enhanced qualities of the domaine, i.e. "estate," wine from Oregon's largest Pinot Gris producer. Rich stone fruit and pineapple play a soft, harmonious melody across the palate.
2008 A to Z Wineworks Oregon Pinot Gris • $12 (32,812 cases)
A to Z has put a lot of zing into a low-cost middleweight winner whose piquantly sweet aroma introduces a starburst of fascinating fruit flavors that left tasters groping for accurate descriptors. Strawberry and saltwater taffy seemed to fit. But "simply tasty" may be the best summation.
2007 Silvan Ridge Oregon Pinot Gris • $14 (3,900 cases)
Classic characteristics of the Alsatian version of the variety mark this nicely balanced wine. Apples, pears and grapefruit comprise the flavor package, brought together by a lively acidity and minerality that brings depth and deliciousness to the overall taste experience.
The Oregon Wine Press tasting panel has selected these wines based on overall quality and value within their respective categories. To the best of our knowledge, they are currently available in the retail marketplace. But a call to the winery or your favorite wine merchant will best determine where they may be purchased. The above wines have met the following criteria: produced by an Oregon winery; retail price up to $25 for all wines except Pinot Noir; and up to $30 for Pinot Noir; currently available to consumers. Recommended wines were selected using a double-blind method and a 20-point ranking system for appearance, aroma, taste, balance and finish.